After an amazing round, Jason Day to focus on winning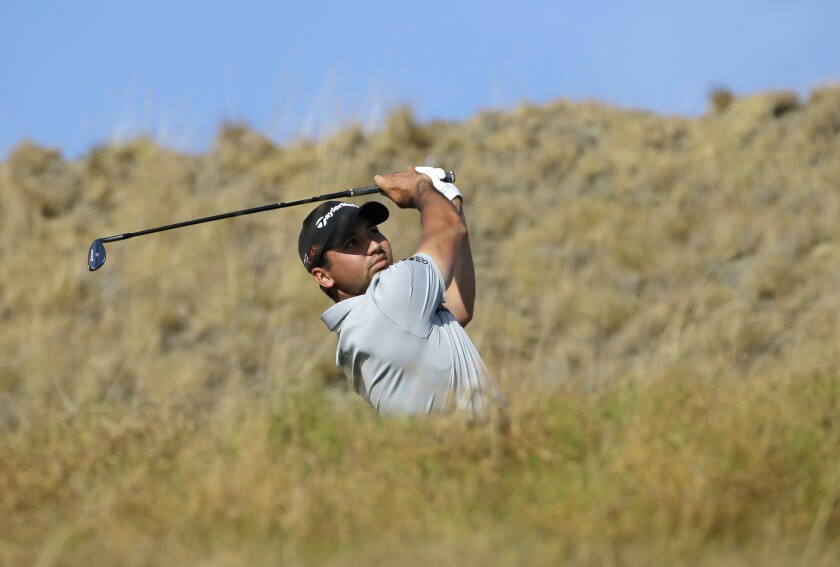 UNIVERSITY PLACE, Wash. —
Jason Day walked around the U.S. Open on Saturday as if his head was in the halo brace of an accident victim.
When he teed up his ball, marked it on the green or pulled it from the cup, Day tried to focus his eyes on the horizon. He never looked down at his yardage book, holding it up like he was reading the ingredients on a can of soup in dim light.
Before Day was to play the third round at the topsy-turvy terrain of Chambers Bay, Colin Swatton, the Aussie's mentor since he was a teen, offered the player the most basic of assistance. Could he help him put his tee in the ground?
"He sort of gave me a look as if to say, 'What did you ask me that for?'" Swatton recalled with a grin.
In a performance Swatton likened to Tiger Woods winning the 2008 U.S. Open on a broken leg, Day, who collapsed on his final hole Friday, battled through vertigo to shoot a two-under-par 68 that put him in a four-way tie for the lead at four under.
Day finished the round by going birdie-birdie, drawing an enormous roar from the 6,000 fans in the grandstand on the 18th hole.
"I said to him on 18 that that's the greatest round I've ever watched, a super-human effort," Swatton said.
Of course, Day still has an entire round to play Sunday, and all he has to do is overcome, among others, reigning Masters champ Jordan Spieth, who shot 71, long-hitting Dustin Johnson (70) and South African Branden Grace (70), who will start even with the 27-year-old Aussie and not be overly sympathetic to his shaky state.
Day, Johnson and Grace are hungry for a first major title.
After signing his scorecard, Day was taken immediately by shuttle to his private bus on the grounds. He emerged about a half hour later for a brief television interview.
He said he was "groggy" on the front nine, felt better early on the back, but the vertigo returned on the 13th tee box. He said he was nauseous the entire round.
"I think the goal," Day said, "was to go through today and see how it goes."
After Day's collapse Friday, he was examined by physicians, who diagnosed him with Benign Positional Vertigo.
He was treated with medication and told that it might take a few days for his symptoms to be relieved. He has been suffering from some bouts with vertigo since April.
Watching Day warm up before the round, Swatton admitted, "I had my reservations." But as they headed to the first tee, Swatton's demeanor belied his doubts. "I told him, 'You have the heart of a lion. You get to show the world today that you're going to be the greatest you can be. Let's do it.'
"He put his head down and kept walking, one foot in front of the other."
How did Day consistently put the inches-wide face of a golf club on a ball when at times he could barely stand? How did he manage to see a line on his putts when he sometimes couldn't walk in a straight line? At times as he waited to hit his shots, Day used Swatton has his own personal kickstand.
"The hardest part for him was turning his head," Swatton said. "Every time he turned to look at his target, it took a few seconds for his eyes to steady up a bit."
Day was unsteady early and looked like he wouldn't be a factor. He bogeyed the second and fourth holes and didn't make his first birdie until the 10th.
A bogey at 11 followed, but Day immediately bounced back with a birdie after driving the par-four 12th green.
That set up a big finish.
Day made a curling, eight-foot birdie putt at 15. When he somehow drained an 18-foot birdie putt at 17, it seemed he was pushing the edge of the extraordinary.
Day got two breaks at the par-five 18th. He drew a decent lie after driving into the fescue, allowing him an easy layup, and his approach shot to the green — and maybe this was more skill than luck — found a backstop and trickled back down to six feet above the hole.
If Day felt woozy, his ball wasn't on its straight roll into the bottom of the cup.
"I said to him that they might make a movie around this," Swatton said.
Day didn't even smile. That would have taken too much energy.
---
Get our high school sports newsletter
Prep Rally is devoted to the SoCal high school sports experience, bringing you scores, stories and a behind-the-scenes look at what makes prep sports so popular.
You may occasionally receive promotional content from the Los Angeles Times.