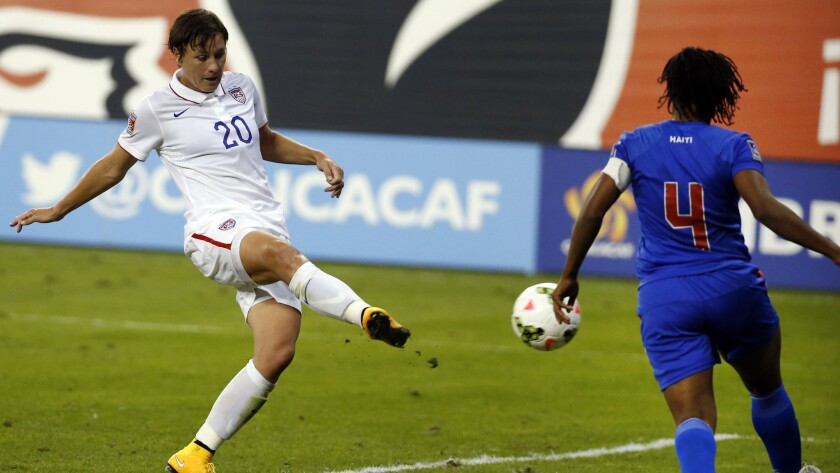 Washington —
The U.S. women's soccer team completed Part I of its trip to the 2015 World Cup by doing the expected, dominating play Monday night in a 6-0 win over Haiti in Washington to finish unbeaten — and unscored upon — in group play in the CONCACAF championship.
Abby Wambach had two goals, and Carli Lloyd, Meghan Klingenberg, Christen Press and Morgan Brian also scored for the Americans, who advanced to the semifinals to be played Friday and Sunday at the Philadelphia Union's stadium in Chester, Pa. The top three teams qualify for next year's World Cup in Canada, while the fourth-place team will face Ecuador in a playoff.
The loss eliminated Haiti, which had put together a valiant, low-funded qualifying effort while training in months-long spurts in Indiana. The Haitians are 0-4 overall against the U.S., having lost 10-0 in 1991, 8-0 in 2004 and 5-0 in 2010.
The Americans are winning in a no-win situation, the overwhelming favorite facing small countries where women's soccer is a low priority. Canada, the other North American powerhouse, isn't in the tournament because it automatically qualifies for the World Cup as the host nation.
So there was considerable concern when the U.S. managed only a 1-0 win over Trinidad and Tobago to open the tournament. That was followed by a more comfortable 5-0 rout of Guatemala. In each game — and again on Monday — the Americans controlled the action against an underdog that packed its own box and hoped to somehow score on a counterattack.
The U.S. outshot the Haitians 20-1, including 12-0 in shots on goal. Ashlyn Harris, getting a rare start in place of Hope Solo, got the shutout without having to make a save — just as Solo did against Guatemala.
---