What will $500 million get you in Vegas? Raiders owner Mark Davis hopes it's a home for his team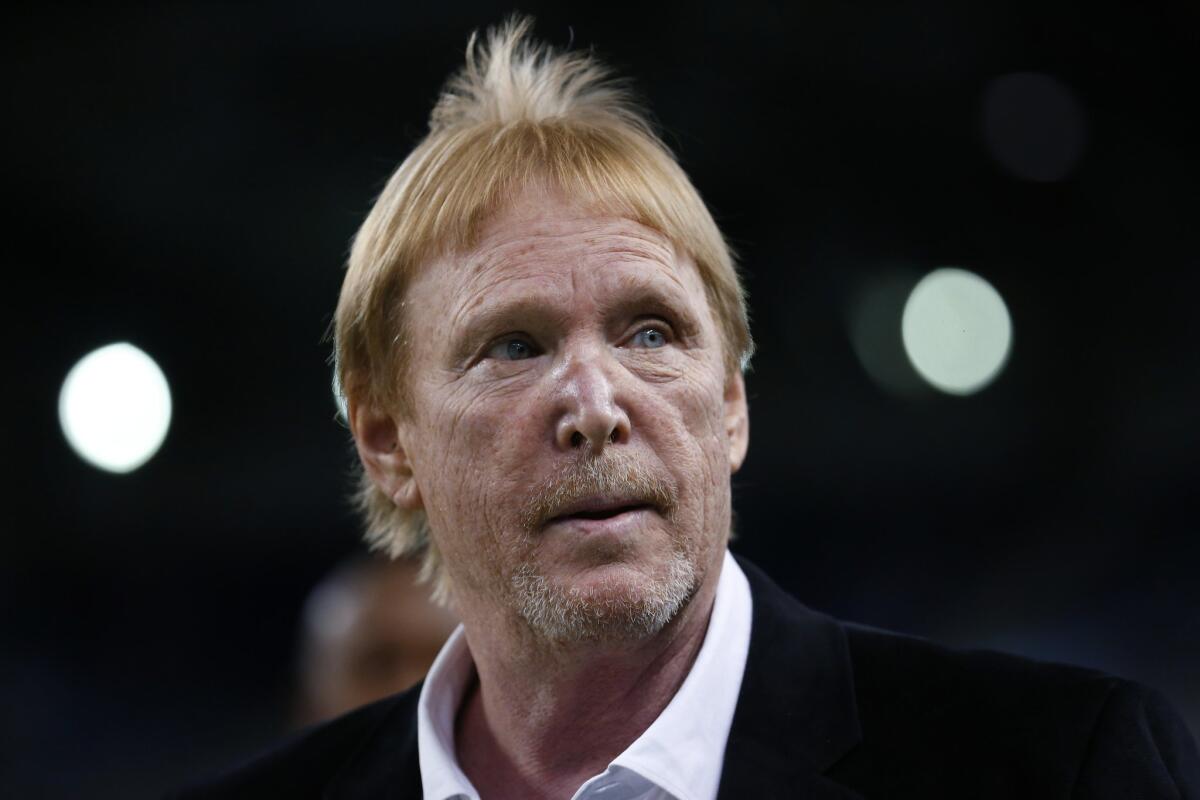 The long-running search to find a new home for the Oakland Raiders took a step forward Thursday when owner Mark Davis said he wants to move the franchise to Las Vegas to play in a proposed $1.4-billion domed stadium.
Speaking to the Southern Nevada Tourism Infrastructure Committee during its meeting at the University of Nevada Las Vegas, Davis pledged to contribute $500 million toward the project if public financing is approved.
"We want to turn the Silver State into the silver and black state," Davis told the 11-member group.
The stadium concept, backed by billionaire Sheldon Adelson's Las Vegas Sands Corp. and fellow billionaire Ed Roski's Majestic Realty Co., would be built on 42 acres owned by UNLV. The 65,000-seat project would require about $750 million in public funds.
Roski proposed an NFL stadium in the City of Industry in 2008, but the project never attracted a franchise.
"With your help, it won't be another 50 years before the Raiders play another football game in Las Vegas," Davis told the committee, referring to an exhibition game there in 1964. "I say 'with your help' because there's a misconception that all NFL teams … are owned by billionaires that are looking for free stadiums. There's two problems with that. No. 1, I'm not a billionaire. No. 2, we're looking to be a partner with you."
The NFL has not commissioned a market study of Las Vegas, a typical step before discussions become more serious. A deal such as this would probably take a year or more to be consummated, particularly with the complexity of the Raiders' potentially departing a lucrative Bay Area market for one in Las Vegas, known for its gambling industry.
Any move by the Raiders would need to be approved by 24 of the NFL's 32 owners, though any relocation fee is expected to be less than the $550 million the Rams must pay over 10 years for their shift to Los Angeles.
NFL Commissioner Roger Goodell took a measured tone Wednesday when discussing the Raiders, saying the franchise knows a move is subject to a vote.
But even at this early stage, the proposal has attracted several big-name supporters.
Tim Leiweke, the former president and chief executive of Anschutz Entertainment Group who spearheaded two unsuccessful attempts by that company to build stadiums in downtown L.A., spoke in support of the venue Thursday. Leiweke's brother, Tod, is the NFL's chief operating officer.
Tim Leiweke predicted that the economic impact of the stadium could be similar to that of the mixed-use L.A. Live development, which includes Staples Center and Microsoft Theater. He emphasized that this concept isn't "pie in the sky."
"In L.A., we spent 20 years chasing the NFL," Leiweke said. "We failed, by the way, during my time there. To the credit of [Rams owner] Stan Kroenke, after a 20-year pursuit, they finally found a way to get a team and the stadium that made sense.
"Today, you have that most difficult piece of that transaction sitting before you in the Oakland Raiders. They are committed to coming here and being your partner on a stadium. This is a once-in-a-lifetime moment that you will never have again. It's absolutely, stunningly amazing that you can put together a partnership and have the opportunity to bring an NFL team here."
The Raiders, who signed a one-year lease to remain at Oakland's run-down Coliseum earlier this year, have long sought a new stadium.
They teamed with the San Diego Chargers last year to propose an open-air venue in Carson, but NFL owners in January instead approved the Rams' plan to move to Los Angeles and build a stadium in Inglewood that will cost more than $2 billion.
League owners gave the Chargers — who are pursuing a new stadium and convention center in downtown San Diego — a one-year option to join the Rams in L.A. The teams agreed on terms shortly before the Chargers decided to play the 2016 season in San Diego. If they don't exercise the option, the Raiders will have an identical one.
If the stadium proposals in San Diego and Las Vegas are both successful — far from a given — the Rams would be the lone occupant in the two-team Inglewood stadium and retain leverage for the league to get stadium deals done elsewhere.
The Rams declined to comment on Thursday's development.
Marc Ganis, president and founder of a Chicago-based sports business consulting firm, described the Las Vegas stadium plan as still in the first quarter.
"It's an uphill struggle, but it has some potential," he said. "If everything happens the right way, there is a possibility that it could happen."
ALSO
What time does the NFL draft start?
Muhammad Ali defied the draft -- and polarized the nation -- 49 years ago today
California's Jared Goff considered the favorite to be selected No. 1 overall by Rams at Thursday's NFL draft
Get our high school sports newsletter
Prep Rally is devoted to the SoCal high school sports experience, bringing you scores, stories and a behind-the-scenes look at what makes prep sports so popular.
You may occasionally receive promotional content from the Los Angeles Times.