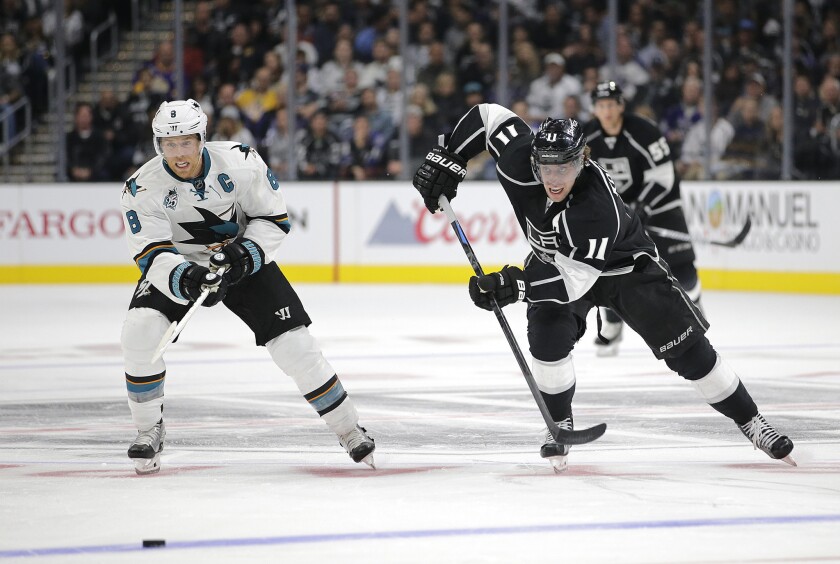 A stumble right out of the gate … against a familiar division rival … at home. This was a lot like the Kings' season-opening loss against the Sharks in 2014. Only without the Stanley Cup banner-raising moment.
Top line lacked urgency
Or as Kings Coach Darryl Sutter put it succinctly: "Flat."
That would be the Kings' top line with Anze Kopitar centering Marian Gaborik and newcomer Milan Lucic. They were a combined minus-six, were pointless and combined for four shots on goal.
Kopitar said that corrections were needed "in a lot of areas." He was talking in a larger sense but that certainly applies to his line.
Shortcomings in the faceoff circle
The overall numbers weren't cringe-worthy for the Kings: San Jose's won 38 faceoffs to the Kings' 36. But there were decided deficiencies on two crucial ones, leading to two Sharks' goals.
Kopitar lost the draw in the right circle on the eventual Joe Pavelski power-play goal in the first period, which gave San Jose a 2-1 lead.
On the second Sharks' power-play goal, in the second period, Kings' center Jeff Carter lost the draw to Joel Ward, and San Jose's Tomas Hertl eventually scored on a deflection in front, making it 4-1.
"Both of them are just clear faceoff losses," Sutter said. "You've got to do better job. A big part of penalty-killing is winning faceoffs."
Sutter philosophy, 101
One final takeaway: Sutter appears to be in mid-season form.
"You don't check, you don't score," he said, adding that a lot of the "top guys" were "not interested in that part of the game."
The Kings face visiting Arizona on Friday. Sutter was asked if Thursday's practice would be a brutal one.
"We play Friday, so we get ready for Friday," Sutter said. "It's not about tomorrow. This is Wednesday, tomorrow is Thursday and we play Friday."
At least no one needs a calendar around here.
Twitter: @reallisa
---