Sparks on verge of WNBA title repeat, thanks in part to Candace Parker's devotion to one key detail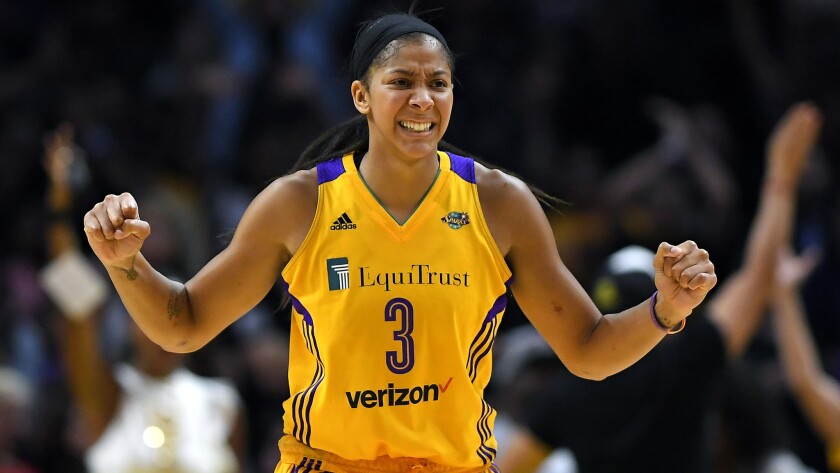 Game 3 of the WNBA Finals loomed 90 minutes away. Candace Parker was discussing physical fitness maintenance at her advanced basketball age when she arose from a locker room chair, planted her leg on it and appropriately began to stretch.
"I don't think I'm old by any means," the Sparks center said Friday in mock — or maybe not — indignation. "I believe the prime age for a player is between 28 and 32."
Then Parker, almost halfway through her 31st year, went out and illustrated the point with a well-rounded outing as the Sparks beat the Minnesota Lynx to move within one win of a second straight WNBA championship. Their 75-64 triumph means the bubbly could be sprayed Sunday at Staples Center if they can close out the Lynx in Game 4 (5:30 p.m., ESPN).
As the postseason dwindles down, Parker does little beyond stretching. For much of the calendar year, though, she immerses herself in core strengthening, lower-body reps that boost leg power and flexibility exercises. Devotion to conditioning is essential, she said, "as you get older."
Sports Illustrated recently ranked its 50 fittest female athletes. Parker was 19th, second in her sport only to the Lynx's Maya Moore (16th).
Another list finds Parker at No. 16: average minutes per game this season. Her 30.5 were nearly identical to a year ago and might be higher had the Sparks' coaching and conditioning staffs not set a limit on occasion, according to Parker.
There is no holding back during the Finals. Parker is logging 33.5 per game, third most on the team.
While Parker has struggled in the first half of the past two games, she battled both times to finish strong.
The Sparks outscored the Lynx by 18 in Parker's 35 minutes Friday, despite her four-for-13 shooting. She finished with seven rebounds, five assists, five steals and three blocked shots.
More evidence of Parker's across-the-board contributions showed up elsewhere in the box score. With a helping hand from teammates, she restricted WNBA most valuable player Sylvia Fowles to nine field-goal tries. Fowles did reel in 11 rebounds, but six fewer than her Finals record haul in Game 2.
It seemed fitting that while addressing the media after the game, Parker, a 10-year veteran and last year's Finals MVP, used the term "mature" three times.
The Sparks, she suggested, are mature enough to realize the necessity of taking each possession seriously. Mature enough to "not try to swing for the fences and hit the home run at the beginning of the game." Mature enough to understand how one sequence, such as teammate Alana Beard's steal of the ball from Fowles on Friday paired with Chelsea Gray's three-pointer, can alter the course of a game.
Were there an official stat for floor burns, Parker might have alluded to it.
"It's not going to be fluidity," she said, an ice pack strapped to her knee. "It's not going to be like they let us execute our offense and we just let them get to their spots. So it's going to come down to second-chance points. It's going to come down to those loose balls and making things difficult."
Parker stayed on topic after practice Saturday, saying, "We have to continue to make them uncomfortable. … It might not pay off right then and there, but maybe later on it will."
---
Get the latest on L.A.'s teams in the daily Sports Report newsletter.
You may occasionally receive promotional content from the Los Angeles Times.