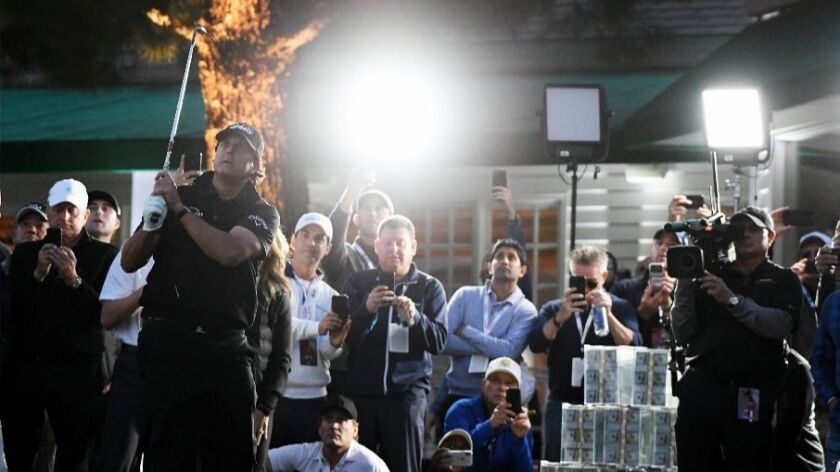 The trip-and-fall entry into last week's Tiger Woods vs. Phil Mickelson pay-per-view golf match saved the event from even more criticism for uninspired performances and underwhelming production work after promises of a ground-breaking telecast.
Mickelson's $9-million winner-take-all victory on the fourth extra hole contrasted with the business bogey by media underwriter AT&T, which couldn't handle a simple $19.99 online transaction on its streaming host, Turner Sports' Bleacher Report website.
There were no issues for those who signed up via cable or dish services. But when word spread on social media that BleacherReport.com was eliminating its paywall because of software failure, the company decided to issue refunds for anyone who purchased it.
If calculations from some independent sources are accurate, there were some one million buys. A Turner spokesman said viewership data would not be announced for at least a week.
AT&T recently paid $85 billion for Time Warner Inc., and activated all its Turner Sports outlets for the match. The company said there was such a high volume of consumers through iStreamPlanet as the match began that it lacked the server capacity and memory to operate. Some people had trouble trying to get it on the B/R Live phone app.
It has been a technologically challenging time for media companies to expand pay-per-view event access to online properties. CBS manages to make it work for the NCAA men's basketball tournament, as does NBC with Summer and Winter Olympics.
But when an event such as Saturday's Deontay Wilder-Tyson Fury heavyweight title fight from Staples Center declares it will break ground by offering a direct purchase on Showtime's app, glitches should be anticipated. Good times refunding $75 per stream if/when that doesn't work.
Turner said there was no problem with bandwidth or video delivery for "The Match." But the broadcast didn't deliver a revolutionary experience.
For casual viewers, on-screen odds described by those with bookmaking expertise didn't translate smoothly. Mickelson's heavy breathing was most noticeable as he walked the course and tried to get in some forced banter that happened only when analyst Peter Jacobsen needed to catch his own breath from over-talking. Noise from the overhead drone also was bothersome.
As for the golf, Golfworld's Joel Beall wrote: "The first 14 holes were 'competitive' in the sense that a YMCA Little Tykes' 0-0 soccer game is competitive. From the tee to second shots to the short game, everything was off."
Driver-challenged commentator Charles Barkley blurted: "You know, America, you're watching some really crappy golf."
Follow the money
Sports business reporter Darren Rovell will leave ESPN by the end of the week to join the The Action Network, a year-old sports betting site heavy on data and analysis funded by media magnate Peter Chernin.
The New York-based company, which had content on the ESPN+ subscriber service, hired former ESPN executive Chad Millman as head of media to generate stories, podcasts and video, which Rovell will help facilitate.
Rovell used Twitter, two hours into "The Match," to make the first revelation about B/R Live allowing anyone access to watch the event. That created blowback from people who thought they found a free way into the feed but would be discovered and forced to pay. Rovell reported about an hour later on the plan for refunds.
NFL Draft gets Disney-fied
What could possibly prompt ABC to go head to head on a sporting event already dominated by its robust Disney partner, ESPN? The NFL can lure you into believing there's always more room under the tent.
ABC announced Monday it would take all three days of over-the-air coverage for the 2019 NFL Draft, including prime-time shows the first two days, and do so with a production far different from what ESPN and NFL Network have laid out.
Last year, over-the-air got its first taste of the draft when Fox simulcast the NFL Network's Thursday and Friday events (round 1, then rounds 2-3) and ABC simulcast ESPN's third-day Saturday broadcast (rounds 4-7). The combined result was a record TV audience, 5.5 million viewers.
ESPN president Jimmy Pitaro gushed in a news release that ABC would "showcase the future stars of the NFL" by focusing less on the Xs and Os and lean more for an entertainment show, bringing in musical guests from the site in Nashville, Tenn. The feature-heavy approach will have the ESPN "College GameDay" crew of Rece Davis, Kirk Herbstreit, Desmond Howard and Lee Corso.
ESPN began NFL Draft coverage in 1980 and will be doing it for the 40th time when the 2019 draft takes place April 25-27.
---