LPGA's Suzann Pettersen says her words about Trump cheating at golf were taken out of context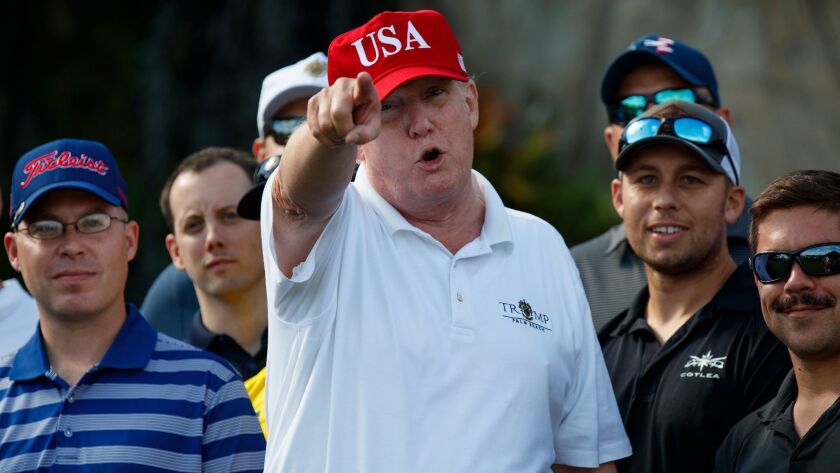 LPGA player Suzann Pettersen said Tuesday that her words were taken out of context by media outlets that reported she said President Trump "cheats like hell" when they play golf together.
The quote came from an interview with Pettersen published Saturday by Norwegian newspaper Verdens Gang, in which she discussed her friendship of more than a decade with the president and the numerous games of golf they've played together.
During those outings, the article states, Pettersen noticed some of Trump's tendencies on the green.
"He cheats like hell," Verdens Gang quoted Pettersen as saying. "I'm pretty sure he pays his caddie well, since no matter how far into the woods he hits the ball, it's in the middle of the fairway when we get there."
The article also states that the Norwegian golfer confirmed the belief that the president often skips his decisive putts rather than risk adding a stroke to his score.
"Yes, yes, that happens all the time," Pettersen is quoted as saying in the article. "He always says he is the world's best putter. But in all the times I've played him, he's never come close to breaking 80.
"But what's strange is that every time I talk to him, he says he just golfed a 69, or that he set a new course record or won a club championship some place. I just laugh. I'm someone who likes being teased and I like teasing others, and Trump takes it well, and that must be why he likes me."
Pettersen first responded with a tweet Tuesday morning: "Sometimes you do interviews and media will twist whatever word/saying to make a headline! It's shocking to see ... this is what I would call #fakenews. Why would I call someone a cheat. ... never!"
That tweet since has been deleted and replaced with one directing anyone seeking a response to the comments about Trump to visit Pettersen's Facebook page, where a lengthier statement now appears.
"With a big smile on my face what I said was that he most likely paid his caddy well because every time he found his ball it was in the fairway," Pettersen wrote in a Facebook post. "The way this has been requoted by many other media outlets is NOT correct and not a fair account of the original interview. I surely hope journalists that requote things like this in the future will read the full story and not just read headlines. Things always seem to come out the wrong way and what's sad is that this was a very positive interview. To me it seems like the media enjoys twisting things for their readers and viewers."
The newspaper is standing by its story.
"We of course stand by all the quotes in the story," Robert Simso, one of the article's writers, told GOLF.com an email. "I always use a tape recorder in interviews, and this time was no exception."
Twitter: @chewkiii
---
UPDATES:
12:35 p.m.: This article was updated after Pettersen deleted her tweet about the Trump matter and posted a lengthier response about it on Facebook.
This article was originally published at 11:50 a.m.
---
Get the latest on L.A.'s teams in the daily Sports Report newsletter.
You may occasionally receive promotional content from the Los Angeles Times.