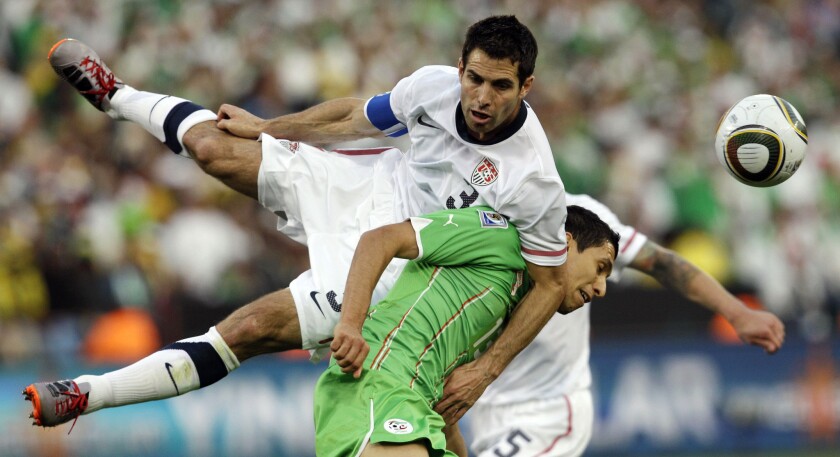 During his 12 years as a defender with the U.S. national team, Carlos Bocanegra played in many of soccer's most historic venues, from London's Wembley Stadium and Mexico City's Azteca to Genoa's Marassi and the Stade de France just outside Paris.
However, few of those places could match the tradition of the stadium the recently retired Bocanegra called home during his long career with Fulham of the English Premier League. Plus London's Craven Cottage has also proved a welcoming place for Americans, which figures to give the U.S. a big home-field advantage when the national team meets Colombia there in an international friendly Nov. 14.
"When you get a chance to play in a top-flight stadium in another league, it's just really cool to see how everything operates," said Bocanegra, who earned the nickname "Captain America" while wearing the captain's armband for the U.S. national team. "It's pretty awesome to be able to see all types of different places. But the Premiership is such a famous league."
Craven Cottage, on the banks of the River Thames, takes its name from the royal hunting lodge that first occupied the site in 1780. And the guest list of those reported to have stayed there include Queen Victoria, Arthur Conan Doyle and Florence Nightingale.
The site was turned over to soccer – primarily Fulham soccer – in 1896.
More recently, Fulham was relegated to the second-tier Football League Championship last season after 13 years in the EPL, a period during which its roster was spotted with U.S. World Cup veterans including Bocangegra, Eddie Lewis, Brian McBride, Kasey Keller, Eddie Johnson and Clint Dempsey. The team even has an American owner in Shahid Khan, who also owns the NFL's Jacksonville Jaguars.
"The American connection there throughout the history, that part of it is really cool," said Bocanegra, who also captained Fulham during five years there in which he became a fan favorite. "A lot of Americans can identify with the club. I kind of think it's everybody's second-favorite club, which is nice."
Bocanegra, 35, retired this summer after sustaining a concussion while playing for Chivas USA and has since been working with U.S. Soccer's youth national teams as coach, something he says he'd like to pursue full-time.
"It challenging," he said. "But I'm also realizing that I love it."
He also loved playing, especially at Craven Cottage, so he'll be watching next week's game with mixed emotions.
"The stands are right on top of the field," he said. "Just it's setting, and the history – how old it is – that stuff is really cool."
The U.S. hasn't lost since last summer's World Cup, playing Ecuador and Honduras to draws after beating the Czech Republic. It will close the year with next week's game against Colombia, the world's third-ranked team, and a friendly against Ireland four days later in Dublin.
---