MLB notes: Nationals to start Max Scherzer in wild-card game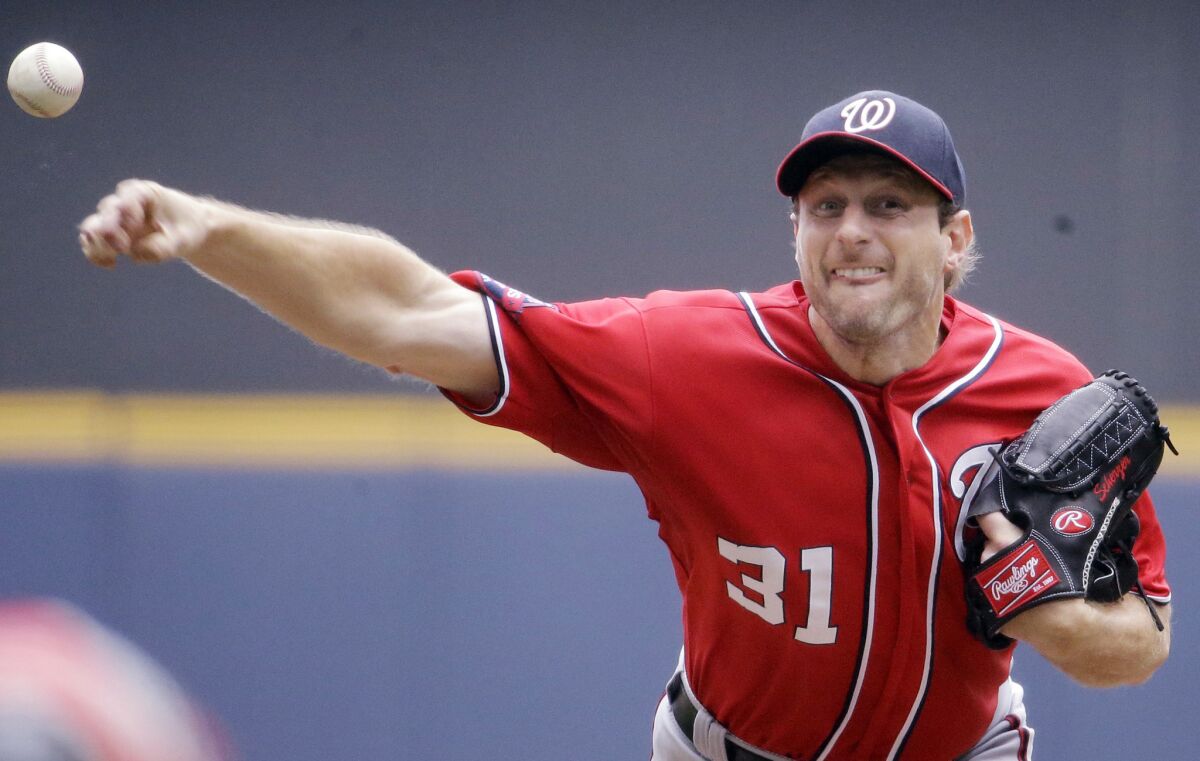 The Washington Nationals don't know which team they'll face in the NL wild-card game or where it will be played, but they do know this: Three-time Cy Young Award winner Max Scherzer will be their starting pitcher.
Scherzer got the nod over Stephen Strasburg for Tuesday night's win-or-go-home game against either the Milwaukee Brewers or St. Louis Cardinals. Any of the three clubs could host the contest, depending how the rest of the regular season goes.
Washington manager Dave Martinez said Friday that the right-handed Strasburg and lefty starter Patrick Corbin will be on the wild-card roster and be available to pitch in relief.
"I talked to both of them," Martinez said. "They'll both be out of the `pen that day. So all hands will be on deck."
How did Martinez decide to go with Scherzer, who missed most of July and August with a back muscle issue and finished with 27 starts, his fewest since his debut season in 2008?
"I based it on the bigger picture. Obviously, he feels good. And he's ready. He's going to have like seven, eight days' rest. I told him, `You should go on regular routine and get ready for Tuesday,"' Martinez said. "With that being said, Strasburg is going to be on his regular rest and regular routine. So that's kind of nice, to have those two guys, plus Corbin, that will be on three days' rest if we need to put him in for an inning or two. He's available to do that, as well."
If Strasburg does not appear Tuesday and the Nationals win, he would start Game 1 or 2 of the NL Division Series against the Los Angeles Dodgers. Scherzer probably wouldn't be available until Game 3 of that potential series.
Washington's top trio formed among the best rotation fronts in the majors all season. All three finished in the NL's top 10 in ERA, strikeouts and hits allowed per nine innings.
Scherzer went 11-7 with a 2.92 ERA and 243 strikeouts in 172 1/3 innings.
Freeman returns
Freddie Freeman says his rested right elbow is good to go, and he expects it to be that way through the postseason. Freeman was set to bat third and play first base for the Atlanta Braves on Friday night against the New York Mets after staying home this week to get treatment on his sore elbow.
The four-time All-Star did not travel with Atlanta for a two-game series at Kansas City and hadn't played since Sunday. The elbow has bothered Freeman for about two months, and he said he could not straighten his right arm before taking the time off.
"I feel really good," the 30-year-old Freeman said. "I can straighten my arm with no problem. I'm very encouraged. I guess I just needed the four days off."
Judge rules
Aaron Judge had the top-selling jersey in Major League Baseball for the third consecutive season. The New York Yankees slugger beat out Bryce Harper, according to results released Friday by MLB.
Judge maintained the top spot despite missing more than a third of the season. The 2017 AL Rookie of the Year entered Friday batting .272 with 26 home runs for the AL East champions.
Harper set a uniform sales record for any athlete in a 24-hour window after signing a $330 million, 13-year deal with the Philadelphia Phillies in February. Since opening day, he's ranked second in sales behind Judge, followed by NL MVP contender Cody Bellinger of the Los Angeles Dodgers.
Reigning NL MVP Christian Yelich of the Milwaukee Brewers had the fifth-most popular jersey. He didn't crack the top 20 last season.
Mike Trout of the Los Angeles Angels ranked ninth, a two-spot improvement from 2018.
Chicago Cubs infielder Javier Baez finished fourth and was joined in the top 20 by teammates Anthony Rizzo (10) and Kris Bryant (16). The Houston Astros also placed three players that high: Jose Altuve (8), Alex Bregman (13) and George Springer (20).
NL Rookie of the Year front-runner Pete Alonso of the New York Mets ranked 14th, and teammate Jacob deGrom was 19th.
Manny Machado, who signed a $300 million, 10-year deal with the San Diego Padres in February, did not crack the top 20.
---
Get our high school sports newsletter
Prep Rally is devoted to the SoCal high school sports experience, bringing you scores, stories and a behind-the-scenes look at what makes prep sports so popular.
You may occasionally receive promotional content from the Los Angeles Times.