Opioid testing among MLB players will begin next season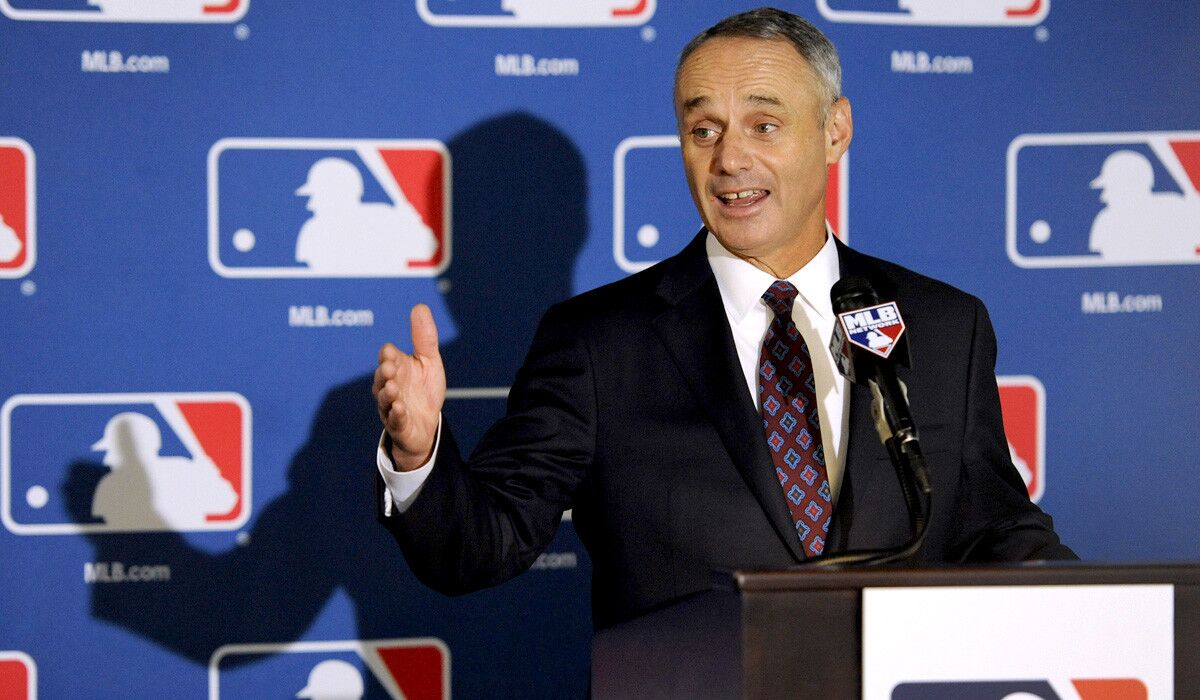 SAN DIEGO —
Five months after Angels pitcher Tyler Skaggs died in a hotel room with two opioids in his bloodstream, Major League Baseball and its players' union have agreed on a new drug policy that would add opioid testing for major leaguers and would not punish marijuana use in the major or minor leagues.
The policy, which would be implemented next season, is expected to be announced Thursday, according to a person with knowledge of the policy who requested anonymity.
The new policy is expected to call for treatment, rather than suspension, for players testing positive for opioids. Major league players have not been subject to opioid or marijuana testing, barring reasonable cause or participation in a treatment program.
The investigation into whether Houston cheated is probably the most thorough probe the MLB commissioner's office has ever conducted, Rob Manfred says.
The policy also would allow major and minor leaguers to use marijuana for pain relief without fear of discipline. Until now, minor league players have been subject to testing for marijuana and could be suspended for repeated use.
Commissioner Rob Manfred did not detail the policy revisions Wednesday in a news conference at the winter meetings, but he did salute union chief Tony Clark for his cooperation as both sides worked toward a long-anticipated agreement to address what Manfred called "a societal problem in terms of opioids" within the context of baseball.
"Hats off to Tony for being forthcoming on the issue," Manfred said. "I think they made an agreement that is realistic in terms of how you handle people with opioid problems, and I think it will be an improvement for the industry going forward."
Angels general manager Billy Eppler applauded the changes.
"I'm just thankful that the players' association and MLB were able to address a serious issue in our nation — that doesn't have boundaries — and work together for the betterment of our players," Eppler said. "It shows a human touch."
Skaggs' death has triggered an investigation by the Drug Enforcement Administration, which has included interviews with teammates of Skaggs. Eric Kay, the Angels' director of communications, told DEA investigators he had provided opioids to Skaggs and had told two team officials of Skaggs' repeated use of the substances. Both team officials denied any knowledge of Skaggs' use.
Fentanyl, one of the opioids in Skaggs' bloodstream, killed more than 31,000 people in the United States last year. No other drug in modern history has killed more people in a year.
One minor league player was suspended last season for opioids, with 13 players suspended for marijuana. In the wake of Skaggs' death, the commissioner's office and players' union quickly agreed to explore whether the time had come to test major leaguers for opioids.
According to the Marijuana Policy Project, 11 states have legalized marijuana for recreational purposes, 33 states have done so for medicinal purposes, and 26 states have decriminalized marijuana. Kyle Blanks, who bounced between the majors and minors in his career, said it made no sense that he could use marijuana for pain relief in the majors but not in the minors.
Blanks is a partner in a company that makes products with CBD, a substance derived from the cannabis plant that contains a tiny amount of THC, the psychoactive compound that produces the high among marijuana users. CBD can be delivered in creams, gels and food, and proponents say it can reduce pain without side effects.
Blanks did not know Skaggs, but he could not help but wonder whether marijuana might have prevented him from taking opioids. Blanks did know that Skaggs had undergone surgery during his career, and because of that Blanks suspected he had been exposed to opioids before the day he died.
"No different for me," Blanks said. "I woke up every time."

---
Get our high school sports newsletter
Prep Rally is devoted to the SoCal high school sports experience, bringing you scores, stories and a behind-the-scenes look at what makes prep sports so popular.
You may occasionally receive promotional content from the Los Angeles Times.