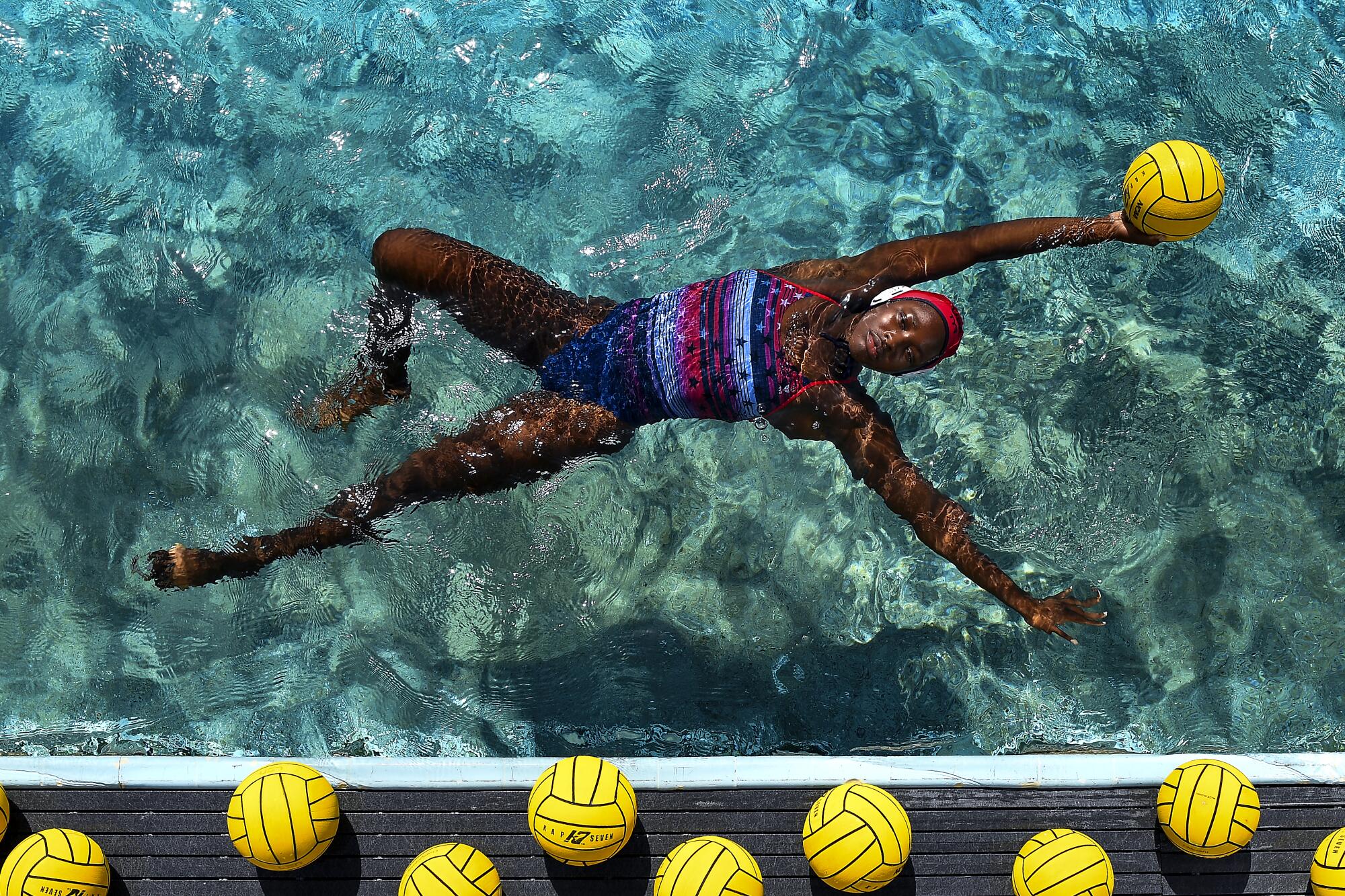 (Christina House / Los Angeles Times)
Ashleigh Johnson and her four siblings were usually the only African Americans in the pool when they began swimming and playing water polo in Miami. She never thought much about it because that was the case at her prep school, Ransom Everglades, and in many of her other experiences.
Not until Johnson won a place in the U.S. water polo national development program and her brothers and sister were no longer beside her did she feel she stood out for something besides her goalkeeping skills.
"It wasn't just being different, it was being black in a predominantly white space, and it was just such a new experience for me generally," she says. "It was a new feeling for me then and in college, and even now I struggle with my identity, like understanding what it means to be a leader in this sport and be someone who's kind of trailblazing in my own way."
One of the few non-Californians on the U.S. women's water polo team, she was a goalkeeper on the squad that won the 2015 world championship and the gold medal at the 2016 Rio de Janeiro Olympics. She took time off to sample the corporate world but returned to lead the U.S. to a third consecutive world title in 2019 and a berth in the 2020 Tokyo Olympics.
"She seems like she could have been an excellent athlete in anything, and we're just the fortunate sport that she chose," U.S. national team coach Adam Krikorian says. "She's athletic. Her hand-eye coordination is phenomenal. She's got great leg strength. Quick reactions. This sounds silly and obvious, but her vision, her ability to be able to focus on the ball and see it all the way through to her hand, is unlike anyone in the world."
Johnson took up the sport after her mother, seeking an outlet for the kids' energy, took them to a swim class.
Ogwumike began her involvement with the union as a player representative for her team
"She'd never heard of water polo. Never touched a water polo ball. I don't even know if she still has touched a water polo ball," Johnson says, smiling. "I swam for a month, then started water polo. It was like an instant connection. We loved it. I loved it. It was just a super-competitive household and the perfect place to express that competitive spirit."
Johnson, 25, says she and her sister Chelsea, who's in law school, loved being compared to sister tennis stars Venus and Serena Williams.
"They've just been black women killing it. They've just done their thing, unapologetically, and it's so inspiring and it's really cool to have had them to look up to. And they're so different. I was Venus. It was really cool to have these two sisters, right place, right time, like just role models for me and my sister. And I continue to look up to them."
The Williams sisters' success has drawn other black women to tennis; Johnson, hoping to do the same in the pool, ran a swim school in Miami with her sister for two years.
Brenda Villa broke barriers as a 5-foot-4 Latina from Commerce who became a decorated water polo player. Now she's making the sport more accessible.
"I think that, historically, black people and people of color have been barred from accessing aquatics, have been told this narrative that we're not supposed to swim. Black people don't swim. Like, it's not good for your hair, it's not good for your skin. And those things seem kind of petty, they seem kind of unimportant, but they become a reality when you're told something enough times," she says. "It becomes part of your legacy. This program [was] partly to break those stereotypes, bring black people into aquatics in general, teach this life-saving skill, but it's really just to allow black people to access the opportunity that is aquatics."
Johnson relishes being a role model.
"I think there's a lot of young kids who don't have anyone to look up to, or maybe could look up to someone but still feel like there's a door that's separating them from what they could be. They can't see their full potential," she says. "I think that I can be that final push, or part of that push that gets them to try something new, something they'll be really good at and something that would be really good for them."
Get our high school sports newsletter
Prep Rally is devoted to the SoCal high school sports experience, bringing you scores, stories and a behind-the-scenes look at what makes prep sports so popular.
You may occasionally receive promotional content from the Los Angeles Times.