Tahj Eaddy scores just before buzzer to lift USC to stunning comeback win over UCLA
Scanning his players from the sideline, desperate for a play that could change the arc of a story that seemed destined for an unsatisfying ending, Andy Enfield signaled what he wanted on the inbounds pass.
"It was called Hail Trojan," the USC coach said afterward.
He was free to joke given the way it worked out.
Down by two points in a rivalry game his team had trailed nearly the entire way, Enfield wasn't getting greedy. He wanted point guard Ethan Anderson to throw an alley-oop pass to Evan Mobley, his best player, for a dunk.
As Anderson stood along the baseline with 3.7 seconds left and no timeouts remaining Saturday afternoon at Pauley Pavilion, UCLA took that option off the table. Forward Cody Riley fought off the screen that was supposed to free Mobley, staying with his man and sending the Trojans into scramble mode.
Anderson pump-faked a pass one way, then another. He was running out of time to get the ball inbounds. Trojans guard Tahj Eaddy, marked by Jaylen Clark, the Bruins' best defender, faked toward the top of the key before flashing into the corner.
Anderson flung Eaddy the pass. Eaddy rose for a three-pointer over the outstretched arm of Clark. It rattled into the basket with 1.4 seconds left.
It was a shot straight through the heart of the Bruins, sending the Trojans to a pulsating 64-63 victory that propped up their once-fading Pac-12 Conference title hopes.
"We cut it pretty close there," Eaddy said after being swarmed by teammates. "I'm just thankful that it went in."
After ending UCLA's 18-game winning streak on its home court, USC (21-6, 15-5 Pac-12) is assured of finishing no worse than second in the conference and could win it if Oregon State beats Oregon on Sunday in Corvallis.
For the Bruins, it was more of the same sad refrain. A third consecutive collapse in a game that was theirs for the taking. A second unfathomable loss on an inbounds pass after a previous nightmarish finish against Stanford. A fourth consecutive loss to their hated rivals, even if it did come with leading scorer Johnny Juzang sidelined with an ankle injury.
USC again struggled from the free-throw line, including key misses late, but still beat rival UCLA when Tahj Eaddy hit a game-winning three-pointer.
Most improbably, it was a second loss to the Trojans on a final shot in the span of a year. Jonah Mathews had the honors last March, burying the Bruins on his step-back three-pointer at Galen Center.
UCLA coach Mick Cronin lamented mostly what came before the final shot. His team lost an 11-point halftime lead and an eight-point advantage with five minutes left. The Bruins (17-8, 13-6) went into what could be described as a prevent offense, forcing tough shots late in the shot clock, and missed the front end of two one-and-one situations at the free-throw line in the final 44 seconds.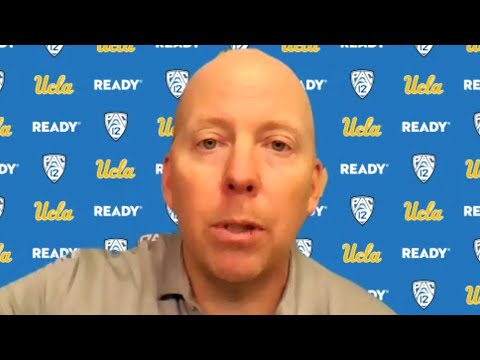 UCLA coach Mick Cronin talks after the Bruins' 64-63 loss to USC on Saturday at Pauley Pavilion.
Guard Jules Bernard, who missed a free throw with 11 seconds left with his team leading by two as well as a desperation heave at the buzzer, apologized to his teammates in the locker room afterward. But Cronin said those free throws were needed only as result of the egregious defensive breakdowns and "ridiculous shots" that preceded them.
"We had three or four offensive trips that were just awful — God-awful — that resulted in a layup at the other end," said Cronin, who noted that it was USC's secondary options who were the biggest culprits in his team's undoing. It didn't matter that Mobley was held to 13 points because he received more than enough support, Eaddy and Chevez Goodwin adding 12 points apiece and Drew Peterson chipping in 10.
USC shot 51.7% in the second half and made four of 10 three-pointers after missing all six of its shots from long range in the first half.
Having squandered its 8-0 start in conference play and a one-game lead as recently as a week ago, UCLA assured itself of finishing fourth in the standings. The Bruins will play fifth-seeded Oregon State in a Pac-12 tournament quarterfinal Thursday at T-Mobile Arena in Las Vegas, needing to quickly purge the memory of the last two weeks.
UCLA lost late leads against Colorado, Oregon and USC in succession, potentially jeopardizing its NCAA tournament hopes.
"We've got to have a short memory — that's kind of a phrase I've been using — and go into this tournament and you know, give it everything we got and then try to come out with a championship," said Bruins guard Jaime Jaquez Jr., who led his team with 12 points but missed the front end of a one-and-one with 44 seconds left.
Given a repeat of the final sequence, many UCLA fans likely would take their chances. Clark had been a defensive menace all game, forcing Mobley into an airball in the second half, and got his hand up to contest Eaddy's last shot.
But even that effort went astray. Cronin said Clark should have made Eaddy dribble inside the three-point line to protect his team's two-point lead and ensure that, at worst, the game headed to overtime.
Michaela Onyenwere scored 24 points, and No. 9 UCLA beat No. 11 Arizona 58-49 to advance to face Stanford in the Pac-12 women's tournament title game.
Eaddy, who like Mathews wears No. 2, had a different take on the final play. Just like last year, it was destiny for a team surging into the Pac-12 tournament.
"It's funny for that to happen," Eaddy said. "We both wear the same number. It's funny how things come full circle like that."
Get our high school sports newsletter
Prep Rally is devoted to the SoCal high school sports experience, bringing you scores, stories and a behind-the-scenes look at what makes prep sports so popular.
You may occasionally receive promotional content from the Los Angeles Times.