Kyle Larson holds on for victory in wild NASCAR Cup finish at Fontana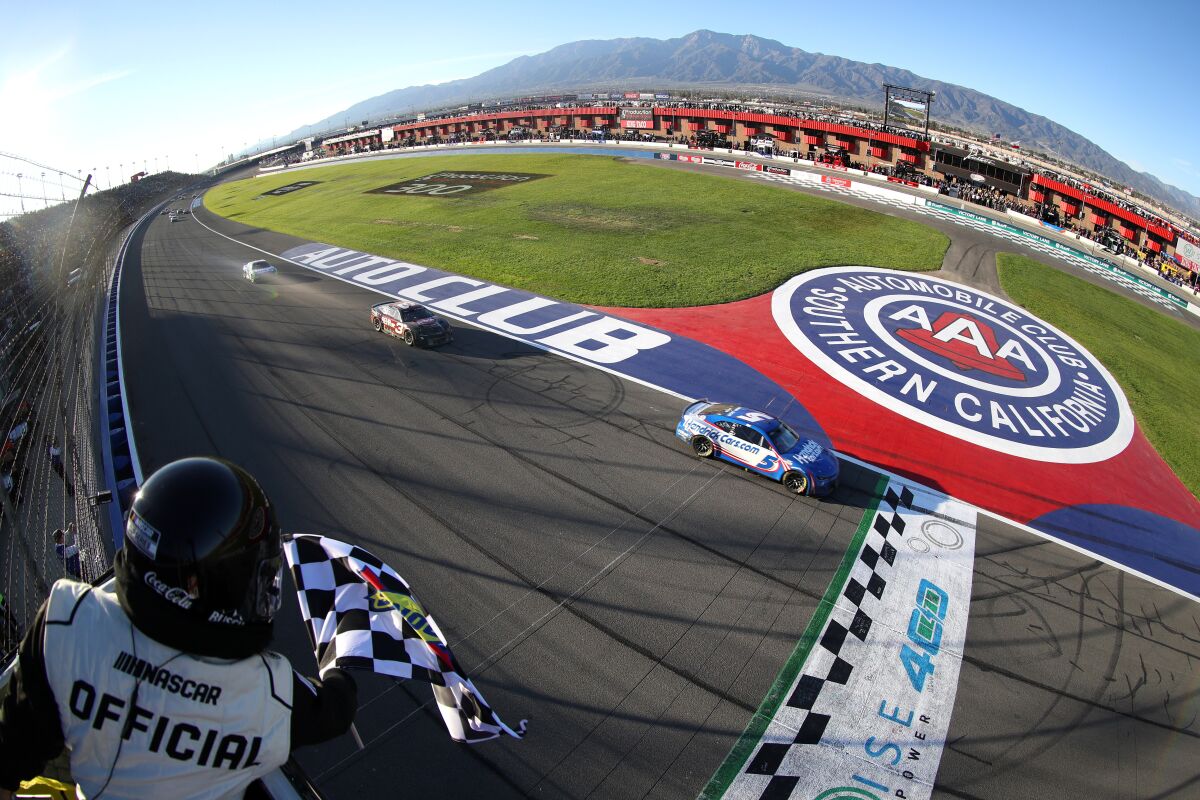 Drivers knew that the Wise Power 400 on Sunday, the first two-mile speedway race of the NASCAR Cup Series season, would not be about sheer speed. It wouldn't be about pushing the throttle for 200 miles, driving your car into the bumpy asphalt at Fontana as hard as it could go.
No, this would be about survival.
The first clues came Saturday in a practice session, smoke rising from unforced carnage. Coming around a turn all by himself, Kevin Harvick's No. 4 car snapped and spun out. Ross Chastain smashed into the wall.
The solo wreckage followed not 40 laps into the race Sunday at Auto Club Speedway, with Kyle Busch spinning out on Lap 16 and early leader Chase Elliott suddenly bumping the wall and tail-spinning on Lap 39.
Rams lineman Andrew Whitworth, who is considering retiring after the team's Super Bowl win, reflects on conversations he's had with hockey legend Wayne Gretzky.
Drivers weren't just battling each other. They were battling themselves, battling for control of NASCAR's Next Gen cars in their first real tests at a two-mile track, battling to keep them healthy and happy.
"We're going to be living on that fine line, and there are going to be a lot of guys that step over it," Saturday's Xfinity Series race winner Cole Custer predicted. "There's going to be a lot of attrition, a lot of guys wrecking."
For much of the afternoon, Tyler Reddick jumped out to a commanding lead, earning victories in Stage 1 and Stage 2. But this was a race of survival, and Reddick's No. 8 Chevrolet didn't survive — opening a lane for reigning Cup Series champion Kyle Larson to swoop in for a victory.
Austin Dillon snuck his way into second place. Erik Jones earned a third-place finish and Daniel Suarez finished fourth.
On Lap 179, Larson got aggressive jockeying for position, bumping with Joey Logano and teammate Chase Elliott in a trident at the head of the race. Elliott didn't receive any love from his teammate, getting sent to the back of the pack as Larson ground his way ahead.
Larson was sure Elliott was upset but said he wasn't worried about it.
"I had no clue he was even coming," Larson said after the race. "I hate that I ended his day … but it's probably an honest mistake on both of our parts."
The second Fontana win in Larson's career started innocuously. He led for just 28 laps, hanging around the middle of the pack before jumping into the top five and then the lead. A caution flag on Lap 191 threatened to erase it, but Larson held off Dillon for the win.
Drivers expect the bumpy track at Auto Club Speedway to deliver drama during the WISE Power 400 on Sunday ahead of a proposed stunning renovation.
With 50 laps to go, Reddick, who'd led for 90 laps — more than the cumulative amount he'd led across all races in his four-year career — started to fade. Suddenly, his left rear tire blew out, and Jones pulled into the lead. Reddick then started to drift and collided with William Byron, who'd also had an impressive showing all afternoon.
"I mean, yeah, it was heartbreaking," Reddick said, shrugging. "More than anything, you just have to laugh."
It was a rough end to what could've been a career highlight for Reddick, who finished 24th.
That was the case for more than just Reddick — 12 caution flags flew in total, signaling a slew of spinouts.
On Lap 117, Brad Keselowski, whose car was loose, drifted toward the middle of the track and the rear snapped around, careening sideways toward the grass. Logano just barely managed to swerve away from former Penske teammate Keselowski's tailspin at the last second.
It was a tough day for Keselowski, who about 40 laps later got bumped by Bubba Wallace and spun around, causing a mess that sent Wallace into a mini-tornado of a burnout.
"We were out of control," Dillon said. "I mean, I'm literally mentally exhausted from how stressful it was to drive today, because any correction you made you really had to be on your toes. And if you made too big of one, you're in the fence or you're spinning out."
Multiple drivers called the new car "edgy" after the race. But it certainly made for some compelling action at a track that typically doesn't see such close finishes. Reddick, for one, is all for the challenge.
"For me, a kid growing up watching the sport, I wanted to race cars that were more difficult to drive," Reddick said. "This is in that direction."
Get our high school sports newsletter
Prep Rally is devoted to the SoCal high school sports experience, bringing you scores, stories and a behind-the-scenes look at what makes prep sports so popular.
You may occasionally receive promotional content from the Los Angeles Times.