Ricky Stenhouse Jr. surges in double overtime for 'unbelievable' Daytona 500 win
DAYTONA BEACH, Fla. —
You can always count on the last 10 regulation laps of the Daytona 500 to have more twists, turns and spins than the previous 190, and Sunday's 65th running of NASCAR's biggest race did not disappoint.
In fact, 200 laps weren't enough to determine the winner. They were in the 12th extra lap when the race was declared over because of another caution, which left it to NASCAR to check video to determine who won the race. In this case, it was Ricky Stenhouse Jr. winning his first Daytona 500.
A video review wasn't necessary because of the small margin of victory over Joey Logano, but rather a rule that if a caution comes out during the last lap after more than one overtime, time is frozen when the yellow caution light appears. NASCAR then seeks visual evidence to declare the winner.
Christopher Bell, Chris Buescher and Alex Bowman completed the top five.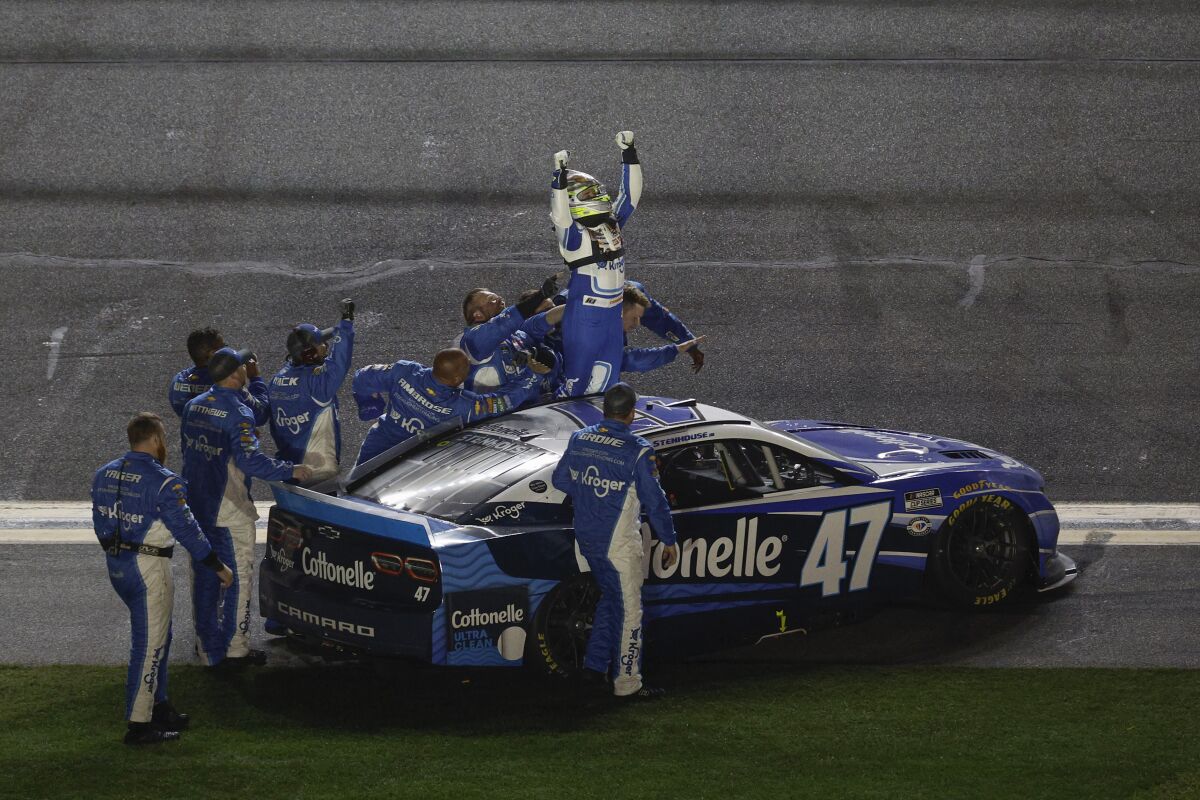 What makes Stenhouse's win so impressive is that in a sport dominated by big teams, with multiple drivers often working together, he runs for a single-car team. He races for JTG Daugherty, which is owned by Jodi and Tad Geschickter and former NBA player Brad Daugherty. Jodi is believed to be the first woman owner and Daugherty the first Black owner of a Daytona 500 winner.
Stenhouse, who drives a Chevrolet, has been a NASCAR driver for 12 years and this was only his third win in 364 races. Before this he was probably more known for having a relationship with Danica Patrick for five years that ended in 2017.
Jimmie Johnson is competing in the Daytona 500 as both a driver and owner after a two-year absence from NASCAR. Here's why he decided to come back.
"It's been really big for myself having not won since 2017 and having struggles, ups and down," Stenhouse said. "Having someone like [crew chief] Mike Kelley [was huge]. He said, 'Hey I know you can still get this done. We've just got to give you the right opportunities. We know if we give you cars capable of running up front you can do that.' We've proven that."
Kelley even scrawled a few words on a piece of duct tape Sunday for Stenhouse to see before the race.
"They left me a note in the car that said they believe in me and to go get the job done," Stenhouse said. "I made a few mistakes but we were able to battle back. Man, this is unbelievable. This was the site of my last win back in 2017 [in the July race]. We've worked really hard. We had a couple shots last year to get a win and fell short. It was a tough season, but man, we got it done, the Daytona 500."
There were three cautions from Lap 199 and beyond involving 16 drivers, including Austin Cindric, Denny Hamlin and Brad Keselowski, who were twice caught up in the accordion-like series of crashes.
There is a tremendous amount of strategy in the final laps and oftentimes you need help from another driver to give you an aerodynamic push. There is a lot of switching and jostling among the 10 or more cars running door-handle-to-door-handle in the final laps, each only inches behind the car in front of them. One foot off the pedal can send several cars spinning and looking for a clear path to run, which may not exist.
"Second is the worst, man," said Logano, who won the race in 2015 and is the defending Cup Series champion. "You're so close. Leading the white flag lap there, I was up front. Kyle [Busch] gave me a good push and, yeah, you're watching in the mirror and you're three-wide across there. It looked like Kyle was getting pushed ahead, and then Ricky started getting pushed ahead.
"You think you're racing to the checkered flag and you put yourself in the best position to try to win at the start-finish line, and then caution comes out. You wish you could race to the end. … Congratulations to Ricky. There's nothing like winning the Daytona 500. That's why it stings so much finishing second."
A number of drivers had a chance at the win as the race counted down its ever-expanding final laps. Busch was looking for his first win in 18 starts on Lap 199 when Daniel Suarez spun out on the front straightaway. Another caution and the cars stacked up for a restart.
On the restart, Busch got shuffled back and then Austin Dillon got loose trying to switch positions and 13 cars were affected.
Another caution and another restart had Stenhouse on the outside, being pushed by Logano and Kyle Larson on the inside, but it wasn't long before another mashup of nine cars got caught up with each other.
Except for the end, it was a low-caution race. There were six unscheduled cautions, the first one coming on Lap 118, almost 300 miles into the race. There were 52 lead changes involving 21 drivers. Keselowski led the most laps with 42, followed by Buescher with 32.
NASCAR's 75th season is about to begin. Joe Gibbs Racing has a younger look and how did Kyle Busch get a 3½- year sentence to a Mexican prison?
Jimmie Johnson, making his first start after two years away from NASCAR, finished 31st but was competitive until he was collateral damage in one of the late wrecks.
Kevin Harvick, running in his last Daytona 500, finished 12th.
The next race in the Cup Series will be next Sunday at Auto Club Speedway in Fontana. It will be the last race at two miles for the track. It will take a year off from the Cup and return as a half-mile track.
Get our high school sports newsletter
Prep Rally is devoted to the SoCal high school sports experience, bringing you scores, stories and a behind-the-scenes look at what makes prep sports so popular.
You may occasionally receive promotional content from the Los Angeles Times.