Seventh-grade prodigy Jaden Soong takes his shot at qualifying for the U.S. Open
Of 89 underdog golfers making last-ditch attempts to qualify for the 123rd U.S. Open on Monday, one elicited the most oohs and aahs as well as discreet eye-rolling.
Jaden Soong, however, had little chance of advancing to the first U.S. Open held in Los Angeles, with emphasis on little.
Soong is a 5-foot-1, 13-year-old seventh grader who Tuesday will return to classes at Thomas Starr King Middle School in Los Feliz. He rarely mishit a ball, maintaining his poise before tiring near the end of the 36-hole grind beneath overcast skies and an occasional drizzle at Hillcrest Country Club.
Turns out the course in these conditions was tamed by men, not boys. Soong finished seven over par after bogeys on four of five holes on his last nine, 19 shots behind leader Omar Morales, a UCLA sophomore from Puebla, Mexico.
Englishman Barclay Brown of Stanford was one shot back of Morales' 12-under 65-65 and David Puig, a LIV golfer from Spain who starred at Arizona State, was two shots back, enabling all three to qualify for the U.S. Open at L.A. Country Club from June 15 to 18.
And it's not over yet. Two more spots are up for grabs with longtime PGA Tour veteran Charley Hoffman of San Diego, Josh Anderson of Murrieta and Preston Summerhays of Scottsdale, Ariz., tied at nine-under, forcing a playoff Tuesday at 7:30 a.m. beginning on the 10th hole.
Golfer Jaden Soong is in the final qualifying tournament to earn an at-large berth into the U.S. Open. He's a 13-year-old from Los Feliz in seventh grade.
For Hoffman, who has earned more than $33 million on the PGA Tour, and Anderson, a teammate of Rickie Fowler at Murrieta Valley High, a star at Pepperdine and winner of the California Amateur Championship in 2007, playing in the U.S. Open would be particularly meaningful because it is near home.
"When it was announced that it'd be at LACC, I was like, 'I'm going to be 46 years old, I don't know if I'm even going to be playing golf competitively any more,' " Hoffman said. "So the opportunity to come up here was a big motivator. To try to qualify, it's not in my backyard but just up the road and I'm California born and raised, hopefully I'm able to represent us in a major championship."
Hoffman battled lower back pain Monday afternoon but said he'd "suck it up" for the playoff. Anderson said he didn't take anything for granted and would be prepared.
"Trust me, until I get that plaque, you are still kind of on edge," he said. "I played my best, I played great, but I can't let my guard down. The U.S. Open is my favorite major. And it's our country, that's the most important thing. I love playing at the L.A. Country Club. It's extra motivation for sure."
The only golfer from Southern California to qualify in any of the other nine tournaments held across the country Monday was Berry Henson, who was born in Thousand Oaks and lives in San Diego. Henson finished second at Canoe Brook Country Club in Summit, N.J., after shooting a 30 on the final nine of 36 holes.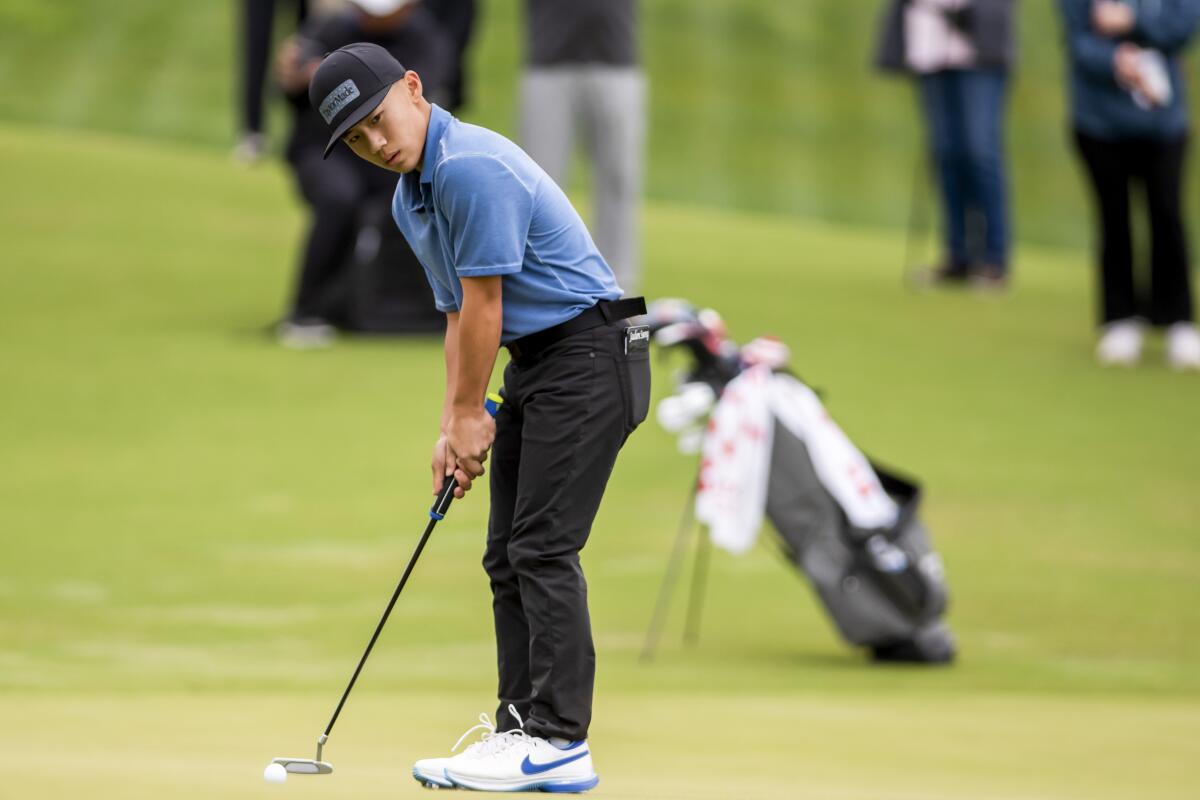 Hillcrest opened in 1920 to cater to the Los Angeles Jewish community excluded from other area country clubs.
Its place in show business history is mostly in the past. Jack Warner, Samuel Goldwyn, Adolph Zukor and Louis B. Mayer were among its first members. Jack Benny, Milton Berle, Harpo, Chico and Groucho Marx, George Jessel, Eddie Cantor, George Burns and others regularly gathered around a large oak table in the club's restaurant to share stories and try out new bits and one-liners.
On Monday, Hillcrest provided a last chance to gain entry into the U.S. Open, which since its inception in 1895 has been played in the Southland only in 1948 at Riviera Country Club in Pacific Palisades. The course was renovated by renowned course architect Kyle Phillips in 2018 and received rave reviews Monday.
"This place is phenomenal," Anderson said. "I was blown away. I'd never played here before but this place is spectacular. Hands down this is the third best course in L.A., and Riviera and LACC are top 20 in the world."
Jaden Soong, a seventh-grader at Thomas Starr King Middle School in Los Feliz, will compete in a U.S. Open qualifier next month.
Who could have figured the largest following was for a prodigy who was first identified as such in a YouTube video at age 7?
During a short break between rounds Monday, Soong practiced his swing wearing colorful leg and arm bands. A few fellow golfers two, three or four times his age privately smirked.
Nobody scoffed at his first tee shot, a 280-yard blast straight down the fairway.
Soong didn't appear too broken up over not becoming the youngest golfer to qualify for the U.S. Open. After all, he has another year to best the record of 14 years, 6 months, set by Andy Zhang in 2012. Soong doesn't turn 14 until Jan. 26.
Get the latest on L.A.'s teams in the daily Sports Report newsletter.
You may occasionally receive promotional content from the Los Angeles Times.