Nuggets on brink of first NBA title after Game 4 win over Heat
MIAMI —
The mission for the Denver Nuggets was clear: Come to Miami, get two wins and head back home with a chance to finally become NBA champions.
It's officially there for the taking.
The 47-year wait for Denver might be over as soon as Monday, with Nikola Jokic and his Nuggets just one win away from getting the title that he's wanted for so long. Aaron Gordon scored 27 points, Jokic added 23 and the Nuggets beat the Miami Heat 108-95 on Friday night to take a 3-1 lead in the NBA Finals.
"We haven't done a damn thing yet," Nuggets coach Michael Malone said. "We have to win another game to be world champions."
The Lakers, who have two picks in the upcoming NBA draft, are paying attention to the fringe players, much like Miami has done in recent years.
Bruce Brown scored 21 off the bench for the Nuggets, who won their fifth straight road game to grab complete command. They'll have three chances to win one game for a title, two of those in Denver, the first of them in what's sure to be a raucous atmosphere for Game 5.
Jamal Murray had 15 points and 12 assists — his fourth consecutive double-digit assist game — for Denver.
"Today was a team effort." Murray said. "I can't even name one person. Everybody locked in. We've got one more to go."
Jimmy Butler scored 25 points for Miami, which has fallen into 3-1 holes in each of its last three finals appearances — this one joining 2014 and 2020. Bam Adebayo had 20 points and 11 rebounds for the Heat, while Kyle Lowry added 13 points.
The Heat walked off the floor in silence, fully aware of how much trouble they're in now.
The Nuggets were overwhelming favorites to start the series, for obvious reasons. Denver was the Western Conference's No. 1 seed; Miami was the Eastern Conference's No. 8 seed. The Nuggets had won nine of the last 10 regular-season meetings between the teams, and their run of success over the Heat has continued through four games of the finals.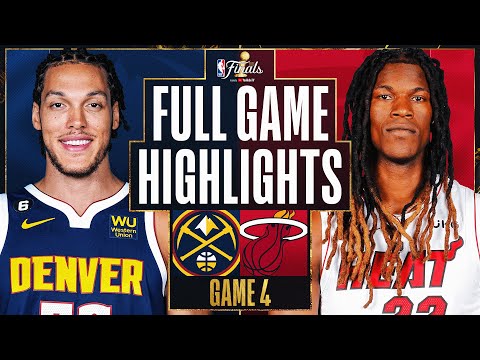 "Our guys are locked in, man," Malone said. "We're focused."
Denver led by 13 going into the fourth, and Miami came out for the final quarter with appropriate desperation. The Heat scored the first eight points, Jokic committed his fifth foul and had to go to the bench with 9:24 left — and it was down to 86-81 when Butler converted a three-point play with 8:42 remaining.
But the Nuggets — who fell apart in the fourth quarter of Game 2 for their lone loss of the series — didn't fold, even with their two-time MVP still out. Murray made a three-pointer to stop Miami's 8-0 spurt, and Jeff Green made a huge corner three from near the Heat bench for a 94-85 edge with 6:21 left.
Jokic checked out with Denver up 10. He came back with the Nuggets up nine. Miami didn't take advantage of that chance, and finds itself on the wrong end of history.
Teams that take a 3-1 lead in the NBA Finals have won 35 out of 36 previous times, and the Heat will have to buck that trend to keep Denver from winning its title.
"We have an incredibly competitive group," Heat coach Erik Spoelstra said. "We've done everything the hard way and that's the way it's going to have to be done right now — again. And all we're going to focus on is getting this thing back to the 305. Get this thing back to Miami. And things can shift very quickly."
Get our high school sports newsletter
Prep Rally is devoted to the SoCal high school sports experience, bringing you scores, stories and a behind-the-scenes look at what makes prep sports so popular.
You may occasionally receive promotional content from the Los Angeles Times.