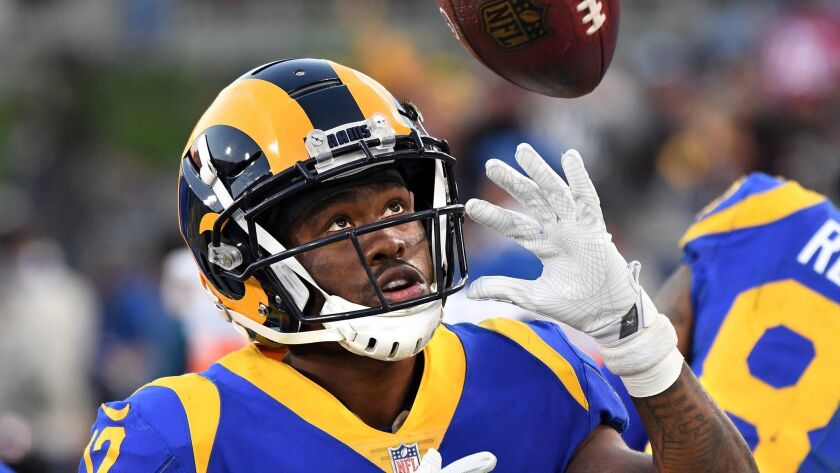 Reporting from atlanta —
Rams receiver Brandin Cooks achieved a noteworthy professional feat by starting in a Super Bowl.
Now he would like to finish — and win — one.
Last season, Cooks was a key member of a New England Patriots team that played the Philadelphia Eagles in Super Bowl LII in Minneapolis. But he suffered a concussion after absorbing a blow on his only reception, and sat out the rest of the Patriots' 41-33 defeat.
The Rams traded for the 25-year-old Cooks during the offseason, and he is an important component for a team that will play the Patriots in Super Bowl LIII on Sunday at Mercedes-Benz Stadium.
"I will be lying if I said I didn't think about it like all year, offseason and training camp and stuff like that," Cooks said of his shortened Super Bowl experience. "Now that I'm here, I kind of got that thought process out of mind and I'm focused on the task at hand."
Cooks, who began his career with the New Orleans Saints, signed an $80-million extension with the Rams before training camp, and then eclipsed 1,000 yards receiving for the fourth time in five NFL seasons. He also made clutch plays in the playoffs against the Dallas Cowboys and Saints, helping the Rams earn their first Super Bowl berth since the 2001 season.
Patriots players respect their former teammate.
"No matter where he's at, he's a walking 1,000 yards," Patriots cornerback Jason McCourty said. "He's a guy that no matter what, on each and every play, you have to know where he's at because he can score from anywhere on the field."
That has been the scouting report on the 5-foot-10, 183-pound Cooks since he starred at Stockton Lincoln High. Cooks was known for his speed and elusiveness, but also his work habits.
"The thing that separated him from other players was how polished he was," said Rams running back Justin Davis, a Lincoln High teammate. "He's always been honed in on the details and he is crisp in all he does."
Cooks committed to UCLA before his senior high school season, but after watching the Bruins in a Pistol-formation offense, he contacted Oregon State.
"He called and said, 'You know, I think I'm a lot better fit in your offense than I am in UCLA's offense. Can I come visit?' " former Oregon State coach Mike Riley said.
Cooks thrived in a Beavers attack that also featured Rams backup quarterback Sean Mannion. Cooks caught 67 passes and scored five touchdowns as a sophomore, added 10 pounds before his junior season, and then increased his production to 128 catches and 16 touchdowns.
"He was just a ball of muscle running real fast," Riley said. "People couldn't tackle him."
The Saints chose Cooks with the 20th pick in the 2014 draft. Playing with future of Hall of Fame quarterback Drew Brees, Cooks amassed more than 1,000 yards receiving twice in three seasons before the Saints traded him to the Super Bowl-champion Patriots for a first-round pick.
Playing with quarterback Tom Brady, another future Hall of Famer, Cooks caught 65 passes for 1,082 yards and seven touchdowns.
"He's one of the hardest workers I've ever been around," Brady said. "He's one of the most mature players for his age I've ever seen."
The Rams, in search of a deep threat to replace Sammy Watkins, considered trying to fill the void through the draft. Instead, they offered the Patriots a first-round pick for Cooks, completing a flurry of offseason activity that included trades for cornerbacks Marcus Peters and Aqib Talib and the signing of defensive lineman Ndamukong Suh.
"We felt like it was best to use that first-round pick on a proven veteran that would come in and … keep the momentum going on offense," general manager Les Snead said.
It did not take long for Cooks to make a positive impression on the Rams.
"He walked right in the door and fit right in," passing game coordinator Shane Waldron said. "He caught right up to the playbook almost instantly."
Cooks also connected with quarterback Jared Goff.
"The way I can tell if a receiver and I are going to jell is the way that he tracks a deep ball," Goff said. "I think it's something that you can't really teach, you can't really drill it. It's just something that you either you have or you don't from a young age and he has it.
"When a guy can do that, you can kind of have a little bit of room for error as a quarterback. When I can throw a deep ball with not exact perfection and he can go and get it, it causes that chemistry to go up. He's the type of guy who can do that."
Cooks, playing in a system that included receivers Robert Woods, Cooper Kupp and Josh Reynolds, caught 80 passes for 1,204 yards and five touchdowns during the season. He had four receptions for 65 yards in the NFC divisional-round victory over the Cowboys, and seven catches for 107 yards in the NFC championship game victory over the Saints.
He also made a smart play against the Saints by intentionally dropping a pass behind the line of scrimmage in overtime. Had the pass been completed, it would have resulted in lost yardage and forced kicker Greg Zuerlein to attempt a field goal longer than the 57-yard kick that won the game.
"When it comes to Greg, you like to think he can hit it from anywhere," Cooks said. "But any time you can save him some yards, that's the best thing that you can do."
The heady play helped Cooks earn another Super Bowl opportunity.
Last year against the Eagles, Cooks caught a second-quarter pass on the left side of the field, and then turned to extend the play. Eagles safety Malcolm Jenkins crashed into Cooks, making helmet-to-helmet contact.
Cooks' Super Bowl was over.
"It was a tough pill to swallow for all of us," Patriots special teams standout Matthew Slater said. "I know he was really upset. You never want to go into the biggest game of your life and not be able to make it out.
"It was a tough break for him, but he's a tough kid, and you see how he's bounced back this year. None of us are surprised by that."
Said Patriots receiver Chris Hogan: "He's a great player, great teammate. It was unfortunate the way the Super Bowl unfolded for him last year, so I'm really happy and proud of him for how hard he worked to get back to this game."
After being traded twice in two years, Cooks appears to have found a long-term home with the Rams. Coach Sean McVay considers him a perfect fit.
"I can promise you this: We're not trading him," McVay said.
And after playing with Brees and Brady, Cooks sees a bright future with the ascending Goff.
"I guess I know how to pick 'em right," he joked.
But first Cooks aims to finish what he could not complete in the Super Bowl.
"When you think of that moment, you're like, 'Man, will I ever get back?' " he said. "So to be back here the following year, I'm very thankful and blessed."
Staff writers Mike DiGiovanna and Jeff Miller contributed to this report.
Sign up for our daily sports newsletter »
Follow Gary Klein on Twitter @latimesklein
---