Column: He reconstructed Tom Brady's knee. Now the Rams' doctor is rooting for L.A.
Reporting from atlanta —
As their physician, Neal ElAttrache dispensed medical advice that kept the Rams healthy enough to reach the Super Bowl.
He also prepared their adversary.
More than a decade after performing a knee operation that salvaged Tom Brady's career, ElAttrache continues to serve as a personal doctor of sorts for the New England Patriots quarterback. Their bond extends well beyond the boundaries of the ordinary doctor-patient relationship.
"I love Neal," Brady said.
"I would do anything for him," ElAttrache said.
Well, almost anything.
Although ElAttrache would like for Brady to perform well Sunday at Mercedes-Benz Stadium, he wants the Rams to win.
"I'm these guys' doctor," ElAttrache said. "Of course I want them to go home with a world championship."
ElAttrache has become a central figure in one of the greatest periods in the history of Los Angeles sports. He has watched each of the Rams victories this season from the sidelines. In his capacity as the physician of the Dodgers, he has overseen the medical care of teams that reached consecutive World Series. And as a surgeon at the Kerlan-Jobe Orthopaedic Clinic, he has operated on countless athletes from a wide range of sports.
His already close view increases by the relationships he has forged with many athletes. The process of providing and receiving medical care requires intimacy. A physician has to be familiar with an athlete's mind-set to prepare an effective roadmap to recovery. An athlete has to trust a physician to embrace the recovery program.
When an athlete who is or was under his care is on the field, ElAttrache will know what drives him, what his fears are and what he had to do to set foot on the field again. He knows parts of them few others do.
Take Brady as an example.
"He's never been one to be braggadocious but you just had a sense he knew his destiny was to be great," ElAttrache said. "That's why he takes care of himself the way he does. I noticed very early on that he surrounds himself only with things that are going to help him win in football. There was no unusual posse.
"His activities, if it's on the golf course, it's sort of to cleanse his mind a little bit and enjoy himself so that he can go and hit the football field well-rested. Literally, everything he did, what he ate, what he did for workouts, was all to make him a better football player. I can't think of anything he does that would subtract from that."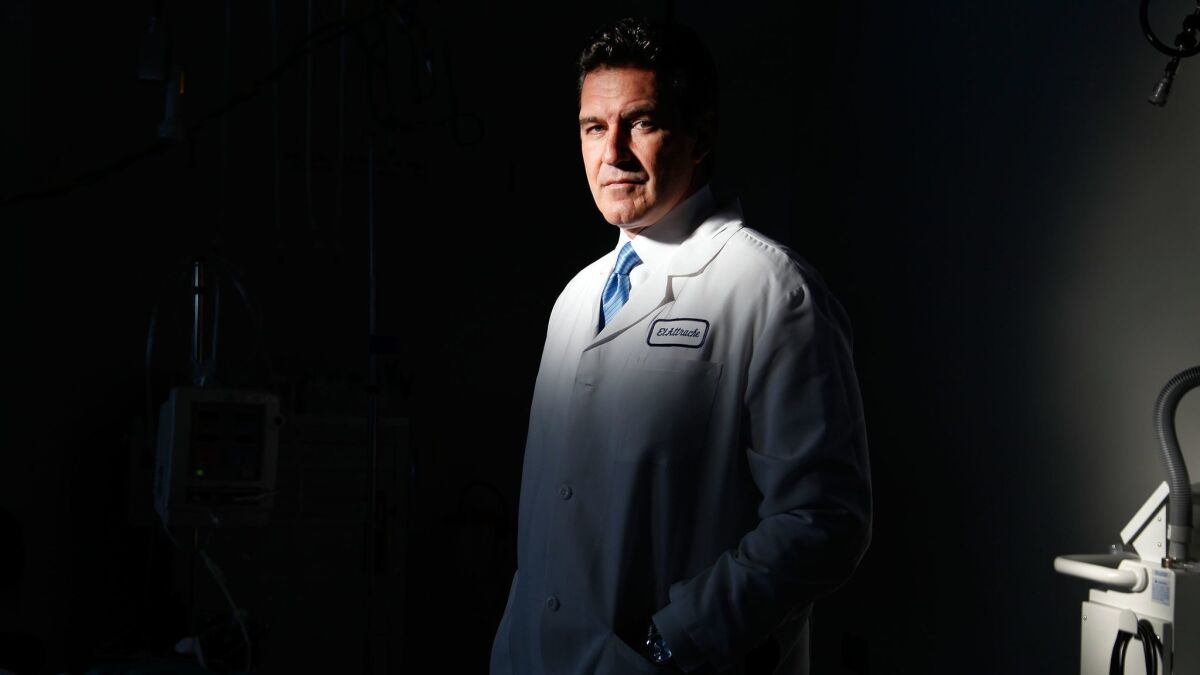 ElAttrache gained the insight before, during and after a reconstruction of Brady's left knee, which suffered ligament tears in the opening game of the 2008 season. Brady spent the early stages of his recovery in Los Angeles. When he returned to Boston, ElAttrache visited him weekly. They have remained in constant communication since, golfing together in the years Brady made his offseason home in L.A.
"Just very grateful for his support for what I went through," Brady said. "He's been a great friend ever since."
The only other athlete ElAttrache has found to be as devoted to his craft was Lakers guard Kobe Bryant, on whom he performed multiple operations.
"Kobe was very much the same way about how he is a student about what he does," ElAttrache said. "He has his own perspective on what he does, not that he's not open-minded, but he's not open-minded with everybody. And Tom's not open-minded with everybody. There's only a few people that he'll be interested in their opinion or their perspective in things."
The Rams player most similar to them?
Cooper Kupp, ElAttrache said. The second-year receiver tore a knee ligament in Week 10 this season, which required ElAttrache to operate.
Shortly before the surgery, Kupp was forced to evacuate from his residence with his wife and 4-month-old son because of the Woolsey Fire. To better facilitate his recovery, ElAttrache opened his Benedict Canyon home to Kupp, his wife and son. The Kupps lived there through Thanksgiving.
"Some doctors just do surgery," Rams head trainer Reggie Scott said. "He wants to be there from beginning to end."
ElAttrache remains closely involved as players recover from surgeries or take preventative measures to avoid similar injuries. Aqib Talib, who returned from an ankle operation he underwent this season, said ElAttrache makes it a point to personally check up on the cornerback whenever he sees him.
"That allows him to dive into our world more," Scott said.
This is especially important with the Rams because of their use of analytics to manage player workloads and training programs. ElAttrache's interest in their daily activities allows him to operate under the same philosophical framework established by Tyler Williams' sports science department and Ted Rath's strength and conditioning program.
In each of their three seasons since returning to L.A., the Rams have ranked near the top of the league in limiting player injuries.
ElAttrache credited Rams coach Sean McVay for incorporating their ideas in his plans, which included not playing many of the team's starters in the preseason. McVay returned the compliment by pointing to ElAttrache's expertise, but made it a point to add, "I also think there's a relatability that he has with the players that makes them feel comfortable."
The self-effacing ElAttrache laughed when told that a loss by the Rams in the Super Bowl would make him 0-3 in major championships over the last two-plus years.
"And 0 for 2 against Boston," he said, a reference to how the Red Sox defeated the Dodgers to win the World Series in October.
ElAttrache slapped the table in front of him in jest.
"It's our time now," he said.
Sign up for our daily sports newsletter »
Follow Dylan Hernandez on Twitter @dylanohernandez
Get our high school sports newsletter
Prep Rally is devoted to the SoCal high school sports experience, bringing you scores, stories and a behind-the-scenes look at what makes prep sports so popular.
You may occasionally receive promotional content from the Los Angeles Times.