Philip Rivers on Super Bowl: Rams must keep it close early, make Tom Brady double-clutch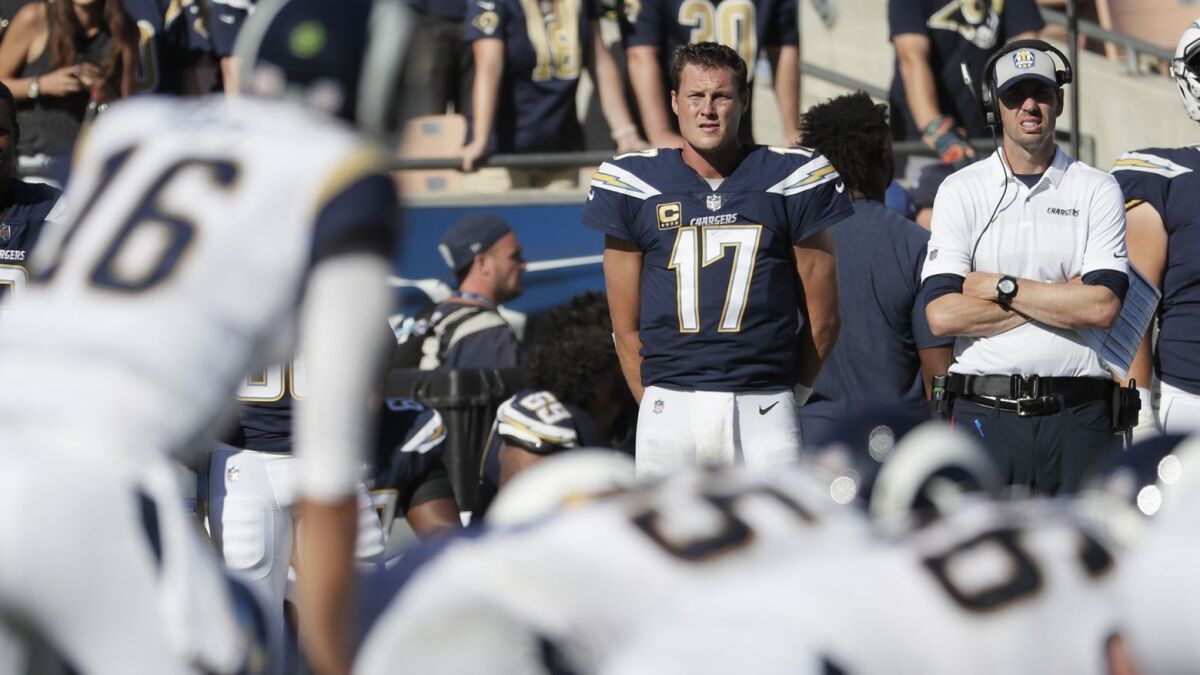 Reporting from Atlanta —
Chargers quarterback Philip Rivers is coming off a tremendous season in which he completed 68.3% of his passes for 4,308 yards, with 32 touchdowns and 12 interceptions. He was squarely in the most-valuable-player conversation.
He also has a keen understanding of both teams in Super Bowl LIII, having played both this season.
The Rams posted a 35-23 victory over the Chargers — accounting for their only road loss during the regular season — and New England knocked them out of the playoffs with a 41-28 win in the divisional round.
The eight-time Pro Bowl quarterback spoke to Los Angeles Times NFL writer Sam Farmer this week and shared his thoughts on the Super Bowl matchup.
In Rivers' words:
With the Rams defense, it starts with Aaron Donald. I know Ndamukong Suh is a heck of a player, and he's come alive more lately, but it all starts with No. 99.
When we played the Rams, every single snap it was, "What are we doing with 99?" Whether it's a run or a pass, it didn't matter. It was, "How are we blocking 99? How are we getting a running back through there to bump him? How can we turn the center to him to get him blocked?" Because it doesn't matter what you draw up if you can't get the ball off.
In the Rams secondary, I respect Marcus Peters. Shoot, I threw him four or five interceptions in his time in Kansas City. He always seemed to find a way to get his hands on it when we played him. He's a dangerous corner because he guesses and does things. But he went through a period this season when he struggled and gave up some plays. Seems to me he's playing a little more straight up and safe now.
But to me, the key guy is Aqib Talib. I always thought he was a top-five corner, and I think he still is. I know he's coming off an injury, but getting him back makes them different. It's his length and speed. He's just a football player. The guy is just smart.
Here's an example: I remember running a play against him years ago. We kept running shallow routes, crossers to get those guys with speed running across the field. So we said, "Hey, let's start Travis Benjamin on a shallow route and then we'll have him pivot and come back, kind of a return route." That way, we thought we'd get Talib just flying across the field.
Sure enough, when we ran it, Talib just sat there like he knew it was coming. Saw it like he was in practice all week. Then he jogged by me and said, "Get that weak mess out of here. Y'all try that on me?" He's a smart player.
The thing with the Rams is, they line up and don't try to fool you. Defensive coordinator Wade Phillips is an unbelievable coach, but they don't do a whole lot. It's not a secret. There's not a lot of figuring out when you play these guys. It's, "Here we are, and we're better than you. We're going to rush five, and you'd better be able to block us. We're going to line up and cover you, and you'd better be able to get open."
Now, in a Super Bowl with two weeks to prepare, will Wade have some wrinkles? No question. I thought they adjusted a little in the middle of the Saints game. Especially some things to slow down Alvin Kamara after that third quarter drive when he had about six catches. But for the most part, they are who they are, which is pretty dang good.
So what will New England try to do with that? The Patriots are going to use different formations to create some favorable matchups. They are going to move people around. I could see them in base personnel, and getting in some form of slot formations to give Tom Brady some coverage tips. Empty formation, without a doubt — no backs in the backfield — and get the ball out quick to neutralize Donald. Like, "Oh, yeah, we know we're singling it up — not double-teaming up front — but the ball is coming out quick." That's what offensive coordinator Josh McDaniels did against the Broncos when Wade was in Denver. It's a way to be creative and still get the ball to come out quick.
It's not rocket science. It's not like these are never-seen-before ideas. But they just tend to do them better than everybody else. It's, "We know how to formation it, we know what coverage you're in, and here's the route we're going to run." It makes it easy for the Patriots to create some matchups and have opportunities to get some chunk plays.
On defense, the Patriots do such a great job. They have lost coordinators over the years, but Bill Belichick is the constant. Here's what they do a great job of: "What do you do best and who are your best guys? We've got to neutralize them, and you're going to have to beat us some other way."
They play some cat-and-mouse games too. For instance, going into our game with them, we saw that they double-teamed the best receiver on third down, then put their best corner, Stephon Gilmore, on the No. 2 or No. 3 receiver. That was their No. 1 third-down defense. So you'd think going into that game they would be doubling Keenan Allen on third down.
They only did that on one snap. Gilmore was on Keenan the whole game.
Sam Farmer recalls a Super Bowl memory involving his dad and the band Aerosmith.
It didn't completely blow our mind. It wasn't like we were in handcuffs; we had plays drawn up. But it was just different than what we anticipated.
New England can rush the passer too. They don't have a Melvin Ingram or a Joey Bosa, but they do it collectively. They rush with Dont'a Hightower and Kyle Van Noy, their inside linebackers. Trey Flowers is a solid rusher. They run a lot of "games" with defensive linemen — two guys rushing here, and the end's going to loop; this guy picks the tackle, and this guy loops. They've been doing that stuff for years.
When we were getting ready to play the Patriots in the playoffs, I went back and looked at our 2008 AFC championship game against them. I was getting a little nostalgic, and I wanted to watch it for fun.
And sure enough, they ran some of the same stuff. The same line stunt we saw in that 2008 game, 11 years later.
This is a matchup of two great head coaches. Sean McVay is unbelievable with what he can do, scheme-wise. To me, the key for the Rams will be, can we keep this a one-score game early? Keep it right in there. Can the Rams secondary make Brady double-clutch a few times and allow Donald and Suh to shake loose and cause a sack fumble? But remember, Brady hasn't been sacked this postseason.
Both teams play a ton of man coverage, so it's going to be: Who can win the one-on-one matchups, and who can make the accurate throws. If Jared Goff is as accurate as he's been — he's been throwing the stew out of it — and if they can draw some things up to shake loose from what is a pretty salty secondary — Gilmore , Devin and Jason McCourty, Patrick Chung — then the Rams will score some points.
If Brady is a little off and Goff is rolling, look out. And if it's the other way around, then really look out.
Sign up for our daily sports newsletter »
Follow Sam Farmer on Twitter @LATimesfarmer
Get our high school sports newsletter
Prep Rally is devoted to the SoCal high school sports experience, bringing you scores, stories and a behind-the-scenes look at what makes prep sports so popular.
You may occasionally receive promotional content from the Los Angeles Times.