Zach LaVine leads UCLA past Arizona State, 87-72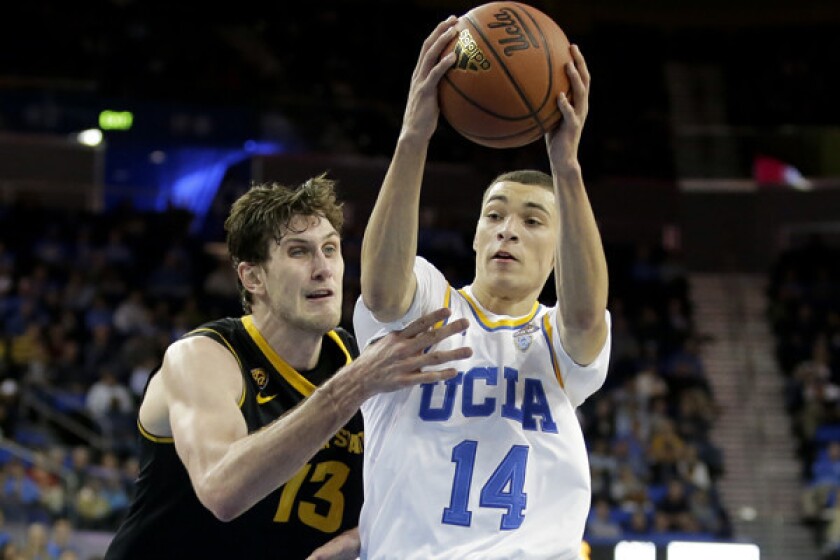 There is no denying the marquee abilities UCLA freshman Zach LaVine can bring to a game. He gave a sparse crowd at Pauley Pavilion a peek of those Sunday.
LaVine's 19 points in UCLA's 87-72 Pac-12 Conference victory over Arizona State won't jump off the stat sheet, as he was one of five Bruins in double figures. But what he did during an eight-minute stretch in the first half should get the chatter going around the water cooler.
He scored 15 points to fuel a 20-8 run that gave UCLA (13-3 overall, 2-1 in Pac-12 play) a 37-20 lead. The Sun Devils (13-4, 2-2) never recovered.
BOX SCORE: UCLA 87, Arizona State 72
"Zach has that explosiveness," Coach Steve Alford said. "He can stretch a defense with his shot or drive the ball well. He is so athletic that when gets in trouble, he can get himself out."
LaVine certainly got the Bruins out of a bit of a jam.
Hollywood celebrities were not in attendance — hey, the Golden Globes were Sunday — and the empty seats nearly matched those that were filled. Pauley Pavilion had returned to a sedate setting after Thursday's raucous frat-party-like scene in the loss to top-ranked Arizona.
The Bruins seemed to respond to a calmer atmosphere. They smothered Jahii Carson, Arizona State's star guard. They had a 42-13 rebounding advantage. They challenged shots, limiting the Sun Devils to 43% from the field.
It was a performance that might get Alford to call every game "vital," which was how he framed the Arizona State moment after the Arizona loss.
"The pressure was all on [us]," Alford said "You can't lose back-to-back home games, it's hard to recover from in this league."
UCLA has a pulse, and now hits the road, playing 15th-ranked Colorado in Boulder on Thursday. The Bruins have not won a road game this season. Of course, they have played only one, losing at Missouri.
"Road games in this conference are a tough obstacle," said Kyle Anderson, who had 17 points, 13 rebounds and seven assists Sunday. "So we got to keep doing what we're doing."
LaVine should heed those words. His play had tapered off in recent weeks after he was three for 12 from the field against Duke. It was a learning experience.
"Big players come up in big games," LaVine said. "I consider myself a big player."
But the Duke game hasn't weighed on his mind.
"People were saying I was forcing shots and taking bad shots," LaVine said. "I make those shots all the time."
Anderson vouched for that.
"He makes some crazy shots," Anderson said. "You just got to live with it."
LaVine entered with the Bruins leading, 17-12, and sank a three-pointer. He closed out his first half with personal 9-2 run that gave UCLA a 17-point lead. Arizona State never got closer than nine points.
It was an eclectic performance. LaVine scored from the perimeter, making three of three three-point shots. He scored off the dribble. He even provided a film-at-11 highlight with a windmill dunk.
"If you can take your man, you take him," LaVine said. "Coach gives us the freedom to do that."
While LaVine was showing off, Carson had a less-than-stellar performance for any NBA scout who might have been in the building.
Carson had been averaging 18 points and five assists per game. He scored eight and was four for 17 from the field. He had two assists and four turnovers.
Twitter: @cfosterlatimes
---
Get the latest on L.A.'s teams in the daily Sports Report newsletter.
You may occasionally receive promotional content from the Los Angeles Times.