UCLA looking for respect, recognition against Stanford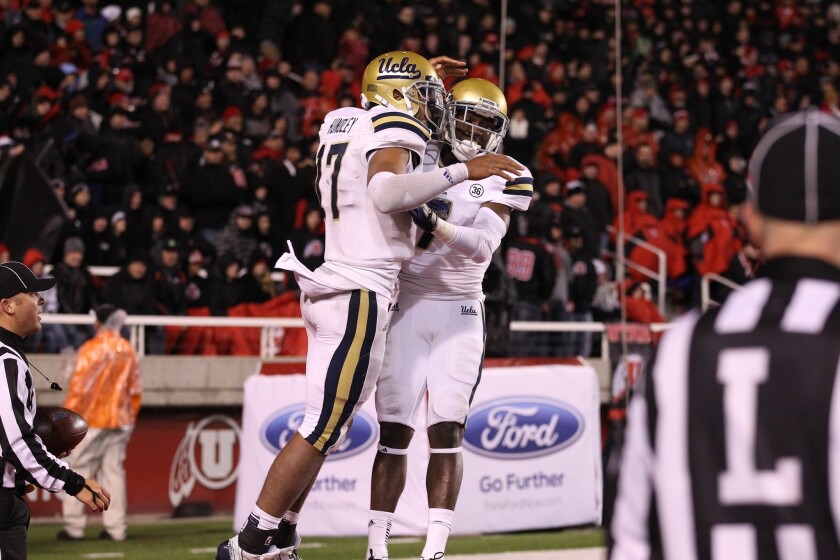 Call it a midterm exam.
Ninth-ranked UCLA plays at No. 13 Stanford on Saturday at the midpoint of the regular season.
The Bruins are 5-0 overall, 2-0 in Pac-12 Conference play, and this is the first time they have been in the Associated Press top 10 since 2005. Stanford, which is 5-1 overall, 3-1 in the Pac-12, is coming off a loss at Utah but still carries national weight.
"This is a measuring stick game, for ourselves and the nation, just to see what's going on here in Westwood," said UCLA receiver Shaquelle Evans. "I know we're a top-10 team. But I really don't think people consider us a top-10 team. If we go up there and play this game out, the nation will take notice."
That the nation will be watching might be a stretch. Third-ranked Clemson plays fifth-ranked Florida State in Saturday's marquee game, and there are those 12 teams that live in the Southeastern Conference bubble.
Evans should be excused, though, because it's not often the Bruins play games of this magnitude. Sixth-ranked UCLA played ninth-ranked Wisconsin in the 1999 Rose Bowl, and the Bruins lost, 38-31.
You have to go back even further to find a similar game UCLA won. Fifth-ranked UCLA played second-ranked Nebraska in 1988 and defeated the Cornhuskers, 41-28.
Those are moments for UCLA football history buffs to dust off. The real-time view is pretty simple for the current Bruins.
"I know we have to treat this like just another game," said linebacker Jordan Zumwalt. "But in the back of your mind, you know this is a big moment. Stanford has a lot of national attention and a lot of national respect. This is a big game. They know that, we know that, the whole country knows that."
There's a tamped-down view in Palo Alto.
"I always talk perspective to the players, about not making things too big, not letting things be too small," said Coach David Shaw. "We're not bowl eligible yet. Let's focus on what is important. I remind them not to worry about what other people say."
The game is a spotlight moment for the Bruins, but Coach Jim Mora said they have to wait until the klieg lights go on. "You can't whip them into a frenzy on Tuesday, Wednesday, Thursday and Friday," Mora said. "You got to let it slowly build up."
Stanford has a record of 40-6 since the start of the 2010 season. UCLA is trying to reach that level — this season, if possible.
"We like to do what we do and let it happen," said UCLA safety Anthony Jefferson. "But since spring I felt something special could happen this season."
UCLA has a poor history against top-tier teams in recent seasons. Since going to the 1999 Rose Bowl, the Bruins are 9-37 against teams that finished the season in the Associated Press top 25.
They are 1-23 against top-10 teams in that time, their only victory coming against No. 4 USC in 2006.
The top-10 team — No. 2 Oregon — comes next week.
"We got the rest of season to look forward to," Jefferson said. "But it all starts with this game."
Twitter: @cfosterlatimes
---
Get the latest on L.A.'s teams in the daily Sports Report newsletter.
You may occasionally receive promotional content from the Los Angeles Times.