Jamie Dixon appears to be out as candidate for UCLA basketball coach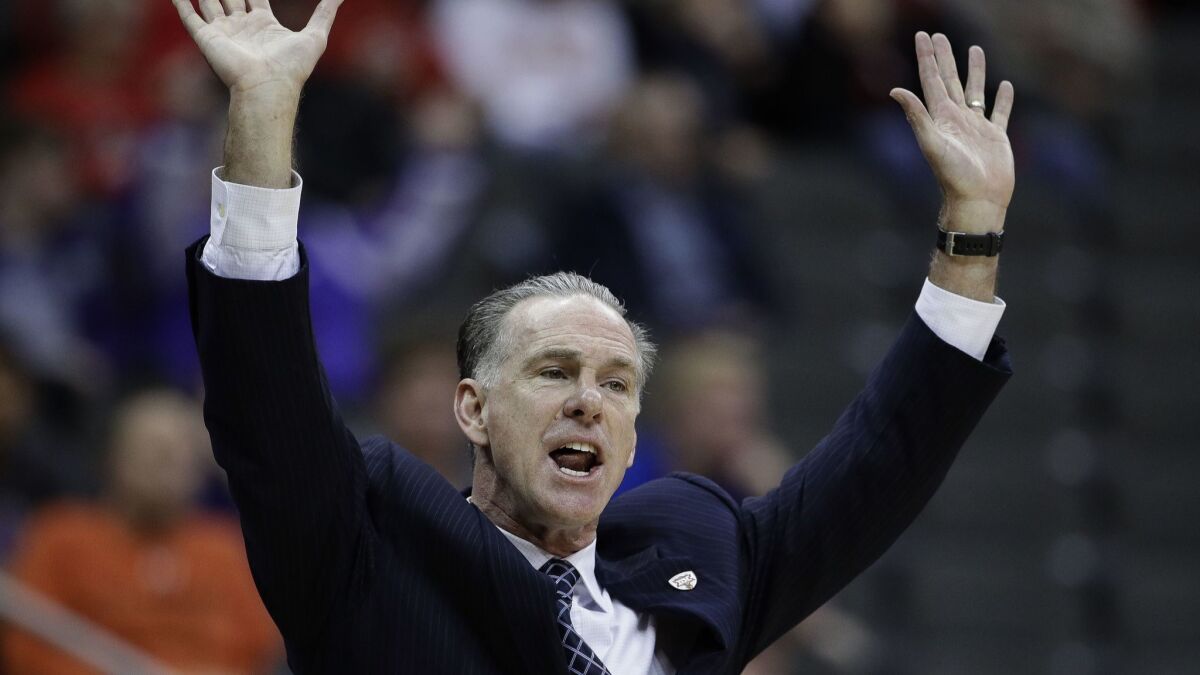 UCLA has taken a step backward in its search for a new basketball coach, 96 days after it began the hunt with the highest of hopes.
Jamie Dixon's candidacy to take over the job apparently ended Friday, only a few days after it had built considerable momentum toward a triumphant homecoming for the North Hollywood native.
Dixon's $8-million buyout at Texas Christian became an insurmountable sticking point for both sides, according to multiple people close to the situation, with the Horned Frogs unwilling to lower the amount and the Bruins refusing to pay it even after identifying Dixon as their top candidate.
Texas Christian athletic director Jeremiah Donati told the Fort Worth Star-Telegram that the school did not even enter into negotiations with Dixon regarding the buyout. Meanwhile, Texas Christian chancellor Victor Boschini informed the paper that Dixon had reaffirmed his commitment to remaining at the school he's built into a winner in his first three seasons.
"None of this matters," Boschini told the Star-Telegram, "because he's staying."
Unless it can salvage the situation at the 11th hour, UCLA stands to suffer an immense fallout from its failure to pay Dixon's buyout. The school momentarily altered its thrifty image in recent weeks by offering Kentucky coach John Calipari a six-year, $45-million contract, which would have nearly tripled the amount made by UCLA's Steve Alford before his dismissal in late December. But Calipari rebuffed the Bruins' overtures in exchange for what amounted to a lifetime contract with the Wildcats.
Donor fatigue may have contributed to the Bruins' failure to land Dixon. UCLA recently paid $3.6 million to buy out Alford, a little more than a year after having paid roughly $12 million to buy out football coach Jim Mora.
UCLA will now likely have to pivot to either Cincinnati coach Mick Cronin, another finalist for the job, or one of its fallback options such as St. Mary's coach Randy Bennett, Texas coach Shaka Smart or former Bruins point guard and onetime Phoenix Suns coach Earl Watson.
Another alternative would be for UCLA to enter a holding pattern in hopes that a more high-profile candidate unexpectedly expressed interest. NBA coaches, including the Lakers' Luke Walton, could become available soon with the regular season ending in less than a week. The Bruins could also make an 11th-hour run at Virginia's Tony Bennett or Texas Tech's Chris Beard, both coaches whose teams are in the Final Four.
This UCLA search is taking on a very different feel than the one that landed the school Chip Kelly in late 2017 as its new football coach. That hunt lasted less than a week and yielded the most coveted coach available on the market.
Now it's likely that the Bruins will have to shift their efforts toward a Plan C.
UCLA had targeted Dixon as its top choice after striking out with a multitude of NBA and elite college coaches who either said they were not interested, failed the school's background checks or declined to engage in discussions until after the Final Four.
Dixon was a solid but unspectacular choice. He guided the Horned Frogs to a National Invitation Tournament championship in his first season, ended a 20-year NCAA tournament drought in his second season and led his team back to a NIT semifinal this season before losing to Texas.
A disciple of former UCLA coach Ben Howland, Dixon had previously taken Pittsburgh to a regional final in 2009 as well as making two other appearances in a regional semifinal.
Dixon recently hired UCLA associate head coach Duane Broussard, a Texas native who was left in limbo about whether he would need to change residences until Friday.
Should UCLA shift its focus to Cronin, it would be pursuing another coach with good but not overwhelming results. His teams, known for feisty defense, have made it to the NCAA tournament in nine consecutive seasons without advancing past a regional semifinal.
But Cronin's Bearcats beat UCLA in each of the last two seasons, including a 29-point rout in December, making him a familiar name among Bruins athletic officials and players.
Now those players must contemplate the possibility that he will become their next coach.
Sign up for our daily sports newsletter »
Follow Ben Bolch on Twitter @latbbolch
Get the latest on L.A.'s teams in the daily Sports Report newsletter.
You may occasionally receive promotional content from the Los Angeles Times.