Former UCLA quarterback Jerry Neuheisel hasn't bowed out of football; he's playing in Japan
Jerry Neuheisel is the rare quarterback of an undefeated team who always bows to the competition.
It's a tradition in Japan's X League. Before kickoff, players bow to team captains and referees. Win or lose, there's more bowing afterward among players before the entire team collectively bows to fans.
Fitting in a game can feel like an achievement.
"The pregame coin toss takes forever," Neuheisel said during a recent interview conducted over FaceTime, estimating there were about 48 bows before anyone called heads or tails.
Neuheisel is glad some things can't get lost in translation playing for the Obic Seagulls. The former UCLA backup to Brett Hundley and Josh Rosen speaks to his new teammates in Japanese whenever he can, though it's not as often as he would like.
"You learn the key phrases and thankfully a Cover 2 is still a Cover 2," Neuheisel said. "Football is apparently the same language all over the world, which is pretty cool."
Neuheisel's career is spanning the globe after he took his talents from Westwood to become a starter for the Seagulls in Japan's top-tier American football league. Not everything is unfamiliar about his new home. Kai Maiava, who also played for UCLA, is the starting left tackle for the Seagulls (6-0) and one of four Americans on the team, the maximum allowed per league rules.
A recent game could have been dubbed the Bruin Bowl because Neuheisel faced IBM BigBlue's Kevin Craft, another former UCLA quarterback. Neuheisel outdueled Craft during a 24-23 overtime victory, throwing for 350 yards and three touchdowns and emerging with the win after a snap in the extra period sailed over the holder's head.
Afterward, Neuheisel and Craft caught up over dinner at California Pizza Kitchen, of all places.
"It seemed fitting," Neuheisel said.
Neuheisel described the level of play in the 18-team, non-professional league as somewhere between Football Bowl Subdivision and Football Championship Subdivision, saying the skill level is high but most of the linemen aren't nearly as big as those he faced in major college football.
"They're not from Louisiana," Neuheisel quipped, "and born and bred to be as big as Alabama and LSU can be."
Some of the traditions can be maddening. There's a water break for referees at the six-minute mark of every quarter, which can be quite the momentum killer. Fans in high school-sized crowds still learning the game cheer both good plays and bad, occasionally to comedic effect.
The Seagulls play twice a month and practice only on weekends. Neuheisel spends his weekdays working in research and translation for Zero In, one of the team's sponsors, as part of his one-year contract. He also has helped coach the quarterbacks at nearby Keio University.
Neuheisel lives with his girlfriend in Kachidoki, a high-rise residential area along Tokyo Bay that's a short walk from the biggest fish market in Japan. They have enjoyed trading L.A. traffic for cherry blossom season and summer fireworks festivals, though the lifestyle isn't glamorous. Games are streamed online until the semifinals and finals of the playoffs, which are televised.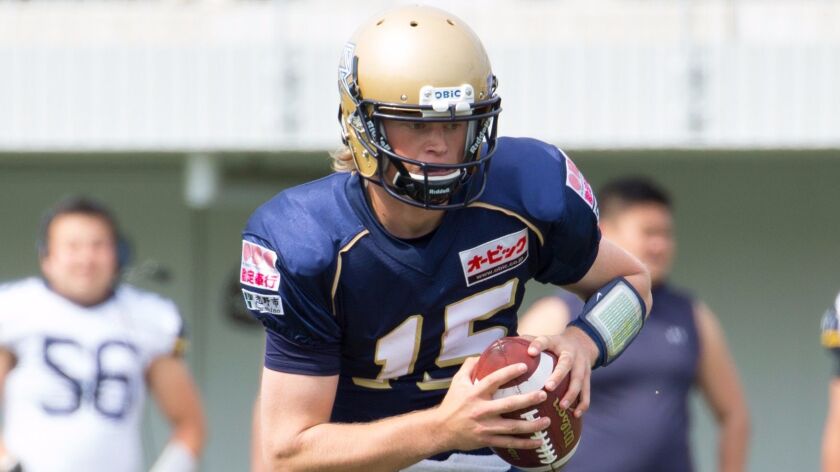 "It's like a very highly competitive company softball team," Neuheisel said.
That would make Neuheisel as popular as the guy manning a keg strategically placed near second base. His mop of blond hair has made him immediately recognizable, if not something of a local celebrity.
"That seems to be the one thing everyone loves about me," Neuheisel said. "It's still super long and I won't cut it. My high school made me cut it and I refuse to go back."
Neuheisel speaks regularly with his father, Rick Neuheisel, the former UCLA coach and quarterback. Dad wants to talk Japanese football while Jerry prefers to converse about his beloved college football, even during a down season for the Bruins.
The Seagulls' playoff run might not just end in a league championship; the winner of the X League plays in the subsequent Rice Bowl against the country's top collegiate team.
Neuheisel isn't sure what he's going to do when his contract is up but already knows his dream job: UCLA head coach. He left campus after graduation with a year of eligibility remaining because it hurt too much to remain Rosen's backup.
"I didn't get to put roses on my shoulder as a player," Neuheisel said, referring to a Rose Bowl game tradition, "but I'm going to come back and put the roses on the players as a coach."
Then he'd really get to take a bow.
---
Get the latest on L.A.'s teams in the daily Sports Report newsletter.
You may occasionally receive promotional content from the Los Angeles Times.