UCLA's Josh Rosen is headed to the NFL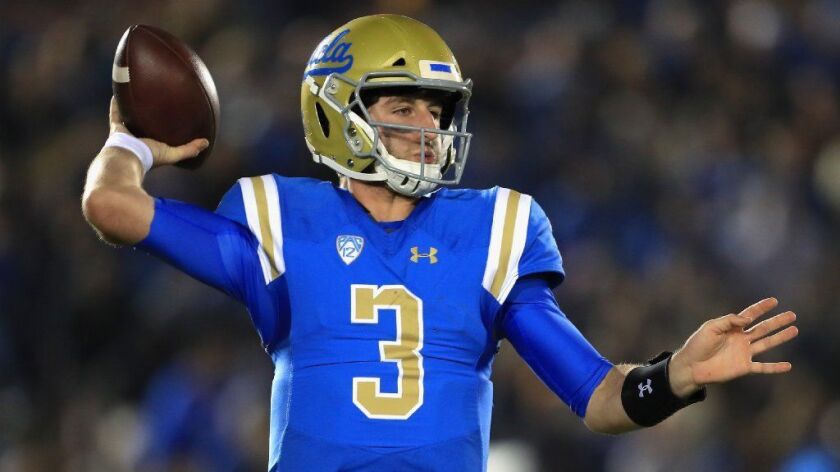 UCLA quarterback Josh Rosen made official Wednesday what had long been anticipated, announcing that he would declare for the NFL draft after three seasons in which his teams never matched his singular brilliance.
The junior who had one season of college eligibility remaining revealed his decision on Twitter, thanking the Bruins while acknowledging that they never fulfilled expectations.
"I especially want to thank my teammates," Rosen wrote in the post. "I wish we had won more games, but friendships were forged and memories were made that will last a lifetime."
Rosen is widely projected to be among the top picks in the NFL draft in April because of his remarkable combination of arm strength and accuracy. He became UCLA's top single-season passer in 2017, his 3,756 yards surpassing the 3,740 that Brett Hundley, now with the Green Bay Packers, compiled for the Bruins in 2012.
Rosen set the mark despite missing two full games and parts of two others because of concussions that kept him out of the Bruins' 35-17 loss to Kansas State in the Cactus Bowl. Rosen wanted to play in the bowl game and even went through warmups but was held out as a precaution by doctors who did not want to risk him suffering a third concussion in a span of less than two months.
Tributes poured in on social media Wednesday from teammates and coaches after Rosen's announcement. .
"Josh Rosen is a living legend," tweeted defensive back Mossi Johnson.
"Truly an honor to have played with this man #greatness," tweeted tight end Jordan Wilson.
Bruins interim coach congratulated Rosen on what he described as a "wonderful college career" on Twitter, adding, "You were amazing to coach and you will have an amazing career" in the NFL.
Rosen went 17-13 as a college starter, a record that was mostly reflective of UCLA's deficiencies in its running game in 2016 and its run defense in 2017. The Bruins offensive line also struggled to protect Rosen, who missed the final six games of 2016 after suffering a shoulder injury.
"We've had good years, we've had average years, we've had disappointing years, we've had injured years, we've had healthy years and then some in between," Rosen said the week before the Cactus Bowl. "So all of this is a learning process of how to deal with adversity."
Rosen also contended with considerable controversy after installing a hot tub in his dorm room as a freshman and wearing a bandanna with a profane message directed at then-presidential candidate Donald Trump while playing on Trump's golf course in Rancho Palos Verdes. He took a much lower-profile approach this season, having been humbled by the Bruins' underwhelming results in 2016.
His teammates seemed irritated by reports citing anonymous sources that Rosen was not well liked; cornerback Darnay Holmes handed Rosen the ball as a thank-you gesture after making an interception in the Cactus Bowl.
Rosen arrived with considerable fanfare in 2015 as one of the nation's top recruits out of St. John Bosco High in Bellflower. He showed the hype was warranted while throwing for 351 yards and three touchdowns in his first college game against Virginia.
UCLA started that season 7-2 and appeared to be closing in on a Pac-12 South Division championship when Rosen ran for a 37-yard touchdown with 69 seconds left to give the Bruins a 27-24 lead over Washington State. But UCLA's defense gave the lead right back and the Bruins lost three of their last four games to finish the season 8-5.
UCLA went 4-8 in 2016 with Rosen missing half the season and could not sustain a 2-0 start in 2017, the Bruins needing to beat California in their final home game to reach .500 and gain bowl eligibility. Their struggles had cost coach Jim Mora his job the previous week.
Rosen acknowledged after Chip Kelly was hired as Mora's replacement that he was enticed by the possibility of playing for the coach known for innovative offenses. But the lure of what might await in the NFL was even stronger.
"It pains me to leave these guys," Rosen wrote of his UCLA teammates on Twitter, "but I know they wouldn't let me come back and pass up this opportunity to chase my dream."
Rosen's departure leaves an opening at quarterback that will likely be filled by either redshirt sophomore Devon Modster or true freshman Dorian Thompson-Robinson, a highly touted recruit from Bishop Gorman High in Las Vegas. Modster passed for 295 yards passing and two touchdowns during the Cactus Bowl in his second career start.
While Rosen won't throw another pass for the Bruins, he may not be done strolling campus.
"I promise," Rosen wrote in a Twitter postscript addressed to his mother, "I will come back and finish my degree."
Twitter: @latbbolch
---
Get the latest on L.A.'s teams in the daily Sports Report newsletter.
You may occasionally receive promotional content from the Los Angeles Times.