UCLA turns questions to exclamations, shakes off injuries to pound Arizona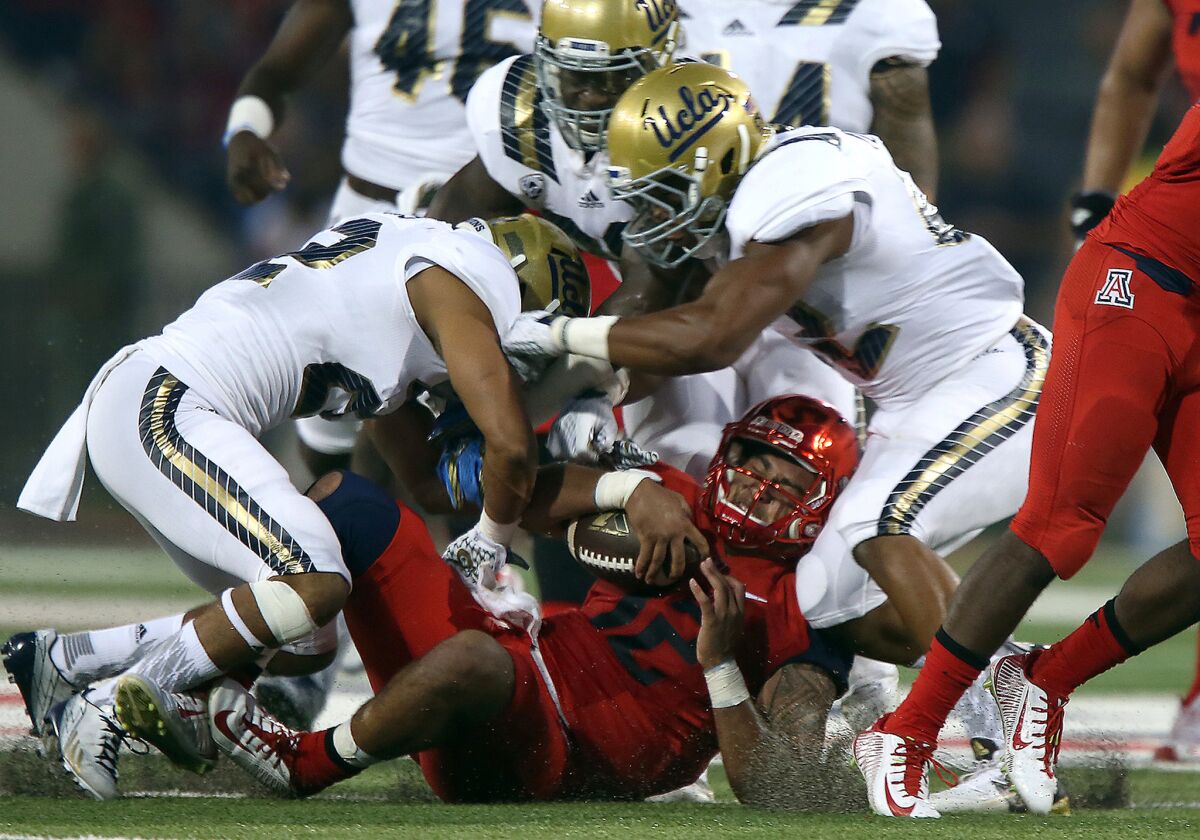 Reporting from Tucson —
— As an initial response, UCLA hit all the right talking points.
The No. 9 Bruins had become a question mark after injuries during the week. They lost three key defensive players. They had watched quarterback Josh Rosen look very much the freshman a week earlier.
They left Arizona Stadium after an exclamation-point performance Saturday night.
UCLA's 56-30 devouring of No. 16 Arizona didn't make the losses of defensive tackle Eddie Vanderdoes, cornerback Fabian Moreau and linebacker Myles Jack any less devastating. It did show that the Bruins were capable moving on from such adversity, at least for one week.
Rosen threw for 284 yards and two touchdowns. Running back Paul Perkins continued to trample opposing defenses, finishing with 85 yards and three touchdowns. And the defense, while wounded and in flux, came up with three turnovers that were turned into touchdowns.
"I thought our young men responded extremely well," Coach Jim Mora said. "It doesn't surprise me that they responded."
In beating Arizona, the Bruins got their Pac-12 season off to a good start. UCLA (3-0 overall, 1-0 in Pac-12 play) removed any doubt early, building a 42-14 halftime lead.
It took pressure off the defense.
"That cushion gave us some leeway to try some things out," linebacker Deon Hollins said. "We're still trying to find our way. We're mixing and matching pieces. Coach Mora told us at the beginning of the year that we had to help the offense. Now it's reversed. The offense was amazing."
Whatever heat the offense took off the defense, Mora put back on it.
Arizona (3-1, 0-1) gained 353 yards rushing, which left the coach a little cranky.
Asked what had impressed him about the defense, Mora said, "I like to stop the run, so I will say nothing impressed me."
From the top down, he said.
"When I talk about the defense, I'm not just talking about the players," Mora said. "It starts with me and it starts with the assistant coaches and then our players. For a team to run the ball on us like that, it's inconceivable to me. I have never seen anything like it. It made me sick to my stomach."
It was the Wildcats who had to feel ill at halftime.
If the UCLA defense needed some pick-me-ups, the offense delivered.
"We went out and played the same game, didn't change things because we had some good guys hurt," receiver Jordan Payton said.
Still, Payton said, "We went down and scored, pushed the ball downfield and put them in good position to get key stops."
In the first half, everyone seemed willing to pitch in.
There were little extras from the offense.
Thomas Duarte made a one-handed reception, bounced off three defenders and then stretched his body to finish off a 35-yard touchdown pass to tie the score, 7-7. Perkins left an Arizona defender flailing at air with a sidestep on a 16-yard touchdown run for a 14-7 lead.
UCLA special teams set the table too.
Devin Fuller had a 46-yard kickoff return to provide solid field position for the first touchdown drive, and his 29-yard punt return led to the third touchdown.
Even the Arizona offense did its part. Twice, quarterback Anu Solomon was involved in unforced fumbles. Both were recovered by Hollins and both were turned into touchdowns.
The Bruins parlayed that first half into a 12th consecutive win away from the Rose Bowl, and Mora's fourth in four games against Arizona Coach Rich Rodriguez.
"I don't know how the game would have played out if we didn't get the lead," Mora said. "We probably would have been all right."
There were bright spots for Mora.
Rosen had labored against Brigham Young last week, when three of his passes were intercepted in the first half. This week, he converted on third down four times to keep four different touchdown drives alive. He completed 19 of 28 passes. He also scored on an eight-yard run in the third quarter.
Rosen said that nothing was really different this week
"Sometimes the ball comes off your finger a yard long, sometimes it comes off really well," Rosen said. "Tonight we connected."
Twitter: @cfosterlatimes
Get the latest on L.A.'s teams in the daily Sports Report newsletter.
You may occasionally receive promotional content from the Los Angeles Times.