Speight leads UCLA past Arizona 31-30 after Thompson-Robinson suffers apparent injury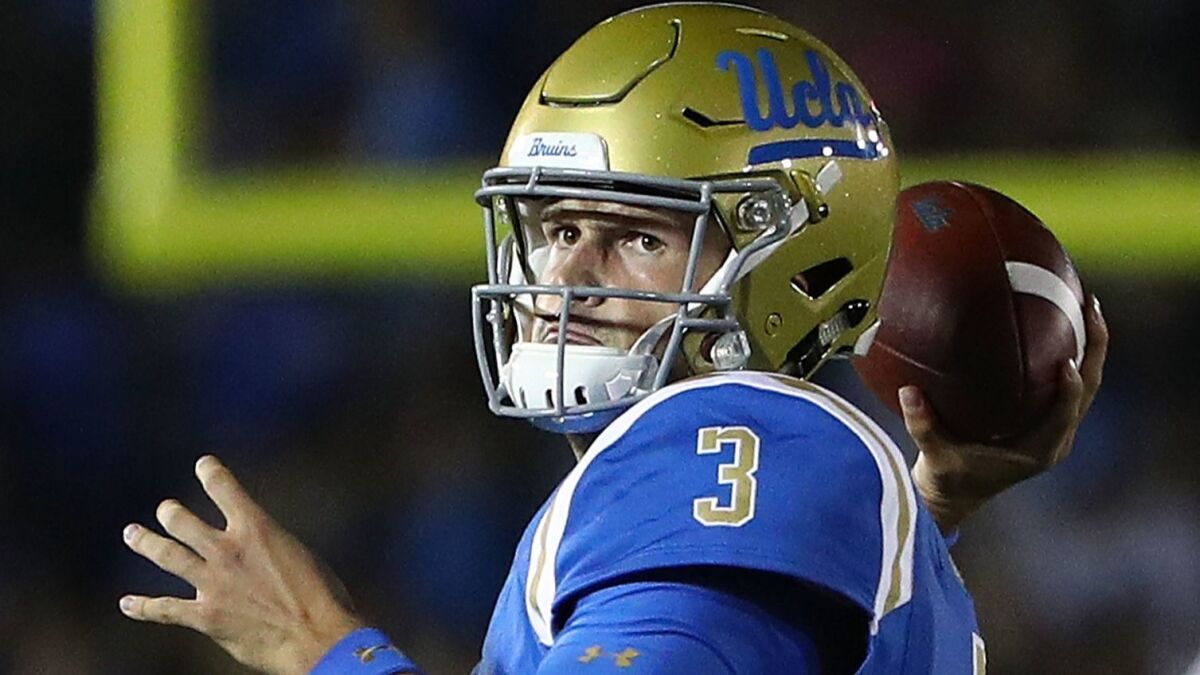 Dorian Thompson-Robinson appeared as if he might be just fine when he jogged off the field after absorbing a sack. He milled about on the sideline, inspecting various body parts, before disappearing into a medical tent.
When the UCLA quarterback emerged, he provided the first clue that he might be more than a little shaken up. His route took him directly toward the locker room.
The trajectory of a Bruins season on the upswing took a turn for the worse midway through the second quarter Saturday night at the Rose Bowl.
UCLA lost its starting quarterback to what appeared to be an upper-body injury against Arizona, leading to a role reversal when Thompson-Robinson was replaced by Wilton Speight. It was Thompson-Robinson who had replaced Speight in the season opener after Speight suffered a back injury in the second quarter.
The Bruins ultimately persevered for a 31-30 victory after Speight helped his team convert a critical third down on a clock-burning drive with a 17-yard pass over the middle to tight end Caleb Wilson.
Speight later took a knee on the final snap to help UCLA hold on after Arizona had pulled to within one point with 6:28 left in the game on kicker Josh Pollack's third field goal. The Bruins managed to milk every one of those seconds off the clock.
"Part of being a good football team is being able to finish," UCLA coach Chip Kelly said, "and tonight we finished."
In his most extensive play since arriving as a graduate transfer from Michigan, Speight completed 17 of 27 passes for 204 yards and two touchdowns.
"If an opportunity like this presented itself," Speight said, "I wasn't going to let it slide."
Thompson-Robinson returned to the sideline before halftime but only to cheer on his teammates for the rest of the game as the Bruins (2-5 overall, 2-2 Pac-12 Conference) notched a second consecutive win after an 0-5 start. Kelly said Thompson-Robinson was not available because of an unspecified injury.
UCLA has gone from winless in mid-October to back in the Rose Bowl race following USC's loss to Utah, which gave every team in the Pac-12 South at least two losses in conference play.
"That's a blessing," sad Bruins cornerback Darnay Holmes, who forced one of Arizona's three turnovers when he chased down Wildcats tailback J.J. Taylor from behind in the second quarter and poked the ball out before recovering it in the end zone. "We worked our butts off to get into that race."
Tailback Joshua Kelley provided the Bruins with a 31-27 lead early in the fourth quarter when he broke off a 28-yard touchdown run, pushing him over 100 yards for the fourth consecutive game. He finished with 136 yards in 31 carries, becoming the first UCLA ballcarrier to reach triple digits with such consistency since Tyler Ebell did it six straight times in 2002.
But UCLA also endured a turn-back-the-clock performance with its run defense. The Bruins looked a lot like they did last season while giving up 289 yards rushing, allowing Taylor (154 yards) and Gary Brightwell (121) to surpass 100 yards.
The Bruins also continually hurt themselves by committing a season-high 12 penalties for 103 yards.
"It's good that we won, but the problems in victory are no less than the problems in defeat," Kelly said. "We need to make sure we take care of them in a short week before we play Utah" on Friday.
Speight showed some resolve late in the second quarter, scrambling away from defenders on fourth and seven before connecting with Wilson for an 11-yard completion near the sideline. Speight later perfectly placed a 24-yard pass to tight end Devin Asiasi in the corner of the end zone, accounting for the first score either of the former Wolverines teammates has been involved in as a Bruin.
But Speight's wildly vacillating performance was about to take its first wild turn. He had the ball stripped on a sack early in the third quarter, and Arizona (3-5, 2-3) recovered at UCLA's 15-yard line. Wildcats quarterback Rhett Rodriguez later completed an 11-yard touchdown pass over the middle to Shawn Poindexter to tie the score.
Thompson-Robinson appeared to be on his way to another efficient performance before his injury, completing five of eight passes for 103 yards and a 16-yard touchdown pass to Kazmeir Allen.
Speight would finish what his teammate started.
"I feel very happy, relieved that I was able to get back in and play the game that I love," Speight said. "It's been a long haul, some dark times. … It stinks, but it's part of the game. I just had to keep my faith and my spirits high."
Follow Ben Bolch on Twitter @latbbolch
---
Get the latest on L.A.'s teams in the daily Sports Report newsletter.
You may occasionally receive promotional content from the Los Angeles Times.