UCLA's Moses Brown comes up big in 90-69 rout over Arizona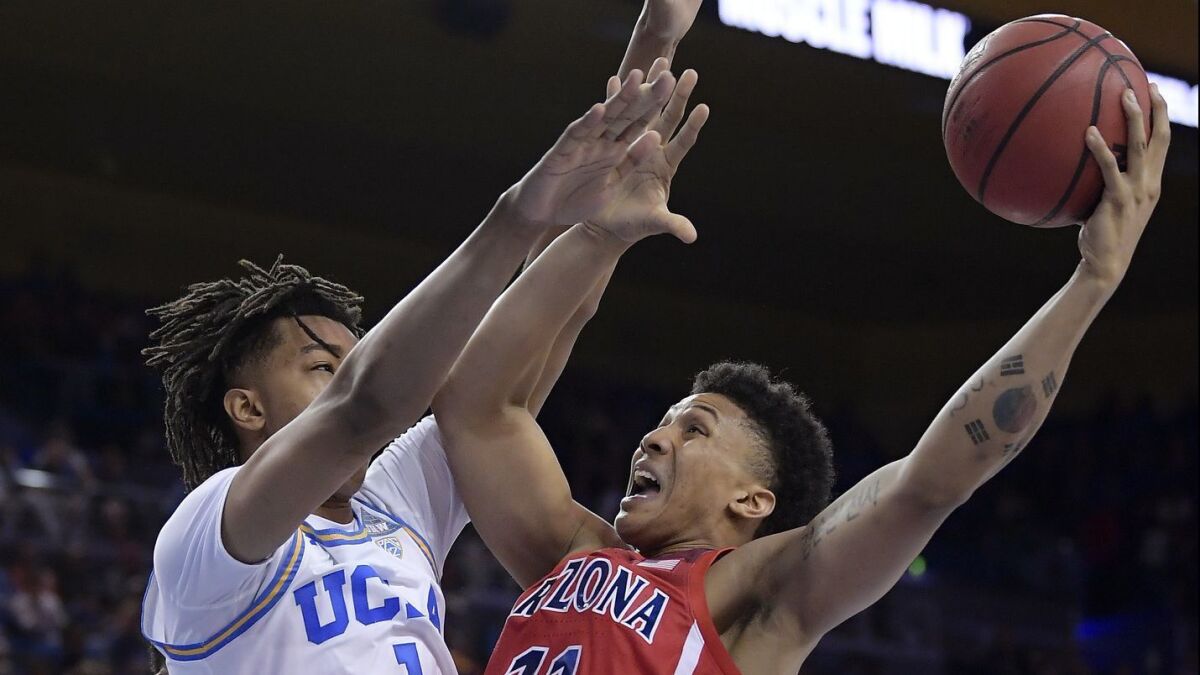 It was a photo op from a dream. Moses Brown stood next to the NBA's all-time leading scorer and a UCLA legend he hopes to emulate in ways other than just being a 7-footer from New York.
Kareem Abdul-Jabbar focused the moment entirely on the young Bruin, pointing at Brown in his white warmup gear and welcoming him to his alma mater in a photo he tweeted out before the game.
Abdul-Jabbar had returned to the site of his college glory Saturday night to be honored at halftime as part of a celebration of greatness.
The unusually large crowd at Pauley Pavilion cheered another Bruins big man throughout the game, Brown breaking out of a two-week slump to help UCLA enjoy a 90-69 stomping of Arizona.
Equally memorable was the first meeting of giants from different eras.
"I always wanted to meet him and I always thought I would meet him here and that was it," Brown said of Abdul-Jabbar. "He just told me to keep up the good work."
Brown put in a yeoman's effort against the Wildcats, fighting for rebounds, elevating for putbacks and even making a handful of free throws. He logged a double-double by early in the second half and finished with 15 rebounds, 11 points and two blocks as the Bruins emphatically ended a three-game losing streak.
It was a collective breakthrough for UCLA. Forward Kris Wilkes turned in his most efficient performance of his two college seasons on the way to a career-high 34 points, and point guard Jaylen Hands tallied 12 points and 11 assists to go with his five turnovers.
Wilkes fulfilled the prediction of Bruin radio broadcasters who said he would eventually break out of a prolonged shooting funk by making 12 of 16 shots and five of seven three-pointers. He also had three assists, including a lob that Jalen Hill snatched for a two-handed dunk.
"Ultimately, it's up to me to make the right decision," Wilkes said. "If I'm not open, swing it and I think tonight I calmed down a lot more and wasn't trying to force a lot of shots like I did previously in past games."
Wilkes sparked one final cheer in the closing minutes when he banked in a three-pointer at the end of the shot clock. The crowd of 11,164 marinated in the blowout, chanting "U-C-L-A!" on a night when Wilkes' surge helped his team make 57.9% of its shots.
"We know that's the player he is," Bruins interim coach Murry Bartow said, "and it's good to see him making shots, feeling good, playing confident."
The Bruins (11-9, 4-3 Pac-12) could exhale for most of the second half after a 24-12 surge out of halftime gave them a 25-point lead on the way to their most lopsided win over the Wildcats (14-7, 5-3) since a 22-point shellacking in February 2011.
There was all sorts of fun for UCLA on a night it honored its 1968-69 national championship team.
The sweet-shooting Lynn Shackelford pantomimed his form and bowed to Abdul-Jabbar when the 7-footer was introduced. Guard John Vallely, addressing the crowd and mentioning how the Bruins went 29-1 during one stretch, deadpanned, "It was tough times at Pauley Pavilion."
That had actually held true in recent weeks, the Bruins dropping three of their previous five home games.
They were sloppy for stretches against Arizona, but it hardly mattered given the Wildcats' epic shooting struggles. Arizona made only 22 of 66 shots (33.3%) and eight of 26 three-pointers (30.8%), sinking only its chances at avoiding a second consecutive loss. Guard Brandon Williams had 19 points for the Wildcats, who played without the injured Chase Jeter.
Brown was active early with a jump hook for UCLA's first points. He later lunged for his own miss, snatching the ball for a one-handed putback dunk, and triggered some of the loudest cheers in the first half when he made a free throw.
Brown endured his usual misses at the line, making only three of nine attempts, but there was no need to nitpick on a night he turned in his own personal tribute to UCLA's greatest player.
Brown said he had also spoken to Bill Walton before the Bruins great called the game for ESPN2 in something that's become a pregame routine whenever Walton is around.
"These guys have been here and done that and they have so much to teach me," Brown said. "So I just want to go out there and play to the best of my ability, follow in their footsteps."
UCLA next
Wednesday at Washington State, 7 p.m., Beasley Coliseum, Pac-12 Network — Losers of eight of their last nine games, the Cougars (8-11, 1-5 Pac-12) are challenging California for last place in the conference. They play at Oregon on Sunday.
Sign up for our daily sports newsletter »
Follow Ben Bolch on Twitter @latbbolch
---
Get the latest on L.A.'s teams in the daily Sports Report newsletter.
You may occasionally receive promotional content from the Los Angeles Times.