Slimmer Tony Parker is all smiles at UCLA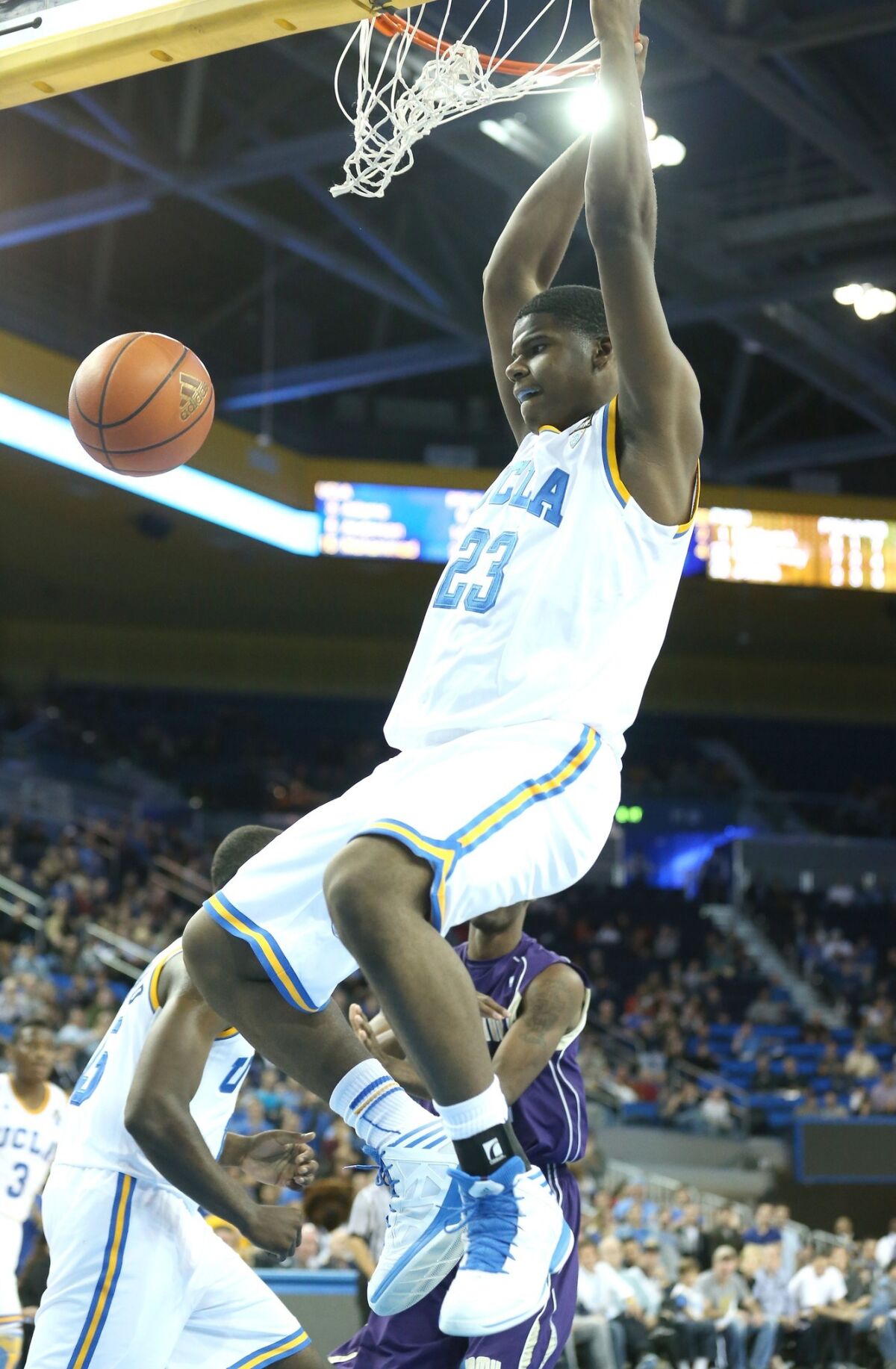 About this time a year ago Tony Parker, then a freshman center for UCLA, was on Twitter suggesting he was going home to Atlanta.
He didn't.
And Monday night against Cal State San Marcos, in UCLA's 109-79 exhibition win in front of a crowd listed as 4,023, Parker had 17 points, 16 rebounds and the biggest smile on the Pauley Pavilion court.
Parker, who lost about 20 pounds this summer, gave all the credit to trainer Wes Long, who persuaded him to ride an exercise bike a lot and to give up the high-sugar fruit juices Parker loved.
"Tony was terrific," said UCLA Coach Steve Alford. "I said it all summer. He's developed so much confidence since he lost the weight."
Sophomore forward Kyle Anderson led the Bruins with 22 points and 12 rebounds, and senior forward David Wear had 21 points and eight rebounds. Five UCLA players scored at least 10 points. Malcolm Lemmons led San Marcos with 20 points and De'End Parker had 12 points. The Cougars' coach is former USC interim head coach Jim Saia who filled in after Henry Bibby was fired midway through the 2004-05 season.
Tony Parker said it was his decision to tone his body this summer and he was determined it would happen. "I can play a lot longer and with more endurance," he said.
Alford said he was mostly pleased with his team in both exhibition wins, especially the way the Bruins cut their turnovers from 18 in their first victory over Cal State San Bernardino to only 11 Monday night.
"I'm happy with the guys," Alford said, "especially the way they played against a very aggressive offensive team that had no post presence and was dribble-driving and played a matchup zone that was a little different from what we're used to seeing."
The Bruins trailed only very early when Zack Zaragoza knocked down a three-pointer to start the game. He finished with 15 points.
The one statistic Alford didn't love was UCLA's three-point shooting (four for 17). "But we have guys who can make that shot," Alford said. "That will get better."
The Bruins open the regular season at 9 p.m. Friday against Drexel at Pauley.
Twitter: @mepucin
Get the latest on L.A.'s teams in the daily Sports Report newsletter.
You may occasionally receive promotional content from the Los Angeles Times.