Aaron Holiday's last-second shot lifts No. 23 UCLA over Wisconsin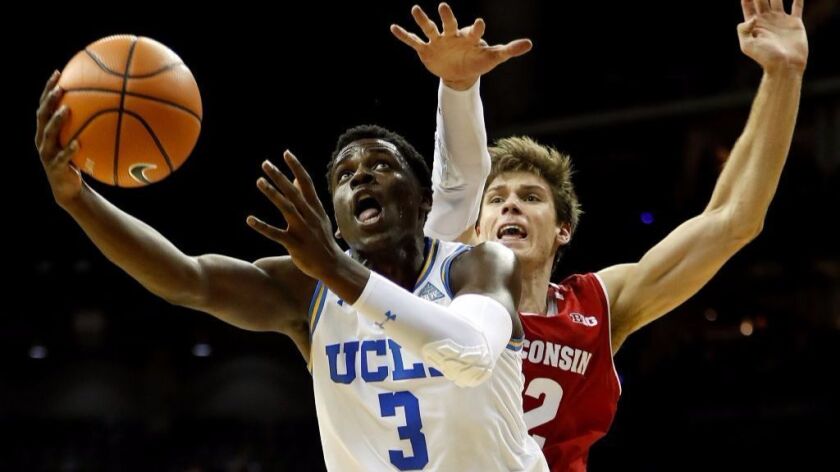 Reporting from Kansas City, Mo. —
Tyus Edney was just talking about his famous game-winning shot, which propelled UCLA past Missouri en route to the 1995 national title, so it was fitting that a final-second layup by another diminutive Bruins guard — junior Aaron Holiday — proved to be the difference Tuesday in a 72-70 victory against Wisconsin during the third-place game at the Hall of Fame Classic.
"Winning on a layup like that," Edney, a first-year UCLA assistant coach, said with a chuckle, "it's pretty funny. … Just being here and, before the game talking with some people who remember that play and things, then Aaron hitting that layup, that's kind of ironic."
The shot and game clocks were essentially synched up for one final possession after Badgers junior Khalil Iverson tied the game with a late free throw. There was never a doubt Bruins coach Steve Alford was putting the ball in Holiday's hands.
"We know what we've got in Aaron," Alford said. "… I've said it since I saw him in high school. He's my pit bull. You just turn him loose. And when you turn him loose, I've got all the confidence in the world."
The final possession wasn't as frenetic as Edney's heroics. Holiday dribbled left toward a screen and briefly had the ball tipped away. He regathered possession and worked back to the right before knifing into the paint.
"He's coming right at me, and I see him look at the clock," Alford said. "His awareness — he's just a very special guard. Most guards would panic, pull up, and shoot a tough shot. I actually saw him look at the clock as he was dribbling with his right hand, and he knew he had time to get to the rim. Getting to rim is one thing; finishing over length is another thing. He just made a tremendous play."
Wisconsin's 6-foot-10 junior star, Ethan Happ — who finished with game highs for points (19), rebounds (nine), assists (five), and steals (three) — met the 6-1 Holiday at the rim, but it didn't matter.
Holiday's right-handed finish touched off a celebration by UCLA (4-1), which rebounded from its first loss a night earlier against Creighton.
"Playing basketball all my life, you just dream of big moments and being there and making that play," said Holiday, who finished with 18 points and matched Happ's game highs of five assists and three steals. "I just tried to be aggressive. My teammates and my coach gave me confidence, giving me the ball. And I was able to come up with the win."
Holiday's brilliance, which delivered Alford's 100th victory as UCLA's coach, wasn't limited to that single moment. Holiday, who also beat the first-half buzzer with a circus layup, scored the Bruins' final 10 points during the last 2:47 in erasing a 67-62 deficit.
During that stretch, he drilled his only two three-pointers of the game, sandwiched around a pair of free throws before delivering the dagger with 0.9 seconds left.
"We've had a very difficult stretch and we already, very early in the season, have a win over a Big Ten team and an ACC team," Alford said. "We played a very good Big East team last night, so I'm very proud of what our guys are doing. I think we're growing."
Wisconsin (2-3), which has played three straight ranked opponents and lost them all, broke a 26-26 tie with a 12-0 run late in the first half. UCLA closed the halftime gap to 38-31 on Holiday's buzzer-beating layup.
When the Badgers came out cold in the second half, starting only four of 11 from the field, they allowed the Bruins to get into their secondary break and carry over the first-half momentum.
UCLA retook the lead with an 11-2 run and settled into a see-saw affair from there — one that Holiday made sure tilted their way.
"The start of the second half was really outstanding," Alford said. "… The second half, we got more defensive stops. We were harder to play against."
NOTES: With 10 minutes remaining in the first half, UCLA sophomore Prince Ali was whistled for a flagrant foul after pushing Wisconsin freshman Kobe King as the two tried to get off the floor. It was the Bruins' third flagrant foul in two games at the Hall of Fame Classic. … Four players other than Holiday — Gyorgy "G.G." Goloman (11), Thomas Welsh (11), Jaylen Hands (10) and Prince Ali (10) — also scored in double figures. … UCLA improved to 5-2 all-time against Wisconsin; this was the first meeting between the programs since the 1995 Maui Invitational.
---
Get the latest on L.A.'s teams in the daily Sports Report newsletter.
You may occasionally receive promotional content from the Los Angeles Times.