Steve Alford to get a reminder of father-son bond when UCLA takes on Oregon State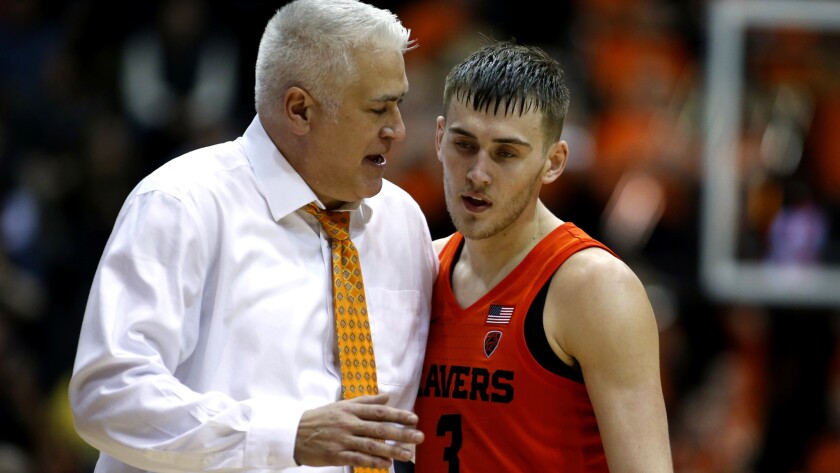 Reporting from Corvallis, Ore. —
Steve Alford is about to get a dual reminder of the family fun he's been missing this season.
When the UCLA coach glances over at the Oregon State bench before the teams meet at Gill Coliseum on Thursday night, he'll see not one but two father-son combinations.
There will be coach Wayne Tinkle and son Tres, whose return from the wrist injury that limited him to only six games last season has made the Beavers one of the big surprises in the Pac-12 Conference. Alford will also see assistant coach Stephen Thompson and sons Stephen Jr. and Ethan, guards who once starred for Torrance Bishop Montgomery High..
Alford is in the midst of his first season at UCLA without youngest son Bryce, the former first team All-Pac-12 selection who finished his career as the fifth-leading scorer in Bruins history.
"I miss Bryce," Steve said. "I miss him every day."
Bryce is now a shooting guard for the Oklahoma City Blue of the NBA's G League, averaging 14.7 points per game and making 40.9% of his three-pointers.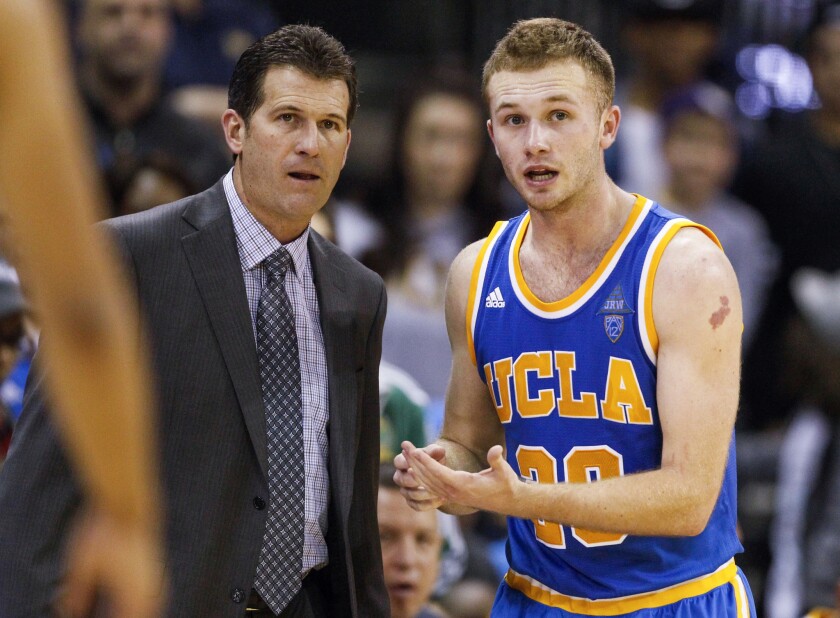 Steve isn't without a family tie in Westwood. His oldest son, Kory, is UCLA's analytics and video coordinator and his wife Tanya and daughter Kayla attend every home game, even shuffling into the media room afterward to hear postgame interviews.
Steve goes back a ways with Thompson, the Oregon State assistant, the two having attended training camp with the Sacramento Kings together toward the end of Alford's four-year NBA career.
"Stevie and I go way back, and it's great seeing his son that he's been able to coach," Alford said.
Tres Tinkle and the younger Stephen Thompson are Oregon State's leading scorers, Tinkle averaging 18.2 points and Thompson 16.5 per game. Ethan, a freshman, is averaging 9.3 points. They've combined to help the Beavers go 9-2 at home this season, including 2-1 in Pac-12 play.
They're also a reason every Oregon State game is a family affair.
"You've got kind of a neat dynamic there," Steve Alford said, "that I'm sure they're having a lot of fun with."
UP NEXT
AT OREGON STATE
When: 8 p.m., Thursday.
Where: Gill Coliseum, Corvallis, Ore.
On the air: TV: FS1; Radio: 570.
Update: UCLA, 13-5 overall and 4-2 in the Pac-12 Conference, is coming off its worst offensive showing of the season during a 68-59 loss to Colorado on Saturday. The Bruins struggled to move the ball, chucked up three-pointers early in the shot clock and failed to find their hottest player, Thomas Welsh, over the final five minutes of a defeat that put them back on the NCAA tournament bubble. Oregon State (10-7, 2-3) is also full of remorse, coming off a trip to face the Arizona schools in which the Beavers went 0-2 despite holding second-half leads in both games. Oregon State has the Pac-12's top scoring defense, limiting opponents to 68.7 points per game.
Follow Ben Bolch on Twitter @latbbolch
---
Get the latest on L.A.'s teams in the daily Sports Report newsletter.
You may occasionally receive promotional content from the Los Angeles Times.