Pac-12 tournament gives UCLA another chance to improve its resume for the NCAA tournament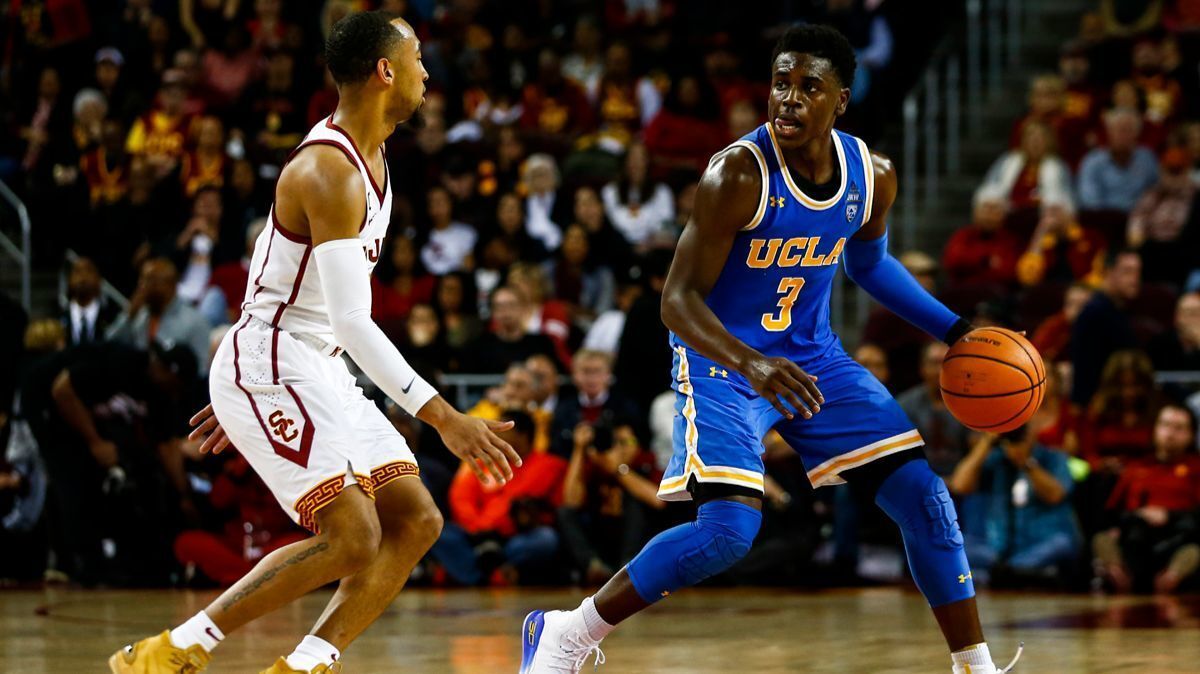 Class has been in session for six months now. Whatever UCLA has absorbed is what the Bruins will be able to apply to their biggest tests of the season.
"Lessons that are learned in March, there's a finality," UCLA coach Steve Alford said. "You don't necessarily get another game."
The Bruins know that defense keys their success and that they must sustain effort for more than a few pockets of each game to win. Contributions solely from mainstays Aaron Holiday, Thomas Welsh and Kris Wilkes won't be enough to generate a deep run in the Pac-12 Conference tournament that starts for them on Thursday afternoon at T-Mobile Arena in Las Vegas against either Stanford or California.
There is one subject, however, in which UCLA fully acknowledges that the learning is ongoing: Bracketology 101.
Are the Bruins (20-10) safely in the NCAA tournament after closing the regular season with a road victory over USC? Do they need to win their Pac-12 tournament opener to secure one of the 36 at-large bids? How high might they climb in the seedings by winning their first conference tournament championship since 2014?
Anyone's guess seems as good as anyone else's.
"Some people have us in, some people have us out," Holiday said, "so it's like, I don't know what we have to do that's going to push us in there. Obviously, we could win the tournament. That would help us a lot."
ESPN's Joe Lunardi and CBS Sports' Jerry Palm, two of the most widely respected NCAA tournament bracket forecasters, both have included the Bruins in their latest projections … barely. While Palm has slotted UCLA with a No. 11 seeding — one typically given to one of the final at-large entrants — Lunardi lists the Bruins as one of his "Last Four In."
That's the same designation Lunardi has given USC (21-10), which opens the Pac-12 tournament Thursday against either Washington or Oregon State. Being one of the last four at-large entrants in the NCAA tournament means playing a dreaded play-in game in Dayton, Ohio, before advancing to the main bracket.
USC coach Andy Enfield, whose team defeated Providence last season in a play-in game, suggested that the Trojans had already done enough to make it into the NCAA tournament for a third consecutive season. Enfield cited his team's solid RPI (No. 35 as of Wednesday) as well as road sweeps over the Oregon schools and Utah and Colorado as selling points.
"It's difficult to win in those places," Enfield said. "The Pac-12 is extremely deep."
The Trojans finished second in the conference, one spot above the Bruins, who finished in a three-way tie for third. But UCLA can point to a combined 3-0 record against first-place Arizona and USC in addition to a quality nonconference victory over then-No. 7 Kentucky.
"We haven't had a bad month," Alford said. "We've had a couple of stretches of maybe two or three games, but we've always responded. You look at our resume, there's not a lot of bad losses on it."
The NCAA's new quadrant system that places an increased emphasis on quality road victories reflects more positively on USC than UCLA.
The Trojans have gone 4-5 in Quadrant 1 games, which are those that come at home against a team with an RPI of 1-30, at a neutral site against a team that has an RPI of 1-50 or on the road against a team that has an RPI of 1-75. USC's victories in that category came on the road against Oregon and Utah as well as at neutral sites against Middle Tennessee and New Mexico State.
UCLA has gone 3-6 in Quadrant 1 games, with its victories coming on the road against Arizona and USC as well as at a neutral site against Kentucky.
While the lobbying among fans of both L.A. teams will continue until the moment the NCAA tournament selections are announced Sunday, Trojans forward Chimezie Metu said he was ready to leave any concerns about his team's inclusion in Las Vegas.
"We just have to worry about what we have to do [in the Pac-12 tournament] and if we're in, we're in," Metu said. "If we're not, we're not. It was a great season."
UCLA THURSDAY
VS. STANFORD
When: 2:30 p.m.
Where: T-Mobile Arena, Las Vegas.
On the air: TV: Pac-12 Networks; Radio: 570.
Update: It will be a battle of coaches with the most unwieldy titles in the Pac-12 Conference when Michael Price Family UCLA Head Basketball Coach Steve Alford takes on his Stanford counterpart, Anne and Tony Joseph Director of Men's Basketball Jerod Haase. Their teams split two meetings during the regular season, each winning on its home court. UCLA fell 107-99 in double overtime at Maples Pavilion after missing its final five free throws in regulation, completing a collapse in which the Bruins lost a 13-point lead. The Bruins throttled Stanford 89-73 when the teams met again at Pauley Pavilion. The fifth-seeded Cardinal (18-14) beat California 76-58 in the first round and need to win the Pac-12 tournament to make the NCAA tournament.
Los Angeles Times staff writer Lindsey Thiry contributed to this report.
Twitter: @latbbolch
Get the latest on L.A.'s teams in the daily Sports Report newsletter.
You may occasionally receive promotional content from the Los Angeles Times.