UCLA seeks to brighten its mood after gut-wrenching loss to Utah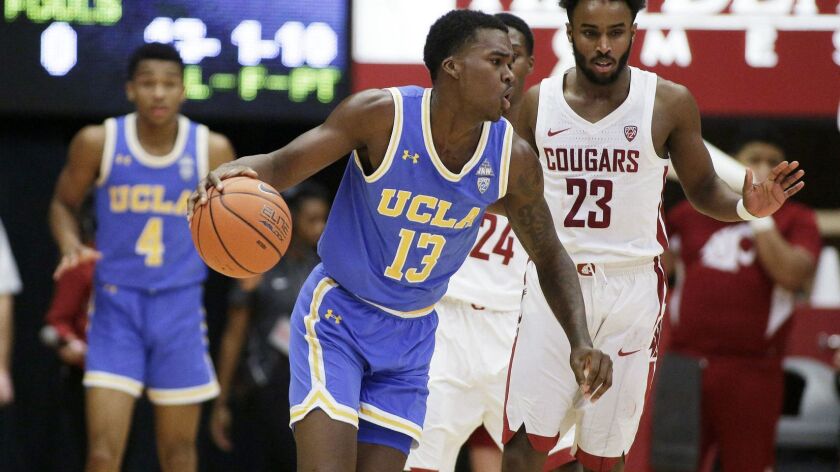 They have lost their coach and as many games as they did all of last season, with a month left on the schedule.
They are playing for an interim coach as part of a roster that also has a temporary feel given some likely defections to the NBA.
They are coming off a loss so crushing that it almost didn't seem like a coincidence that their coach was wearing dark shades when he stepped in front of reporters two days later.
"I've been doing this a long time and I've had some hard losses," Murry Bartow said Monday afternoon, "but that was a hard one."
As he spoke inside UCLA's practice facility, Bartow's transition lenses gradually lightened. It remains to be seen if it was a metaphor for what's to come amid the gloomiest of days for the school's flagship program.
The Bruins could use some mood brightening after a third consecutive defeat gave them a .500 record for the first time this season.
Some are already less focused on the season's final month than what's to follow for a team that's 12-12 overall and 5-6 in the Pac-12 Conference. Intrigue on fan message boards has shifted to next season and who will stick around to play for the new coach. Point guard Jaylen Hands, forward Kris Wilkes and center Moses Brown are among the players who could leave for the NBA with remaining eligibility.
"As a team, we all are going to go down different paths next year, this year, wherever it is, wherever we're going," Hands said, "so it's just getting better as a person, as a player, as a team, as a unit. So that's what I think our motivation is, we're going to go out here today and go hard. … I know one unifying thing for everyone is finishing this year as best as we can."
That will involve moving on as quickly as possible from what happened Saturday at Pauley Pavilion.
UCLA followed its best half of the season with its worst, frittering away a 22-point lead over the final 12 minutes of a 93-92 setback against Utah. The Utes scored 61 points in the second half and reeled off a 12-5 run over the final 28 seconds, including Parker Van Dyke's NBA-range buzzer-beater.
"Obviously," Bartow said, "our team was devastated."
The dismay was rooted in turnovers, missed free throws, an inability to get defensive stops and even some confusion about whether Utah was going to trap or foul in the closing minutes. In many ways, it was the inverse of the Bruins' crazy comeback against Oregon last month, when they wiped out a 17-point deficit in the second half.
Everybody on UCLA's roster dealt with the fallout in their own way. Hands watched game footage to see what had gone wrong. Guard Chris Smith sat in the locker room and contemplated what he could have done better.
Guard David Singleton, who missed two of six free throws over the final 41 seconds, lingered to shoot 200 free throws on his home court. He wasn't steeping in disappointment so much as yearning for another opportunity.
"It's really not even about the last game; it's about the next game," said Singleton, who has stuck around Pauley Pavilion to shoot after a handful of games this season. "It's how you get better."
Singleton said the loss didn't fracture the team, only galvanize it toward its remaining goal: winning the Pac-12 tournament to secure the accompanying NCAA tournament bid.
"We're like, 'Yo, we can't let this happen again,'" Singleton said, recalling the exchange among players in the locker room. " 'We're embarrassing all of us, we have to come together and make sure it doesn't happen again.' "
Bartow acknowledged that a team with no seniors and only two juniors in the playing rotation could use more leadership amid trying times that started well before coach Steve Alford was dismissed at the end of December.
"We need a little bit more of that," Bartow said. "We've got a good bunch of guys, but that's something we probably haven't had is maybe that one guy or that two guys so it's more of a collective effort."
A good gauge of the Bruins' spirit could come Wednesday night at Haas Pavilion in Berkeley, where things could truly bottom out with a loss to California (5-18, 0-11). The Golden Bears are the only winless team in Pac-12 play.
For all its warts, UCLA remains only two games out of second place in the conference standings with seven games left to play. That means the Bruins remain firmly in the hunt for a top-four seeding in the Pac-12 tournament and the first-round bye that comes with it.
"We still have the Pac-12 tournament," Hands said. "So as long as we just keep getting better, staying upbeat, I think we can do some things still."
Etc.
In the wake of reported academic fraud involving UCLA freshman forward Shareef O'Neal and suspended Arizona assistant coach Mark Phelps, a UCLA athletic department official said O'Neal remained in good standing. The Stadium's Jeff Goodman reported that Phelps' suspension was tied to a fraudulent online course taken by O'Neal, who had committed to Arizona before switching his allegiance to UCLA.
Sign up for our daily sports newsletter »
Follow Ben Bolch on Twitter @latbbolch
---
Get the latest on L.A.'s teams in the daily Sports Report newsletter.
You may occasionally receive promotional content from the Los Angeles Times.