Here's what's on the line in UCLA's season finale against Utah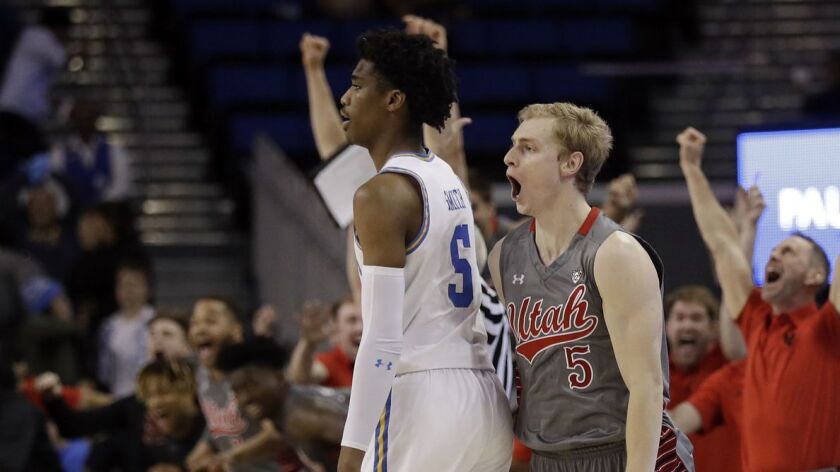 Reporting from Salt Lake City —
Parker Van Dyke's buzzer-beating three-pointer wasn't the only lasting image of UCLA's epic meltdown last month against Utah.
Bruins forward Kris Wilkes still remembers the Utes racing across the court to mob Van Dyke, the celebration building in front of UCLA's bench and carrying beyond the baseline.
"It was disrespectful how they jumped around, running into our bench and stuff like that," Wilkes said, "so that's a lot of fuel to the fire coming into this next game."
UCLA (16-14, 9-8 Pac-12) already figured to have enough motivation going into its regular-season finale Saturday against Utah (16-13, 10-7) at the Huntsman Center.
The Bruins enter the game in a four-way tie with Colorado, Oregon and Oregon State for fourth in the Pac-12. Whoever emerges from that scrum to secure the No. 4 seeding will secure a first-round bye in the conference tournament next week.
Almost all the tiebreaker scenarios work against UCLA unless the Bruins finish in a two-way tie with Oregon, whom they swept this season. That means UCLA will need to beat the Utes and root for USC to knock off Colorado and Washington State to topple Oregon State.
Another spot could open for the Bruins with a victory because they could move into a tie with Utah for third, depending on how the other games go.
"We've got to go in there and do what we need to do to get a win," point guard Jaylen Hands said.
The Bruins could start by defending.
Before he was asked to save a sinking team as the interim coach, Murry Bartow was tasked with rescuing a sagging defense as Steve Alford's assistant.
An inability to get stops had been UCLA's constant shortcoming in recent seasons, and the hope was that Bartow could inject some toughness into a team that had let its Pac-12 counterparts do pretty much whatever they wanted.
UCLA has made progress under Bartow, but recently it's seemed like old times.
Colorado was the latest team to make itself comfortable against the Bruins' zone defense and backcourt traps, scoring from almost wherever it wanted Thursday night during a 93-68 victory that represented its most lopsided in the series. The Buffaloes blistered the Bruins with three-pointers and dunks after Tyler Bey repeatedly slipped behind the back line of their defense.
"We just weren't able to stop them," Bartow said, a lament that has been an ongoing theme even amid a stretch in which the Bruins have won four of their last six games.
Colorado shot 49.3% after Oregon shot 50%, Oregon State shot 50.8% and Stanford shot 52.9%. The one outlier was USC shooting 39.5% while taking 50 three-pointers, a record for a Bruins opponent.
Sign up for our daily sports newsletter »
Bartow said he doesn't much discuss with his players terms like kills — denoting three consecutive defensive stops — and there's really no need for a team whose zone has more soft spots than a stuffed Bruin from the campus bookstore.
Utah seemed to find every vulnerability while scoring 61 points in the second half of its 93-92 victory over the Bruins. The Utes wiped out deficits of 22 points over the final 12 minutes, 13 points over the final three minutes and six points over the final 35 seconds.
Not everyone took offense to Utah's wild celebration after Van Dyke's NBA-range three fell through the net.
"I would have celebrated too if we won like that, so I get it," Hands said. "It doesn't matter if they hit a three, it already happened. Let's just go in there and win."
UP NEXT
AT UTAH
When: 4 p.m. PST.
Where: Huntsman Center.
On the air: TV: Pac-12 Networks; Radio: 570.
Update: Van Dyke led the Utes with 20 points Thursday during an 83-74 victory over USC in which they outrebounded the Trojans by nine and posted 17 second-chance points to the Trojans' one.
Follow Ben Bolch on Twitter @latbbolch
---
Get the latest on L.A.'s teams in the daily Sports Report newsletter.
You may occasionally receive promotional content from the Los Angeles Times.