Steve Alford to replace assistant coach and recruiting coordinator David Grace
David Grace, UCLA's top basketball recruiter the last five seasons under coach Steve Alford, said Saturday that he was recently informed he would not be retained as an assistant coach after his contract ends in June.
Grace said Alford told him shortly before the Final Four that he had spoken with athletic director Dan Guerrero and decided to make a coaching change after the Bruins were eliminated in a play-in game for the NCAA tournament.
"[Alford] said that Dan wanted to make the change and the next day I talked to Dan and Dan said he never told him to make a coaching change, so I don't know where that came from," Grace said. "But [Alford] never said I had any deficiencies anywhere; in fact, he said I did a great job."
A UCLA spokeswoman said the school would not respond to Grace's comments, citing personnel issues.
A person close to the situation but not authorized to speak publicly on the matter said Alford intended to hire Murry Bartow as Grace's replacement. Bartow was an assistant on Bobby Knight's staff when Alford led Indiana to the 1987 national championship. Bartow is also the son of former UCLA coach Gene Bartow, John Wooden's successor who coached the Bruins for two seasons before becoming the first coach at Alabama Birmingham in 1978.
Alford said there had not been any movement on his coaching staff when asked about possible departures on Wednesday. "That, I don't know," Alford said. "Obviously, I just want the best for my staff and if they can advance in what they do then I'm always behind them 100% on that."
Grace had spent the previous five seasons before coming to UCLA as an assistant at Oregon State, making him one of the longest-tenured coaches in the Pac-12 Conference. He has been ranked among the top recruiters in the nation by ESPN peer surveys, and the Bruins' most recent class is ranked No. 4 nationally by 247sports.com.
"This was a tremendous shock, the fact that the job I was given to be as the recruiting coordinator, four of the five years we had top-five recruiting classes," Grace said. "That didn't always happen there and it's definitely a shame."
Grace said he has already been contacted by other schools about assistant coach openings and that his dismissal was unrelated to the FBI investigation into widespread corruption in college basketball.
"I'm going to get a letter from UCLA stating that it had nothing to do with it," Grace said. "If you notice, out of all the Adidas schools and the [non]-Adidas schools, we're the only one that [wasn't] implicated and it's because I don't do that and we don't do that. … My 20 years of experience in the Air Force and all that, I have great integrity in what I do."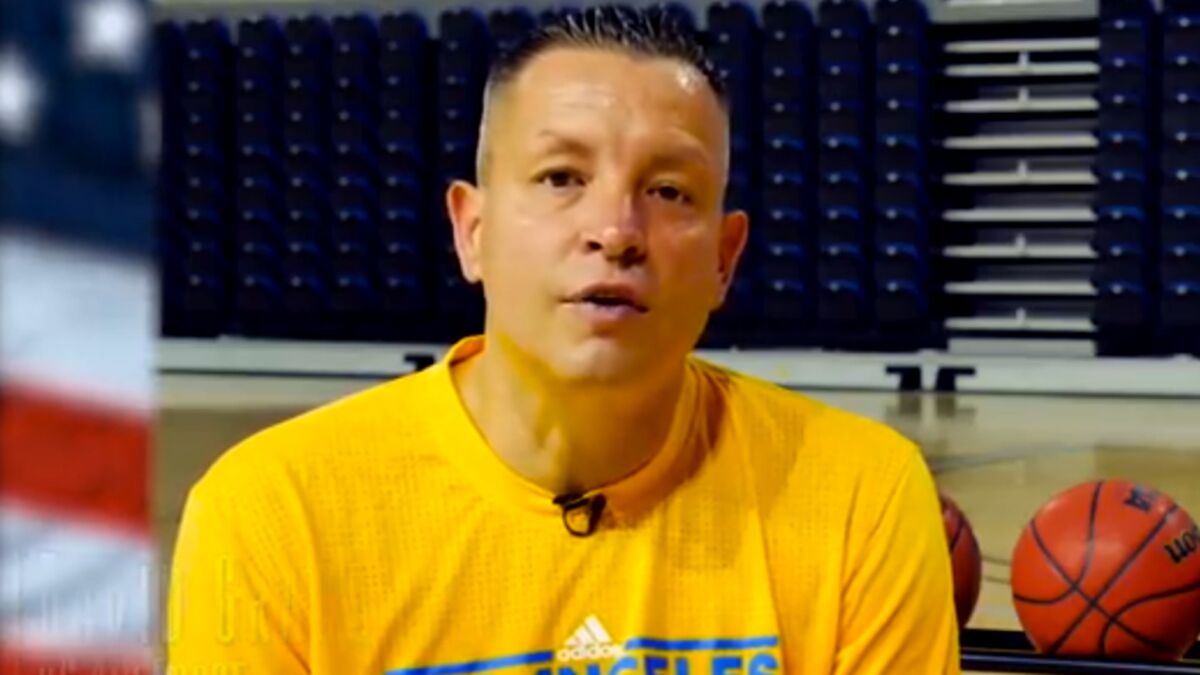 Grace entered coaching after a lengthy military career in which he was a fuel specialist and fuel accountant who spent three months in Saudi Arabia during Operation Desert Storm. He acknowledged having sought head-coaching opportunities elsewhere but said that otherwise he intended to remain at UCLA.
"I would stay here forever; it's just my dream was to be a head coach, so I did search out head-coaching jobs," Grace said. "So I always wanted to be a Bruin and even Dan Guerrero said I'm a Bruin for life. … It was a blessing to be on the staff at UCLA and be a part of such a great tradition and great school."
Grace noted that he did more than recruit, mentioning his scouting and on-the-court coaching responsibilities.
"To contribute the way I did and feel like this was happening just blows my mind," Grace said. "[Alford] just wanted to go a different direction. He even prayed about it in the thing. He wanted to pray about it when he was telling me I had to get another job."
Follow Ben Bolch on Twitter @latbbolch
---
UPDATES:
7:50 p.m.: This article was updated with a quote by David Grace about athletic director Dan Guerrero.
7:25 p.m.: This article was updated with a UCLA spokeswoman saying the school would not respond to Grace's comments.
This article was originally published at 5:05 p.m.
Get the latest on L.A.'s teams in the daily Sports Report newsletter.
You may occasionally receive promotional content from the Los Angeles Times.