UCLA is winless but not without hope as it prepares to play California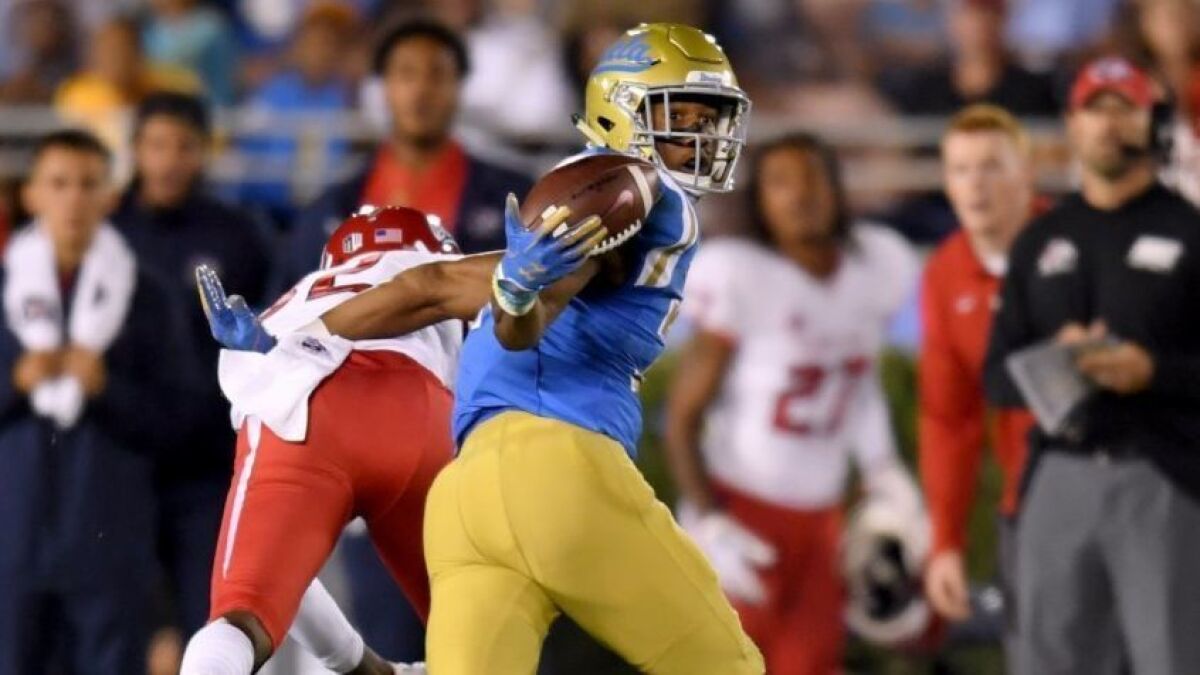 Reporting from Berkeley —
As he scanned the locker room after UCLA's fifth consecutive loss to open the season, Quentin Lake was reinvigorated by what he saw.
Things didn't seem hopeless for a winless team.
"You would think guys would be down, like OK, we might not be able to do this," Lake, the Bruins' sophomore safety, said of the scene last weekend after his team's 31-24 loss to No. 10 Washington, "but I saw people smiling. I was telling the guys we played really well and I saw everybody's head was up and excited to come into this week and prepare for Cal."
The Golden Bears (3-2 overall, 0-2 Pac-12 Conference) will enter their game against UCLA (0-5, 0-2) on Saturday at California Memorial Stadium as a touchdown favorite, the same designation they held against Bruins coach Chip Kelly's first Oregon team in 2009.
Like Kelly's current team, those Ducks also were struggling. They had dropped their opener against Boise State before narrow victories over Purdue and Utah prompted some fans to call for the benching of quarterback Jeremiah Masoli.
Those same fans got behind Masoli as soon as he threw for three touchdowns to help Oregon rout sixth-ranked Cal 42-3, a breakthrough moment in a season that ended in the Rose Bowl.
The Bruins, seeking victory No. 1 after their first 0-5 start since 1943, have more modest aspirations, though some haven't ruled out a rosy ending.
"In our minds," Lake said, "we're going 7-0 from here on out. That's, I think, the mind-set that the guys have."
Reasons for optimism can be found almost everywhere except in the Bruins' record. They have tightened some rotations, leading to breakthrough performances at tailback (Joshua Kelley) and receiver (Michael Ezeike). The offensive line has compiled its best games in back-to-back weeks, allowing no sacks last weekend for the first time this season.
It was only a week ago that some fans were calling for a change at quarterback after Dorian Thompson-Robinson was coming off a second consecutive shaky showing. Then the true freshman played like a veteran in throwing for a career-high 272 yards and two touchdowns against Washington.
That quieted the clamoring for graduate transfer Wilton Speight to make his first start since the season opener. Speight went down with a back injury in that game but has been available for three weeks now. Should Thompson-Robinson continue his upward trajectory, Speight might have thrown his last pass as a Bruin.
Thompson-Robinson helped his team rally from a 24-7 halftime deficit against the Huskies, the Bruins twice pulling within a touchdown in the second half while showing a resolve that had been missing earlier in the season.
"When we were down early in the game," Lake said, "I think we just kept telling ourselves, 'We're OK, we're going to get through, we're going to push through these obstacles.' "
UCLA certainly has its share of hurdles left to clear. All winless teams do. The Bruins rank last in the nation in third-down defense, allowing opponents to convert 43 of 80 opportunities (53.8%). They have also helped sustain four scoring drives in the last two games with penalties on defense.
"Those are the penalties that we've got to eliminate and we'll be successful," safety Adarius Pickett said. "We're in position to stop all the teams that we've been playing."
Kelly said he was pleased with his team's perseverance, praising his players' attitude and effort. He didn't agree with the notion that there was an increased sense of urgency to get a win, noting that he wanted to win each week.
UCLA won't have to delve any deeper into the record book to find a worse start should it lose to the Golden Bears. The 1943 Bruins dropped their first seven games, including losses to March Field and Del Monte Pre-Flight, on the way to a 1-8 finish.
The players aren't the only ones confident in better days ahead.
"I think there's hope all the time in this program," Kelly said, "so I never felt like we didn't have hope."
Follow Ben Bolch on Twitter @latbbolch
Get the latest on L.A.'s teams in the daily Sports Report newsletter.
You may occasionally receive promotional content from the Los Angeles Times.