UCLA manages to beat Cal Poly, 88-83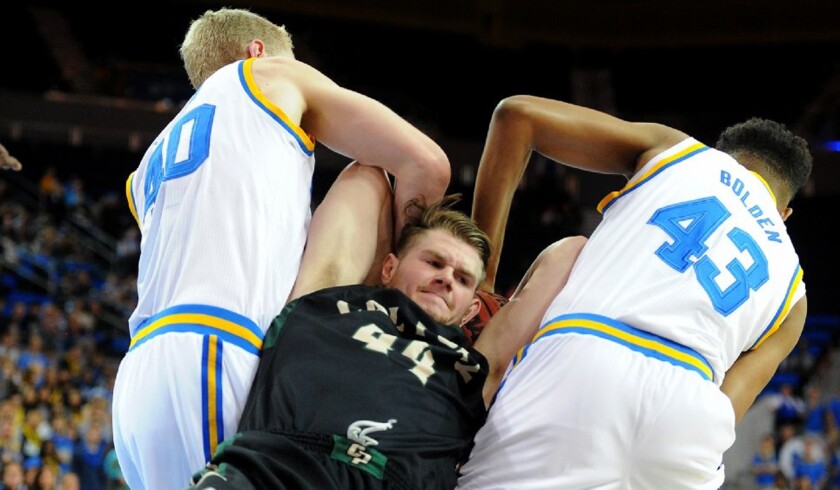 It was all happening again for UCLA: a lead vanished, nerves frayed, a clipboard punched.
Two days earlier, UCLA had lost a shocker in their season-opener. On Sunday, the team had changed, this time Cal Poly instead of Monmouth, but with six minutes remaining, when the Mustangs' Luke Meikle hit another jumper, UCLA was on the precipice of disaster, again.
This time, the Bruins escaped, but not by much, with an 88-83 victory at Pauley Pavilion.
Similarities abounded: trouble against a small lineup, an inconsistent, herky-jerky offense. But the Bruins did not fold. Their defense tightened. They avoided fouls. They found enough space inside the paint to extend a lead.
"We made some plays, and we got some key stops," Coach Steve Alford said. "They took a lead, and we didn't panic."
It might have been different, if not for center Thomas Welsh, who scored a career-high 22 points on 10-for-12 shooting. He also had five rebounds.
Welsh and Tony Parker punished a small Cal Poly rotation in the paint. Parker contributed 16 points and 14 rebounds.
The big lineup, though, has been a double-edged sword. Defensively, Parker could not keep apace of Meikle, a 6-foot-9 transfer from Gonzaga, who, despite his size, plays with the quickness of a smaller player.
"I was basically guarding two guards these past two nights," Parker said.
The addition of Jonah Bolden, who made his debut after a suspension Friday, helped. He was, Alford said, a difference-maker defensively. He finished with 11 points and five rebounds.
Meikle scored 18 points. Reese Morgan led Cal Poly with 20 points. And the Mustangs brutalized UCLA's big lineup from behind the arc on 13 of 27 shooting.
"We're trying to play big-big, and offensively, it's been a handful for people," Alford said. "On the flip side, that becomes very difficult, because we're asking Tony to do something that he hasn't done for four years. He's guarded centers."
The hailstorm of three-pointers evaporated another big UCLA lead. The Bruins lurched to a 10-point advantage in the first half, and extended it to 15 in the second.
Midway through the half, UCLA's offense stagnated. On one possession, the shot clock expired, and no one on the floor noticed. Alford turned his palms up.
After an easy score on the other end, he yelled for a timeout. The Mustangs had scored nine points in a row. He smacked his clipboard in frustration.
When Morgan hit a three-pointer with less than eight minutes less, the Mustangs had tied the game with eight more unanswered. The Bruins' offense had disappeared for almost four minutes. Less than a minute later, Meikle gave Cal Poly a lead.
In the final four minutes, UCLA made 12 from the line, enough to avoid a repeat of Friday's failure.
UP NEXT
Thursday vs. Pepperdine, 7:30 p.m., Pauley Pavilion, Pac-12 Networks —The Bruins haven't played the Waves since they met in 2011 at the Sports Arena. The Waves return all five starters after finishing fourth in the West Coast Conference last season.
---
Get the latest on L.A.'s teams in the daily Sports Report newsletter.
You may occasionally receive promotional content from the Los Angeles Times.