UCLA relies on faster tempo and more pressure to rout California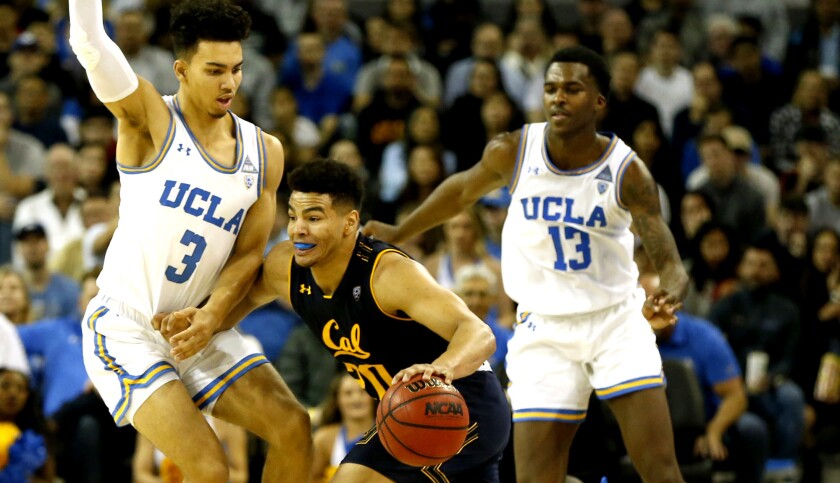 There was a theme to everything UCLA did in its first week under Murry Bartow, from meetings to film sessions to two-a-day practices that were a blur of activity.
"All we've talked about," Bartow said, "is speed."
Bartow sized up his team after taking over for the dismissed Steve Alford on an interim basis and saw one that should be maximizing its length and athleticism. He decided the Bruins would trap more on defense and feature a more attacking style on offense.
A swift turnaround has ensued, UCLA's 98-83 victory over California on Saturday at Pauley Pavilion providing further evidence that the Bruins just might be able to salvage their season.
No one is penciling UCLA in for the NCAA tournament after back-to-back victories over projected Pac-12 Conference weaklings, but all key indicators are pointed upward for a team that recently lost at home to mid-majors Belmont and Liberty.
"When you give great players confidence," Bruins guard Jules Bernard said, "you never know what they can do. We can take this thing really far."
The Bruins forced a flurry of turnovers in the first half against Cal and unearthed more freshman finds in Bernard and David Singleton on the way to improving to 9-6 overall and 2-0 in the Pac-12.
UCLA is also finding new ways to spread the fun, forward Kris Wilkes' 18 points leading a season-high six players in double-figure scoring. The Bruins had five players in double figures in their first game under Bartow, after never reaching that threshold once in 13 games this season under Alford.
"We're all like brothers," UCLA center Moses Brown said after collecting 16 points and nine rebounds, "so you see your best friend score a point, you get happy."
Wilkes was so excited afterward that he ran over to slap hands with Bartow before the coach could exchange pleasantries with Cal players and coaches in the handshake line.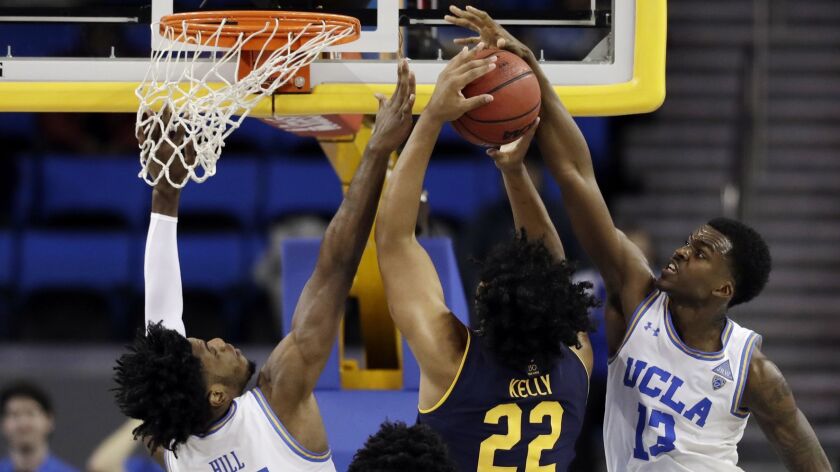 UCLA has revived its offense in two games under Bartow, averaging 95 points on 52.3% shooting. In its previous four games under Alford — all losses — the Bruins averaged 65 points and 41.6% shooting.
A big part of the scoring surge has been a more aggressive defense that has increasingly trapped in the backcourt. UCLA forced 14 turnovers in the first half against Cal (5-9, 0-2), leading to 14 points and saving the Bruins after a sluggish start in which they trailed by as many as seven points.
Two freshmen also sparked UCLA, sustaining a recent uptick in playing time and production.
Singleton scored all of his career-high 14 points in the first half, earning the "Sniper" nickname Bartow had given him by making five of seven shots within the flow of the offense. The second half featured a breakthrough by Bernard, who scored nine of his 12 points while making three of five three-point attempts.
"This pace, I guess, fits our playing style a little bit more," Bernard said when asked about his and Singleton's increased contributions. "We're active scorers, we like to get the ball out and run and get quick buckets, so when we have that sort of freedom, we play more like ourselves and that means we produce more."
Unlike his predecessor, Bartow has showed he's unafraid to use the bench as a motivator. Bartow yanked Brown only 92 seconds into the game after the 7-foot-2 freshman had a layup blocked, committed a foul and couldn't convert a lob.
"We just got him to the bench," Bartow said, "and loved him up a little bit and got him back into the game fairly quickly."
Brown rebounded to score 14 points and grab seven rebounds in the second half.
It was hardly a perfect showing for the Bruins. They committed 22 turnovers and missed more than a handful of point-blank shots while playing out of control at times, all reminders of what had gone wrong earlier this season.
The difference was the payoff from all that extra practice and newfound cohesiveness. UCLA practiced twice on Tuesday, Wednesday and Friday and lifted weights every day, a hardened approach leading to a softer landing.
"Deep down none of us knew that that was us, it was not us at all," Bernard said of the team's ragged play before this week. "We're much better than that and we knew that. We've gotten into the practice and we've started working hard. I don't think we were working as hard as we possibly could earlier and we really dedicated this past week to getting better and turning our season around."
UP NEXT
Thursday at Oregon, 6 p.m., Matthew Knight Arena, ESPN — What was expected to be an epic interior duel between UCLA's Moses Brown and Oregon's Bol Bol will be dialed down a notch after Bol was lost for the season because of foot surgery.
Follow Ben Bolch on Twitter @latbbolch
---
Get the latest on L.A.'s teams in the daily Sports Report newsletter.
You may occasionally receive promotional content from the Los Angeles Times.