The making of a beautiful mind: Chip Kelly's early coaching days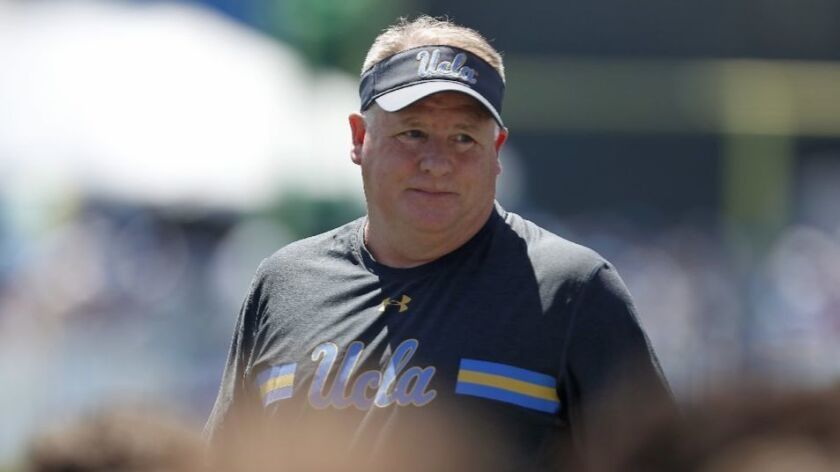 Reporting from Durham, N.H. —
This is the first of a three-part series on Chip Kelly, UCLA's new football coach.
Chip Kelly veered away from the other young football coaches on that spring day three decades ago.
As 25 or so of his peers herded into one room at the University of New Hampshire to hear from Jack Bicknell Jr., a fledgling college assistant whose star power resulted largely from his once being Doug Flutie's teammate and his father being the head coach at Boston College, Kelly headed next door.
Kelly wanted to learn from Gary Crowton, then a relatively anonymous offensive coordinator who would go on to design some of college football's most prolific offenses.
"Everybody went with Jack except for Chip," Crowton remembered.
Kelly had Crowton all to himself, which meant that Crowton had Kelly all to himself. The college coach found the offensive coordinator from nearby Manchester Central High to be engaging and inquisitive during their hour-long conversation, asking about the nuances of quarterback and receiver play at the college level.
RELATED: Part 2 of the Chip Kelly series: Chip Kelly takes the fast track to tremendous heights at Oregon before hitting speed bumps in the NFL »
Learning different positions gave Kelly a deeper understanding of the responsibilities and tendencies of more players. But it seemed he always wanted to know more. His yearning for football knowledge would lead him to make more stops than an early transcontinental airline route long before landing at UCLA late last year as Jim Mora's replacement.
Kelly has studied schemes at the high school, college and professional levels — even inquiring about the latest trends in the Canadian Football League and NFL Europe in addition to the NFL — with equal fervor. He also examined successful business practices and the team-building methods of Navy SEALs. When he ran with the bulls in Pamplona, Spain, in the summer of 2012, he watched video beforehand and conducted a walk-through of the route the bulls would run the next day.
"He's a huge information-gatherer," said Sean McDonnell, the New Hampshire coach who has known Kelly since the late 1970s, when McDonnell was a high school coach and Kelly a rival player.
Kelly's quest for intelligence continued after becoming a wildly successful coach at Oregon who guided the Ducks to four major bowl games in as many years before spending four years in the NFL. The Ducks won with a dizzying no-huddle, spread offense that blended many of the zone-read concepts Kelly had absorbed over the years.
The coach acknowledged not being an innovator so much as an orchestrator of ideas conceived by others. But his inquisitiveness was singularly Charles Edward "Chip" Kelly.
"I was probably a pain in the ass as a little kid, I would imagine," Kelly, who declined to be interviewed for this story, said in 2014. "I questioned everything. I've always been a 'why' guy, trying to figure out why things happen and what they are and just curious about it from that standpoint."
::
Kelly's nomadic rise through the coaching ranks started with five years at Manchester Central, his alma mater.
His early failures sometimes came in spectacular fashion.
"There were a couple of times when I said, 'You go three and out again, somebody on the defense is going to kill you,' " Bob Leonard, then a defensive assistant on Kelly's staff, recalled with a laugh. "Because it was really quick, man. You threw, that was two seconds. You threw, that was four seconds. We punted. OK. We're back on defense."
Kelly earned his first college job in 1990 coaching freshman defensive backs and varsity outside linebackers at Columbia. He went to New Hampshire two years later to coach the running backs at his alma mater — his name spelled "Chip Kelley" in the media guide, an ode to the thanklessness of the part-time position.
Then came a yearlong stint as defensive coordinator at Johns Hopkins followed by a return to New Hampshire to coach the running backs for three more years. Finally, in 1997, a full-time position opened as the team's offensive line coach.
Kelly's boss, Wildcats coach Bill Bowes, was reluctant to give the job to someone who had never coached the position … until he sat down with the candidate to discuss how he might handle things.
At the end of my interview with him, I realized that, hey, he knows what he's doing.
— Bill Bowes
"At the end of my interview with him," Bowes recalled, "I realized that, hey, he knows what he's doing."
Kelly got the job, but it didn't feel like an arrival so much as just the next step. The following year he made one of his frequent self-funded visits to see Crowton, who was on the verge of becoming the Chicago Bears' offensive coordinator after three years as head coach at Louisiana Tech. Kelly was fascinated by some of the zone-blocking schemes Crowton had used and figured they might accentuate the skills of New Hampshire running back Jerry Azumah.
But first Kelly had to convince Bowes and McDonnell, then the Wildcats' offensive coordinator, that it was the right fit for a team that ran the somewhat staid I formation.
"He was really impressed with how it could work with the people we had, give Jerry some vision, some opportunities to see some things and run with them based on his ESP, that sense of seeing things," McDonnell said. "It worked out really well for all of us."
Azumah finished the 1998 season with 2,195 yards rushing and 23 touchdowns, winning the Walter Payton Award as the nation's top player in Division I-AA.
::
As a wisp of a high school quarterback, Kelly had a way of doing things differently by design.
He was known for his scrambling and ability to make something out of broken plays. It didn't matter that he was only 5 feet 9 and 165 pounds if the defense couldn't get its hands on him.
RELATED: Part 3 of the Chip Kelly series: UCLA's Chip Kelly: a private man in a very public role »
"He made up plays on the go," said Frank Kelley, one of Kelly's teammates and study partners at Manchester Central. "I used to try to hit him at practice and he was hard to hit. Very elusive and fearless."
Kelly displayed his speed while running the second leg of the 400-meter relay, taking the baton from Kelley as part of a team that won the New England meet. He also played hockey as a tenacious forward whose durability allayed the fears of his football coach, who shuddered at the thought of his quarterback going down on the ice.
"You didn't think he was a tough kid when you looked at him," said Leonard, who was Kelly's coach before leaving his teaching job for the insurance business and later working alongside Kelly as an assistant, "but he was tough."
Leonard, whose specialty was defense, enjoyed Kelly's analytical mind most when he served as a last resort while playing safety as one of the team's many two-way players.
"Chip was the one that I counted on that if we all went where we weren't supposed to," Leonard said, "somebody was back there to clean up the mess."
Kelly's independent thinking seemed familiar to Kelley, whose Pop Warner coach also happened to be Kelly's father, Paul. One of Paul's mantras had been to always compete, Kelley recalled, because good things tended to happen when kids gave all-out effort.
The elder Kelly had been studying to become a Jesuit priest when he abandoned the pursuit to marry the woman who would become Kelly's mother, an educator who reared four boys with her new husband. Paul worked as a trial lawyer, the perfect occupation for someone with a natural inclination to question things.
You didn't think he was a tough kid when you looked at him, but he was tough.
— Bob Leonard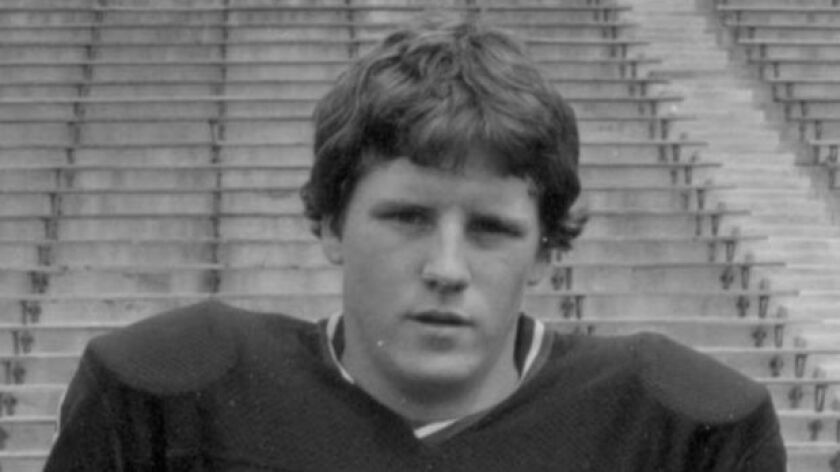 Paul kept close tabs on his son's playing career. He sometimes watched from a hill above a low-lying area dubbed Death Valley after Chip arrived at New Hampshire in the fall of 1981 as a preferred walk-on. Chip's moptop made him look more suited to join a Beatles cover band than become a college football sensation.
He played occasionally and made only a cameo appearance on the stat sheet during his four seasons as a quarterback-turned-defensive back, logging one tackle.
Kelly's biggest impact at the school remained years away.
::
When McDonnell succeeded Bowes in 1999, New Hampshire's new coach might as well have announced Kelly as his offensive coordinator at the introductory news conference.
"It was the easiest decision I've probably had to make as a head coach," McDonnell said.
The Wildcats started relying heavily on a hurry-up, no-huddle offense not as a result of some master plan but because they enjoyed success with it at the end of first halves and games when they were in two-minute-drill situations. Kelly continually refined the scheme as a result of his visits to other schools that ran similar offenses, returning with new wrinkles that he incorporated into his team's playbook.
Players used to more conservative high school offenses immediately felt liberated by what they saw from a coach with a heavy bent toward going fast and faster. Kelly called plays as if he was embracing the state motto, Live Free or Die.
"We were up here spreading it out and playing with three receivers, so it seemed like genius to me at the time," said former Wildcats receiver Keith LeVan. "We all bought in, like there was no other way to play but as fast as you can go."
The speed helped compensate for a lack of size and talent. More possessions also meant more opportunities to score, tilting the efficiency odds in the Wildcats' favor.
New Hampshire often benefited most in the fourth quarters as its opponents wore down from nonstop pursuit. Runs that might have gone for four yards earlier in the game would go for 14 yards, if not more. The only reliable counter among defenses was to suffer an injury — real or fake — to momentarily stop the clock.
Kelly varied his play-calling but wouldn't hesitate to get monotonous if it provided an edge. LeVan recalled Kelly's willingness to have his quarterback throw 25 passes in one game to star receiver David Ball. When the Wildcats upset Rutgers in 2004, LeVan said, quarterback Ricky Santos threw "something like 14 tunnel screens" because they kept working.
"Don't outthink yourself," LeVan said, repeating one of Kelly's core philosophies. "Don't assume that they have it covered or figured out."
New Hampshire broke 29 school offensive records the same season it beat Rutgers, the Wildcats making the playoffs for only the third time in school history. The team's offensive prowess drew a slew of coaches from other schools to spring practices.
Kelly was becoming a coveted commodity.
::
John Neal first noticed him in the spring of 2005. The mystery man would sit in the back corner of one of Oregon's football offices toiling on a laptop computer as Crowton, the Ducks' new offensive coordinator, busied himself nearby formulating his plans to install the spread.
His curiosity piqued, Neal, Oregon's defensive backs coach, walked into the office and asked the stranger who he was. He said his name was Chip Kelly.
"I told him, 'Man, you're working harder than anyone here,' " Neal said.
Neal asked Kelly, who was making one of his yearly trips to visit Crowton, to show him one of his plays from New Hampshire. It was a bootleg in which the quarterback, running away from his linemen, completed a pass to a wide-open receiver.
Neal asked to see more and Kelly showed him several other plays. The result was always the same: big, easy yardage.
"I said, 'God, I already hate your guts,' " Neal told Kelly with a laugh.
Neal completed a quick check of Kelly's background and discovered that New Hampshire had scored 35 points against Rutgers during the upset of its Division I-A counterpart. The Wildcats would top that in 2006 by beating Northwestern. Neal made a mental note: This is a guy we need to get on our staff.
Crowton didn't need any convincing, having known Kelly since that coaching clinic nearly two decades earlier.
When Crowton departed for Louisiana State in 2007, he suggested that Oregon coach Mike Bellotti consider Kelly as his replacement. The six other candidates were far more established. They included an NFL assistant coach and a handful of former college head coaches and currently employed major college offensive coordinators.
None matched Kelly's command of the spread offense and what he wanted to do with it.
"Of all the guys I interviewed," Bellotti said, "Chip was the only one I believed we could take a step forward without taking two steps back."
But if Bellotti was sold, Kelly wasn't. He loved his job making a reported $62,000 a year at New Hampshire. It was the place where Kelly had played and rose through the coaching ranks for more than a decade.
"He had a nice thing there," said Kelley, Kelly's high school teammate. "It took a lot of convincing to get him to move from that."
Crowton pitched Kelly on his love for Eugene. Bellotti mentioned the track record of his coordinators going on to bigger things as well as the opportunity to elevate a user-friendly offense while working with a talented group of players.
Kelly thought it over for a long while. Ultimately, he said yes.
Once more, he was venturing out on his own.
More from the series:
Kelly is a big hit at Oregon, but takes plenty of hits in the NFL
---
Get the latest on L.A.'s teams in the daily Sports Report newsletter.
You may occasionally receive promotional content from the Los Angeles Times.