Colorado stuns UCLA for its first road victory
Thomas Welsh turned toward the student section at midcourt and flapped his long arms in excitement before taking a few steps and high-fiving teammate Aaron Holiday.
Welsh had scored 10 consecutive points in the second half Saturday night and a game that had been trending heavily in the wrong direction for UCLA was suddenly worth watching again.
A season-high crowd of 10,164 inside Pauley Pavilion that included Bruins luminaries Mike Warren, Matt Barnes, Toby Bailey and Baron Davis was finally buzzing.
Then it was as if someone turned the volume knob all the way off.
UCLA went cold again and Colorado got more easy baskets on the way to a 68-59 victory that knocked the Bruins out of first place in the Pac-12 Conference.
"I thought that was as poor as we've played all year," UCLA coach Steve Alford said while noting it came after what he called his team's best performance, a 19-point victory over Utah on Thursday. "Our effort was poor, I thought we were flat."
It was little wonder that UCLA (13-5 overall, 4-2 Pac-12) managed a season low in points given the Bruins made 37.1% of their shots, 20% of their three-pointers and 44.4% of their free throws. And that included Welsh's nine-for-10 shooting that produced 20 points.
"Outside of Tom, we just didn't have much as far as good, concentrated effort and obviously you're not going to win at this level when you don't have enough guys collectively to do that," Alford said. "And I take responsibility for that. That's our job as coaches to make sure they're ready to play and not only were we not ready to play, we had no energy, no effort and that's hard to watch."
All of this came on a night the most accurate shooter in UCLA history was introduced as honorary captain during a first-half timeout.
The Bruins did not do Jelani McCoy proud.
They missed their first eight three-pointers and got only marginally better, making five of 25 for the game. Holiday made only four of 13 shots and forward Kris Wilkes made three of 11. Wilkes and teammate Jaylen Hands combined to make two of 12 three-pointers.
"They obviously played great on me," said Holiday, who finished with 10 points and four assists to go with six turnovers while continually being trapped. "I tried to get my teammates involved and obviously I have to do more for us to win."
Welsh's personal 10-0 run included a jumper, a jump hook and two three-pointers, the second of which pulled the Bruins to within 55-51 with 5:14 left. But Colorado responded with a 7-0 run that put the Buffaloes (11-7, 3-3) well on the way to their first road victory of the season after an 0-5 start.
"We had spurts like that where we were getting stops and cutting their lead down," Welsh said, "but we didn't sustain it long enough."
George King scored 26 points for Colorado, which made 11 of 22 three-pointers and held the Bruins to six fastbreak points.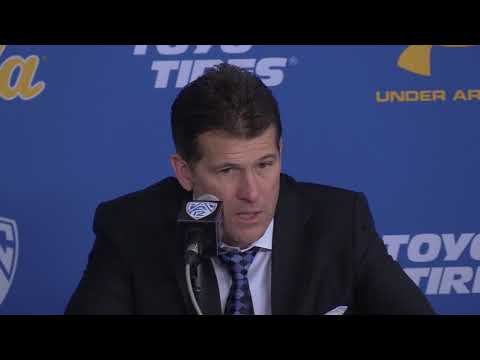 UCLA tightened its defense early in the second half, holding the Buffaloes scoreless for nearly five minutes at one point, but came no closer than four points because of its own offensive shortcomings.
"We just couldn't score," Alford said. "We got fouled, we'd miss free throws, we got a layup, we'd miss the layup, we got a wide-open three, we'd miss the three. So there just wasn't much of anything that worked for us offensively and you have to give Colorado a lot of credit for that."
The Buffaloes made eight of 14 three-pointers in the first half and largely prevented UCLA from getting out in transition.
"We have a lot of young guys who are doing it for the first time so maybe it's understanding success," Alford said. "One thing I did tell them is we have to understand why we played so well against Utah. We had great energy, we had great effort, we had good togetherness, we fought. I didn't think we had any of that tonight and when you don't do that in league play you're going to get beat."
UP NEXT
Thursday at Oregon State, 8 p.m., Gil Coliseum, FS1 —The Beavers (10-7 overall, 2-3 Pac-12) are one of the conference's most improved teams and have gone 8-2 on their home court, including 2-1 in Pac-12 play.
Follow Ben Bolch on Twitter @latbbolch
Get the latest on L.A.'s teams in the daily Sports Report newsletter.
You may occasionally receive promotional content from the Los Angeles Times.