No. 23 UCLA's first loss comes against Creighton 100-89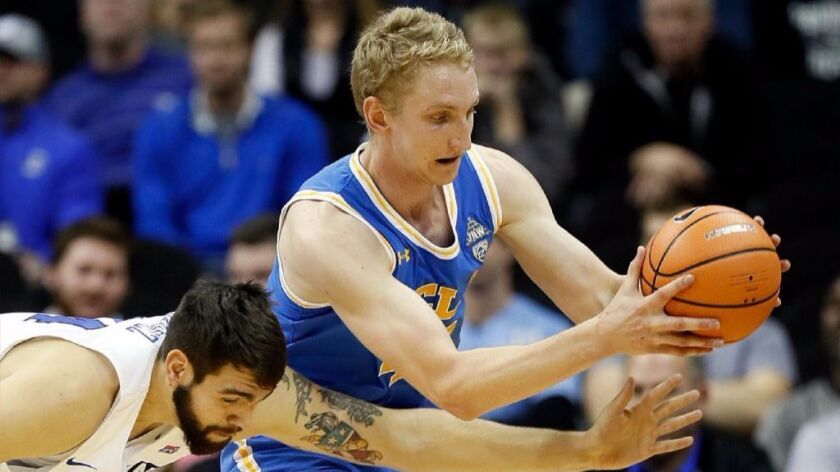 Reporting from Kansas City, Mo. —
The second trip of the season for the UCLA men's basketball team, a 1,600-mile journey to the Hall of Fame Classic, was considerably shorter than its season-opening trip.
UCLA trekked 6,500 miles to Shanghai, a trip more scrutinized for the detention of freshmen LiAngelo Ball, Cody Riley and Jalen Hill for shoplifting in Hangzhou, China, than a victory over Georgia Tech.
All three players remained suspended and didn't travel as No. 23 UCLA took on Creighton and lost 100-89 on Monday night.
"We just couldn't put together any stops of matter that could get us over the hump," coach Steve Alford said. "Offensively, we did a lot of good things — 17 assists, [only] seven turnovers, we shot the ball pretty well. We had the inside-out [game] going like we wanted to get. We just couldn't get the stops, and I thought that was the key."
UCLA (3-1) rectified a few problems from the previous three games, including free-throw shooting (59.7%) and turnovers (14 per game), but a few prolonged scoring droughts still proved crippling.
The Bruins, who made 23 of 31 free throws (72.7%), took a 13-8 lead and didn't commit a turnover for nearly the first five minutes of the game.
Creighton (4-0) responded with a 16-0 run, including freshman Ty-Shon Alexander's putback and three-point basket that capped the spurt and prompted a UCLA timeout.
"That zone kind of threw us off a little bit, because we're so used to going up and down and hitting transition threes," said Creighton senior Marcus Foster, who scored a team-high 23 points. "It's hard for us to slow down a little bit, but we kind of adjusted to it."
Well, Bluejays freshman Mitch Ballock adjusted to it.
The zone helped UCLA erase a 29-18 deficit with a 10-0 run, including four points apiece from Aaron Holiday and sophomore guard Prince Ali.
The Bruins even pulled in front 38-36 on Ali's jumper with 2 minutes 4 seconds to play in the first half before Ballock closed the half with a personal 7-0 run.
Creighton, which won the rebounding battle 44-38 led by junior Ronnie Harrell Jr.'s career- and game-high 15 rebounds, carried that momentum into the second half, scoring the first seven points after the break to complete a 14-0 run.
"Mitch did big for us," Foster said. "That momentum we had going into halftime really helped us."
Ballock, who finished with a career-high 22 points, scored all the points for the Bluejays during a 10-2 second-half run that helped keep the Bruins at arm's length.
"He was on our scouting report as an outstanding player, and we didn't defend him well," Alford said.
UCLA never drew closer than five points the remainder of the game and it was at that point that frustration started to show.
Midway through the second half, freshman Jaylen Hands was called for a flagrant foul after pulling Khyri Thomas to the ground as he glided in for a fastbreak layup.
Holiday was called for a flagrant foul on Thomas barely four minutes later.
The Bruins had whittled the Bluejays' lead to 86-81 after freshman Kris Wilkes' jumper with 5:39 remaining, but Holiday's foul turned into three converted free throws for Creighton.
UCLA, which got 16 points and 13 rebounds from senior Thomas Welsh, never seriously threatened again.
The 100 points given up by the Bruins are the most in any Hall of Fame Classic championship-round game. Creighton held the record with 99 points in 2002.
"We just need to play better defense," said Ali, who finished with 18 points. "We played better offense tonight, but there were stops at the end of the game that we needed and didn't get. That's why we lost."
Alford said he hopes the defense picks it up Tuesday against Wisconsin, which lost 70-65 against Baylor, in the third-place game. Tipoff is 4:30 p.m. PST.
---
Get the latest on L.A.'s teams in the daily Sports Report newsletter.
You may occasionally receive promotional content from the Los Angeles Times.