UCLA's Brett Hundley doesn't dwell on interception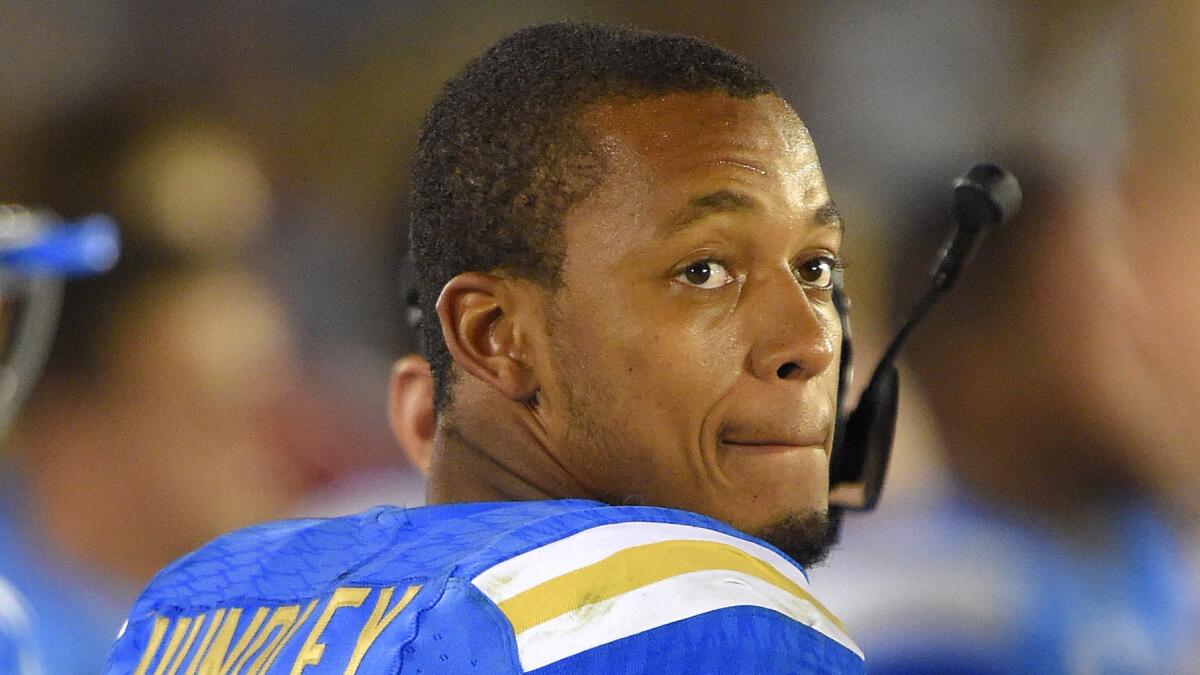 It was as devastating a moment as UCLA faced Saturday night against Memphis.
Quarterback Brett Hundley never saw Tigers safety Fritz Etienne until he was prancing into the end zone after intercepting a pass. It tied the score, 35-35, with 13 minutes left.
Hundley jogged to the sideline and more or less shrugged. He closed the Bruins' next drive with a 33-yard touchdown pass to Thomas Duarte three minutes later.
"He was like, 'move on, we got to go back out there,' " receiver Jordan Payton said. "He has the perfect mentality to forget."
Call it a lack of player remorse or selective amnesia, but it can separate a guy from the quarterback pack.
San Francisco 49ers quarterback Joe Montana had three passes intercepted against the Dallas Cowboys in the 1982 NFC title game. But all anyone talks about is that six-yard touchdown pass to Dwight Clark.
Hundley's reaction to his mistake was the proper one, former Dallas Cowboys and UCLA quarterback Troy Aikman said.
"It speaks to the competitor he is and what his makeup is all about," Aikman said. "I watched Andrew Luck, when he was at Stanford, have an interception returned for a touchdown against USC in a close game. He came back on the field and scored and I thought, 'that's impressive.' It's what you hope to see in a young player, how they respond adversity."
Hundley looked perplexed in a what's-the-big-deal way Monday when asked about his response to Etienne's interception.
"I wasn't mad," Hundley said. "That was the perfect defense to be in against that play. That's probably the only way that interception would have happened. There was nothing to do but go back out there and get a touchdown. When I retook the field, I felt really good."
Hundley took the Bruins 75 yards, a drive he started with a 13-yard run. He completed all five passes for 69 yards.
"Two years ago, when I was a redshirt freshman, I was still sort of in middle of 'how confident are you?' Hundley said. "Now I'm to the point where I understand my skills. Nobody is going to go through the season pick-free. They're game planning for you like you're game planning for them. Sometimes the defense gets you."
Texas woes
Texas Coach Charlie Strong said that quarterback David Ash will not play this week because of a concussion he suffered in the opener against North Texas.
Tyrone Swoopes will start against UCLA. He completed 20 of 31 passes for 176 yards, with one touchdown and one pass intercepted in the Longhorns' 41-7 loss to Brigham Young on Saturday.
"Right now David is indefinitely out until the doctor makes a decision," Strong said. "Tyrone is our quarterback."
Strong said that Swoopes "managed the game well" against Brigham Young.
Desmond Harrison and Kennedy Estelle, who began the season as starting tackles on Texas' offensive line, will sit out a second game after being suspended for violating team rules.
Strong was noncommittal on the status of safety Josh Turner and running back Daje Johnson, who were also suspended.
Rise of Troy
UCLA will retire Aikman's No. 8 jersey Nov. 28, when the Bruins play Stanford.
"It's hard for me to express what this means to me," Aikman said. "I couldn't be happier."
Aikman threw for 5,298 yards and 41 touchdowns during the 1987 and 1988 seasons. He was the first overall pick in the 1989 NFL draft and won three Super Bowls with the Cowboys.
"This makes we think about a lot of Saturday afternoons [in the Rose Bowl] and a lot of wins," Aikman said. "Everyone was really close. It was as much a team as I've ever been a part of."
Aikman's regret
"We failed to beat USC both years and play in the Rose Bowl [game]," Aikman said. "That's the one disappointment I carried with me since I left UCLA."
Get the latest on L.A.'s teams in the daily Sports Report newsletter.
You may occasionally receive promotional content from the Los Angeles Times.