Jim Mora frets over impact of midweek games on UCLA players' schooling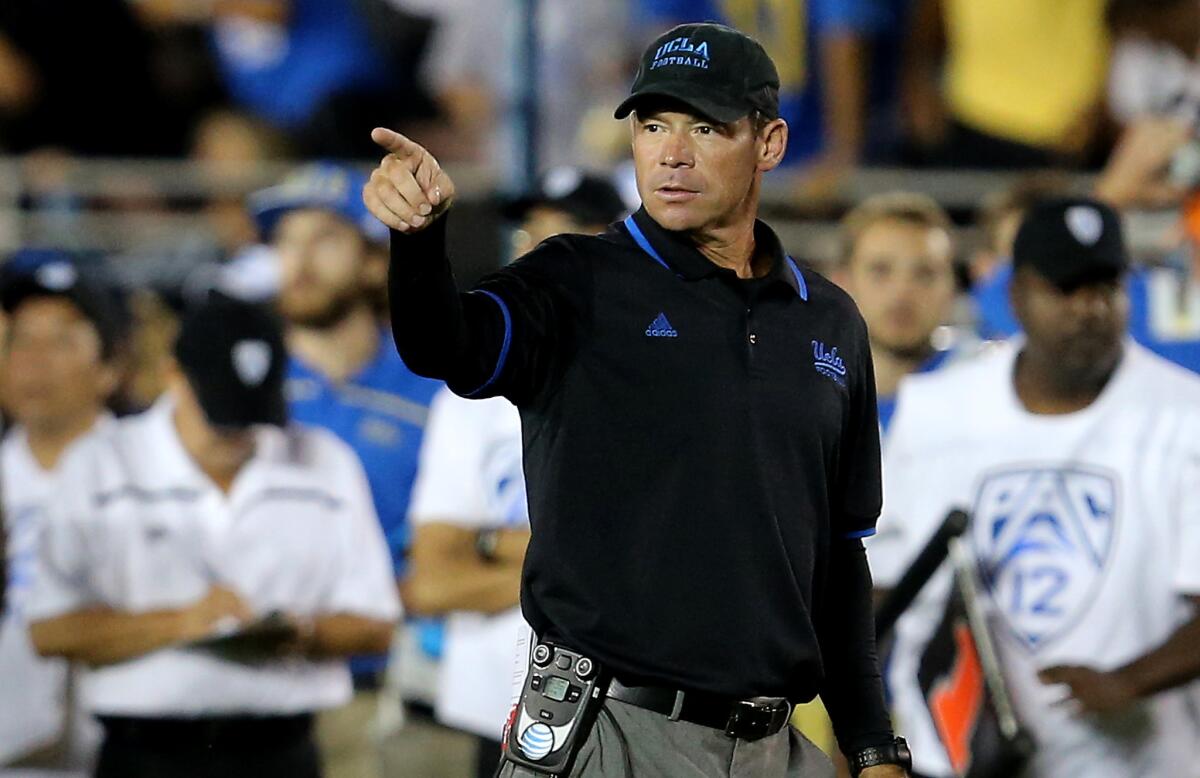 UCLA's Jim Mora has stepped into an unwinnable argument.
The Bruins play back-to-back Thursday night games, traveling to Stanford this week and hosting California in the Rose Bowl next week.
"I'm not unhappy about a Thursday night game," Mora said. "I don't think it's fair to the student athletes — and remember we call them student-athletes — to have to play back-to-back Thursday games, especially before midterms."
UCLA has midterms the week after its game against California.
This, of course, is the deal since the Pac-12 Conference sold its product for $3 billion in television pacts. The conference deputy commissioner in charge of scheduling became the program director at Fox and ESPN.
Arizona basketball Coach Sean Miller entered the fray before the 2014 Pac-12 tournament. Miller criticized lengthy road trips, telling the Arizona Daily Star, "If you've been on trips with us, you come back, and your kids have mustaches, your dog doesn't know who you are. I mean, you're gone forever."
Mora, of course, is a creature of habit, who does not like the team's weekly schedule to be disrupted. But this, he said, goes beyond inconvenience.
Mora said that UCLA players will miss "six to eight days of school" the next two weeks. He said that Athletic Director Dan Guerrero voted against the plan for midweek games.
"There are other powers, unfortunately," Mora said. "I don't like it when we talk out of both sides of our mouth. 'You have to be great student here at UCLA, one of the most difficult and competitive institutions in the world, but we're not going to let you go to school six out of 10 days.'"
Of course, those television deals pay Mora's salary. He is in the midst of a contract that gives him $2.5 million per year in base pay. The $3.1 million assistants receive this year is the most in UCLA history.
Mora said he is fine with a trade-off, except for one thing.
"I also know that I and my staff are held accountable for academic progress and graduation rates," Mora said. "These young men are being held accountable for being in class, and not every professor is going to be as lenient as the next."
Programs can lose scholarships, and even postseason appearances, for poor academic progress rates.
"One Thursday game, I can understand," Mora said. "Two? You talk about stress on these kids; they are going to be stressed. I think we're asking an awful lot of them. I don't think it was very well thought out and I don't think it's fair, but we'll deal with it. That's what we do."
Numbers check
Freshman quarterback Josh Rosen has similar numbers to his predecessor through five games.
Brett Hundley, who was a three-year starter, completed 91 of 125 passes for 1,290 yards and nine touchdowns through five games last season. He had two passes intercepted.
Rosen has completed 102 of 168 passes for 1,243 yards and nine touchdowns. He has had five passes intercepted.
Hundley missed most of the Texas game last season.
What the Bruins are missing is Hundley's running ability. He had 122 yards and scored two touchdowns through five games. Rosen has minus-eight yards rushing, with one touchdown, this season.
Numbers check II
Stanford quarterback Kevin Hogan has been a problem for UCLA the past three seasons as he pushed the Cardinal's winning streak over the Bruins to seven games.
In four games against UCLA, Hogan has completed 65 of 88 passes for 776 yards and five touchdowns. He has had only one pass intercepted. Hogan has also gained 138 yards rushing in 27 carries and scored one touchdown.
A year ago, unranked Stanford defeated No. 9 UCLA, 31-10. Hogan completed 16 of 19 passes for 234 yards and two touchdowns, while gaining 46 yards rushing.
Twitter: @cfosterlatimes
Get the latest on L.A.'s teams in the daily Sports Report newsletter.
You may occasionally receive promotional content from the Los Angeles Times.