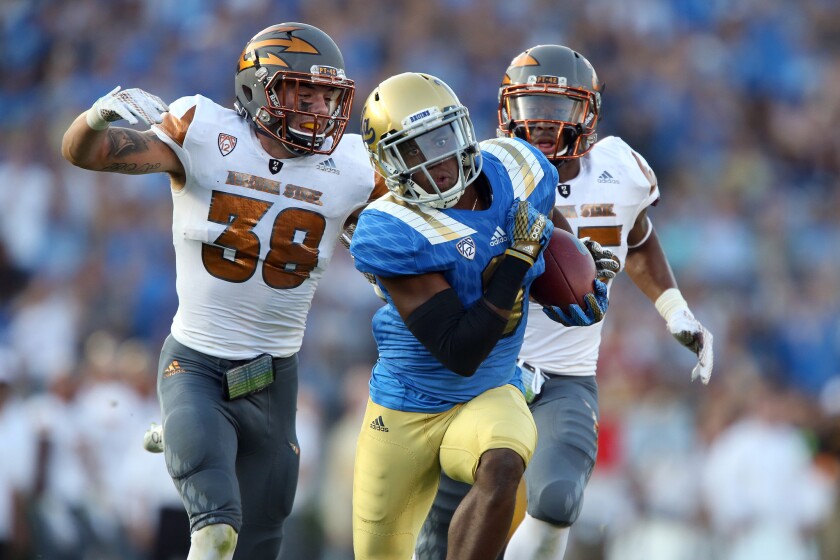 Center Jake Brendel has a life experience that few on the UCLA football team have shared.
And he would prefer to keep it that way.
Brendel was a freshman, sitting out the season as a redshirt, in 2011. He had a sideline view when USC dismantled UCLA, 50-0. It was the last time the Bruins lost to the Trojans.
Seniors from UCLA's 2012 recruiting class can leave undefeated against USC if the Bruins win their fourth consecutive game over the Trojans on Saturday at the Coliseum.
That would be just fine with Brendel.
"What they did to us four years ago was something teams don't do to each other," Brendel said. "That's something that has been in the back of my head ever since I have been here. I didn't get a chance to play in that game, but I can use that to motivate me."
UCLA has eight scholarship players remaining who were sitting out as redshirt freshmen in 2011.
The Bruins also have five scholarship players from the 2012 recruiting class who will be playing in their last USC game, and could go undefeated against the Trojans.
"That would be huge," senior receiver Jordan Payton said. "It's our biggest rival and we want to get after them. We came here to change the program, now we're trying to light it up."
With a victory, UCLA would equal the fourth-longest win streak in the series. USC won four consecutive games from 1976-79. The Bruins had an eight-game winning streak from 1991-1998. The Trojans had a seven-game streak from 1999-2005 and a five-game streak from 2007-2011.
Brendel said watching the 2011 game from the sideline "was probably even worse" than playing in the game. And it stuck with him.
"It seems like it was only a week ago," Brendel said. "That feeling doesn't go away."
The plan, the Bruins say, is to make sure the seniors from the 2012 class never have that feeling.
"That would be something special," said linebacker Deon Hollins, a redshirt junior who was part of the 2012 class. "Some of the guys who have been here five years have been talking about how they were ashamed to walk around Los Angeles back then. This would be so great to get these seniors four years without losing to USC."
There is more at stake than just a 4-0 sweep. The winner Saturday will play Stanford in the Pac-12 Conference championship game.
A year ago, the Bruins needed only to beat Stanford in the regular-season finale to go to the title game. They lost, 31-10, and looked listless.
"In a perfect world, your young men would be focused every game," Coach Jim Mora said. "That's not possible. Very few in this game do that, and those guys are in the hall of fame."
Asked whether the Bruins had any problem getting focused on USC in his three seasons, Mora said, "Not at all."
Mora said getting players focused was not the difficult part. In fact, tamping down the eagerness might be necessary.
"Part of the challenge is keeping them level," Mora said. "Not letting them get too high. Not letting them get too anxious too early."
The Bruins were already up for this, Hollins said. So much so that Saturday's hard-fought 17-9 victory over Utah was already a thing of the past.
Hollins said letting go of the previous game "was kind of hard to do this season." But, he said, "This week that won't be a problem. We're looking forward to this. During the season, there is so much talking that goes on between both teams."
Injury report
Tackle Conor McDermott, who left the Utah game after injuring his right knee, was helped to the locker room after the game by running back Nate Starks. McDermott was scheduled to have an MRI exam Sunday.
Mora was tight-lipped about his status.
"We'll see as the week goes on," Mora said.
Twitter: @cfosterlatimes
---