Bruins quarterback Josh Rosen strives to grow into his role as a leader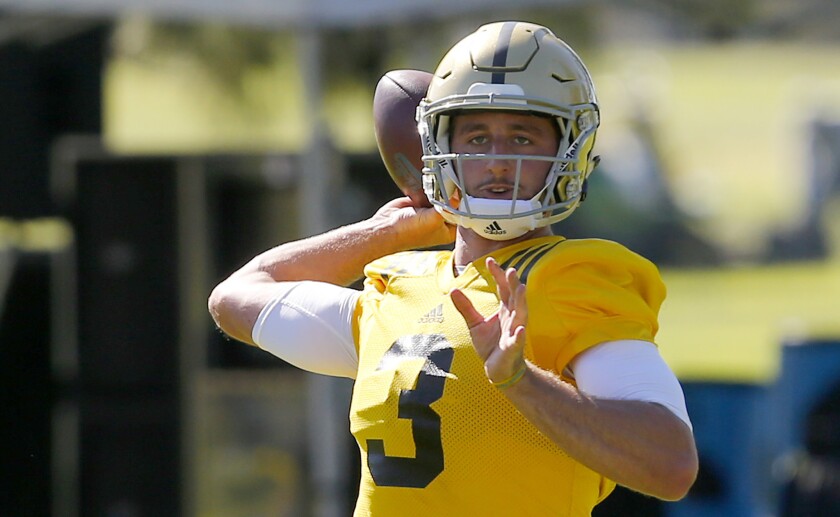 Josh Rosen has made the cover of Sports Illustrated, hobnobbed with Rams General Manager Les Snead and been widely projected as the top pick of the 2018 NFL draft.
It would be easy for the UCLA quarterback to have gone Hollywood. Instead, he has apparently returned for his sophomore season humbled.
The change became evident when Rosen recently spoke to his teammates about an unexpected topic: their needs.
"He just said he's willing to do whatever it takes and he's willing to be there for anybody who needs help," Bruins backup quarterback Mike Fafaul said after practice Monday. "It's shown a lot of strides to me personally, being one of his best friends, that he's really grown up these past few years."
As a freshman, Rosen developed a reputation as something of a freewheeling party boy. He installed a hot tub in his dorm room and called out both the NCAA and presidential candidate Donald Trump.
Rosen promised at the outset of training camp to be more mature, and he hasn't veered from his vow.
"This year, he's more vocal," receiver Eldridge Massington said. "He's holding people more accountable, holding himself more accountable, and I feel like he's starting to accept that leadership role more."
Massington and Rosen organized players-only practices over the summer to go over a new pro-style offense. Rosen quickly mastered the playbook so that he could tutor his teammates.
"Studying's studying, you've just got to sit down and do it," Rosen said. "I was able to not just know who's running where, but also get a grasp of what we're trying to do with each play. It's not that much different. There's just more options and more pieces to build more plays."
Rosen displayed his grasp of concepts during training camp, becoming the standard his teammates tried to match. He said the Bruins on Monday started watching film of Texas A&M in preparation for their Sept. 3 season opener.
"When you have a guy that's at the pinnacle of his spot right now," Fafaul said of Rosen, "everybody wants to chase that."
Backup plan
The only time UCLA fans want to see anyone besides Rosen at quarterback is the end of a blowout victory. Otherwise, their presence would mean Rosen had suffered an injury, leading to nervous time among Bruins faithful about the abilities of his backups.
Fafaul alternated good and bad days during training camp, though in his better showings he looked capable of making tough throws and being a capable stand-in. Freshman Matt Lynch displayed decent touch at times but nearly suffered the indignity of having three consecutive passes intercepted Saturday.
Freshman Devon Modster might have shown the most upside among the backups, validating his four-star rating out of Tesoro High in Rancho Santa Margarita. Massington compared him to Super Bowl-winning quarterback Russell Wilson of the Seattle Seahawks.
"He's real smooth, he's calm," Massington said of Modster. "He's got a lot of poise. It's very impressive because most quarterbacks when they come in, they're kind of like everywhere and when stuff isn't going right they start panicking and going into like a little shock. But he doesn't do that. He stays calm throughout everything."
Fafaul is easily the most persistent of the bunch, having stayed for five years despite throwing only six passes. He noted that Monday was the first time he had been interviewed in four years.
Fafaul has already graduated, giving him the option to transfer and play somewhere else immediately. He's not interested, thank you very much.
"I just wanted to finish what I started," Fafaul said. "I've never liked quitting, I've always followed through with that I ended up doing. I had a lot of options at the end of the year, but I wanted to stick it out here."
Roll call
Defensive end Deon Hollins (concussion) and guards Kenny Lacy (knee) and Paco Perez (knee) were present in uniform during the stretch portion of practice the media was allowed to observe. Lacy was outfitted with a knee brace. Linebacker Mique Juarez (excused absence), fullback Cameron Griffin (concussion) and defensive end Jacob Tuioti-Mariner (appendicitis) were absent. Coach Jim Mora did not speak with reporters to provide an update.
ben.bolch@latimes.com
Twitter: @latbbolch
---
Get the latest on L.A.'s teams in the daily Sports Report newsletter.
You may occasionally receive promotional content from the Los Angeles Times.