UCLA 'hopeful' quarterback Josh Rosen will be ready for Utah game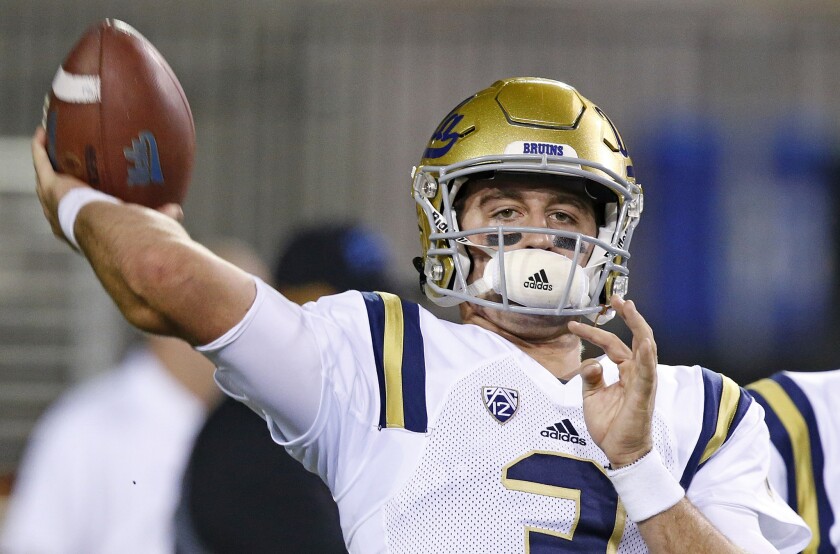 Anyone who watched UCLA's walk-through Saturday afternoon on an intramural field at the University of Idaho might have thought quarterback Josh Rosen was on the verge of playing that night.
Rosen took all of the snaps, Bruins Coach Jim Mora said Monday, which left the coach "very hopeful" that Rosen could start as usual against Washington State.
That possibility was erased when Rosen's body didn't sufficiently respond that evening, during early warmups before the game. But there was an upside to Rosen testing the injuries to his lower body and the area around his throwing shoulder.
"I think he was pretty darn close," Mora said, "so I'm very, very hopeful that you'll see him playing this Saturday against Utah" at the Rose Bowl.
Mora said he hoped that Rosen could practice Tuesday and progressively increase his activity level leading up to a game the Bruins (3-4 overall, 1-3 Pac-12 Conference) must win to reverse their sagging fortunes after three losses in their last four games.
Backup quarterback Mike Fafaul was solid in Rosen's absence against the Cougars, particularly late in the game. Fafaul threw all three of his touchdown passes in the second half and completed 24 of 40 passes overall for 258 yards with two interceptions, a performance that Mora called "courageous."
Running in place
It may not matter who throws the ball for UCLA if the Bruins can't find someone to run it more successfully.
Mora said changes would be made to a running game that's among the worst in the nation. The Bruins rank No. 126 out of 128 major college teams in both rushing yards per game (91.1) and yards per carry (2.81). Those numbers dipped to an average of 21 yards per game and 0.9 yards per carry during losses to Arizona State and Washington State.
Coaches have assessed every aspect of the failures while contemplating changes that Mora would not disclose.
"We've looked at personnel, we've looked at scheme, we've looked at the way we teach it, we've looked at what we emphasize, the words that we use, the things that we say and hopefully we've come to a point where we're able to get it fixed," Mora said. "It's an obvious understatement to say that it's not acceptable and it hasn't been good. It's as bad as I've ever seen."
Mora said running the ball more effectively would help the Bruins in multiple areas, including the passing game, defensive field position and time of possession. Washington State had the ball for 33 minutes 52 seconds on Saturday, a season high for a UCLA opponent.
The offensive line and the running backs have been equally culpable for the struggles moving the ball on the ground.
"It comes down to a lot of times putting a guy on a guy and moving him out of the way and we haven't done that on a consistent basis," Mora said, "but we have to find ways to help our young men. It's not enough to just say, 'Well, it's not working.' You have to fix it."
Quick hits
Mora said he opened the kicking competition between freshmen J.J. Molson and Andrew Strauch after Molson missed two field-goal attempts against Arizona State on Oct. 8. Strauch kicked the team's first extra point against Washington State; Molson handled the next two. … Mora said right tackle Kolton Miller was scheduled to get an X-ray on his injured leg this week that should provide a better indication when he might return. "I don't know that we'll get him back this week," Mora said, "but hopefully we get him back quickly." … Cornerback Nate Meadors (groin) could return against Utah after being sidelined the previous two games, Mora said.
Twitter: @latbbolch
---
Get the latest on L.A.'s teams in the daily Sports Report newsletter.
You may occasionally receive promotional content from the Los Angeles Times.