UCLA QB Rosen has surgery on shoulder, Mora says family is 'overjoyed' at findings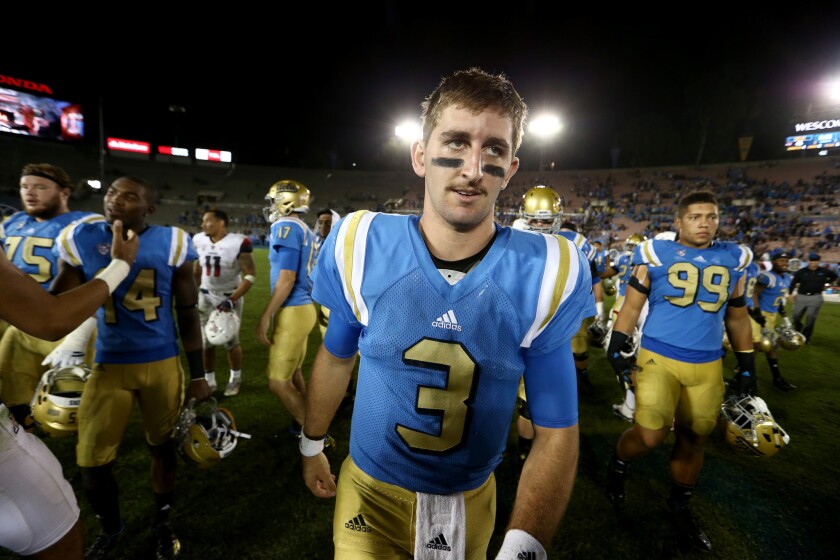 UCLA Coach Jim Mora texted his star quarterback Monday morning, not expecting a response. Josh Rosen had just undergone surgery to repair soft-tissue damage in his throwing shoulder that has sidelined him since early October and will force him to miss the rest of the season.
The procedure apparently didn't restrict the use of Rosen's cellphone.
"About two seconds later," Mora recalled, "he called and he sounded like he hadn't even been under. He sounded encouraged."
There was plenty of optimism about Rosen's recovery after the procedure performed by Dr. Ranjan Gupta, professor of orthopedic surgery at UC Irvine Medical Center and a renowned shoulder, hand and elbow specialist.
"What I've been told by his family this morning is that they're overjoyed with what they did find in there," Mora said.
Mora said there was no chance the surgery was career-threatening and that there was "absolutely no nerve damage at all." The coach said he expected Rosen to try to participate in spring practice, based on the progress of his rehabilitation.
"I know that everyone will do the best they can to get Josh back on schedule throwing the football," Mora said.
Mora explained his previous reticence about details of Rosen's injury, citing privacy laws that dictated what he was allowed to say. He also acknowledged having acted "a tad bit smug" with a reporter who inquired about Rosen's status after UCLA's loss to Colorado on Thursday.
Mora did not appear to be withholding information Monday. He said Rosen's shoulder required two MRI exams, the second of which showed more extensive damage than initially revealed after the quarterback was injured against Arizona State on Oct. 8.
Rosen tried to play the next week against Washington State, completing a pregame walk-through, before realizing his shoulder had not sufficiently recovered. His appeared to make minimal progress the next few weeks, short-arming a few passes Oct. 30, the last time he was observed at practice.
Mora said doctors weren't sure what they would find in Rosen's shoulder before the procedure but were pleased with the results. The coach said he planned to visit Rosen's home Monday night to provide encouragement.
"It's been hard for him," Mora said. "It's been hard for a guy who's as competitive as Josh is to sit on the sidelines and not be able to help his team win, especially when they need him the most."
Mora said he wasn't sure when Rosen would be able to go back to class and attend team meetings but expected he would try to return as soon as he was cleared to do so.
"I don't think you'll see him out on the field — I don't think it would behoove him to be out there — but he will be very involved," Mora said.
Meanwhile, backup quarterback Mike Fafaul and the Bruins will try to halt their four-game losing streak Saturday when they face Oregon State at the Rose Bowl. UCLA needs to win its final three regular-season games to gain postseason eligibility.
"Hopefully," Mora said, "we can find some success here, we can get ourselves to a bowl."
Quick hits
Mora said he was "100% committed" to using kicker J.J. Molson and punter Austin Kent after replacing the freshmen with other players in recent games. … Mora said center Scott Quessenberry was "a lot better" after struggling with snaps against Colorado because of a shoulder injury. … Guard Najee Toran left the game against the Buffaloes because of a neck strain, Mora said, but is on track to play against Oregon State. Tackle Andre James' status for the game against the Beavers remained unknown because of an undisclosed injury. … Mora said tackle Kolton Miller was able to put weight on his injured foot but it remained unknown if he could play again this season. … The Bruins will wear alternate uniforms featuring military-style stenciling as part of military appreciation day against Oregon State.
Twitter: @latbbolch
---
Get the latest on L.A.'s teams in the daily Sports Report newsletter.
You may occasionally receive promotional content from the Los Angeles Times.