Kazmeir Allen brings much-needed speed to the UCLA offense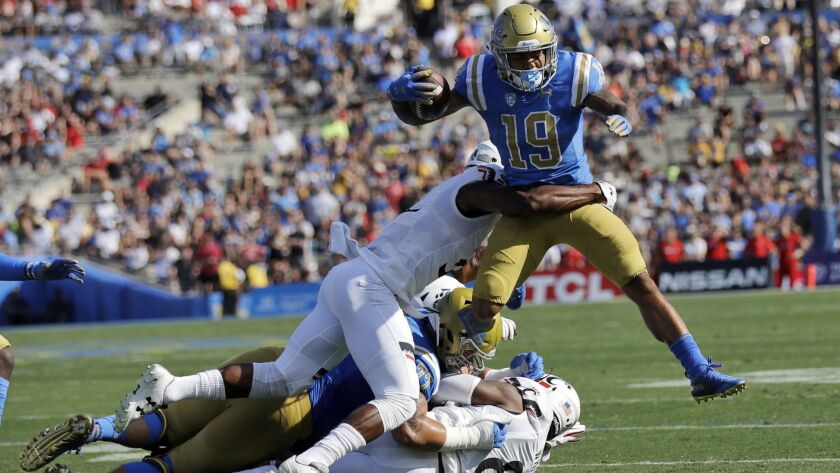 There was pandemonium inside the Rose Bowl as UCLA's Kazmeir Allen darted toward the end zone, and then there was what happened in Section 5-L, Row 57, Seats 5-7.
Brad Allen watched his son accelerate like a drag racer through a pack of bumper cars and felt his heart race as goosebumps spread over his arms.
Cordé Allen clambered onto his seat for a celebratory dance, the 5-year-old yelling, "Kazzie! That's my brother!"
Paulette Allen wept at the sight of her grandson becoming not only the first member of her immediate family to go to college but graduate to stardom before the start of fall classes.
"He was the first one to break the cycle," Brad said of his son, "and definitely changed the whole family."
The true freshman tailback could also hasten the Bruins' rebuilding efforts under coach Chip Kelly if his blur of a college debut becomes a Saturday tradition.
Allen ran for 103 yards in only five carries during UCLA's season-opening loss to Cincinnati, ranking second in school history for a first-game effort behind Myles Jack's 120 yards against Arizona in 2013.
Allen didn't stop once he reached the goal line on the 74-yard touchdown run that energized his home stadium. After sprinting a few yards behind the back of the end zone, the 5-foot-8, 175-pound dynamo leaped over an advertising placard for a credit union.
Later that evening the Bruins' most bankable new star revealed he also might be their most modest, saying he wasn't sure where he ranked in the speed department.
"I don't know if I'm the fastest on the team," Allen said after the game. "I'm just trying to run."
Kelly decided to be quick and hurry when it came to securing a commitment from the coveted recruit after he took the UCLA job in November. Running backs coach DeShaun Foster showed up at Tulare Union High with a scholarship offer practically before the newspapers announcing Kelly's arrival hit driveways.
"He said, 'Coach Kelly told me to get in my car and drive down there right now and offer you in person,' " Brad Allen recalled Foster telling his son, who set a national record with 72 touchdowns during his senior season in high school before winning the California prep 100-meter sprint championship in 10.44 seconds.
Those figures didn't remind Kelly of anyone on UCLA's roster. The coach said this week that his initial assessment of the Bruins revealed that the team was in need of speed. Badly.
"You can coach a lot of things but there's not much you can do to increase the speed aspect of it," Kelly said, "so I knew we had to get faster."
Allen had initially committed to Boise State before backing out once he received a scholarship offer from California, where his cousin Robert Jordan had starred at receiver. Former UCLA coach Jim Mora also recruited Allen, inviting him to a game against Oregon at the Rose Bowl, but never offered a scholarship, according to Brad Allen.
The Bruins' interest intensified immediately after Kelly was hired. Kazmeir's interest in UCLA was piqued the moment Kelly mentioned the recruit's favorite player, De'Anthony Thomas.
As coach of the Oregon Ducks, Kelly used Thomas as a running back who also caught passes, returned punts and kickoffs and even helped in punt coverage. Growing up, Allen pretended he was Thomas doing all of those things while playing him in video games.
Now he was being told he could be that player in real life.
"It was pretty high," Brad Allen said with a laugh when asked about how big of a factor Kelly's pitching his son on a similar role to Thomas was in his becoming a Bruin. "You want a percentage on that? I would say 85%."
Like his son, Brad was also once a quick tailback at Tulare Union. The similarities might have extended to playing college football had Brad not traded in pads for diapers upon the arrival of Kazmeir, his first child, when he was 19.
Having a baby prompted Brad to drop out of Bakersfield College and take a job in a warehouse making $7.25 an hour to help support his family. The new dad first grasped his son's speed while trying to catch the toddler running around their home.
"I had some speed too," Brad said, "but I'm like, 'Hey, OK, he's got something here.' "
Kazmeir's first sports love was baseball. He played shortstop and second base before coaches discovered that he could cover seemingly every inch of center field. Kazmeir quit baseball early in his junior season of high school to focus on track, though he remained such an intriguing prospect that he later earned a workout with the Boston Red Sox.
While he dabbled at quarterback and receiver, Kazmeir's best position in football was always running back. It wasn't just his speed but his acceleration that left defenders in futile pursuit.
"There's a lot of guys who have been fast, but he puts his foot in the ground and he goes from zero to full speed really, really fast," said Darren Bennett, who coached both Kazmeir and his father at Tulare Union. "By the time he hits the line of scrimmage, he's going."
Kazmeir combined his natural gift with a yeoman's effort, skipping parties to strengthen his hip flexors during late-night workouts with his father.
Other family members also helped nudge him toward college. An aunt who worked at Kazmeir's high school kept tabs on his 3.875 grade-point average, which could have earned him an academic scholarship. An uncle who spent time in jail engaged the teenager in long talks about avoiding life's pitfalls.
A throng of family members was there Saturday at the Rose Bowl for the payoff.
UCLA was trailing by a touchdown early in the third quarter when Allen took a handoff while running toward the sideline. He cut inside, slipped a tackle and pulled away from a slew of defenders.
His father knew what was coming next.
"I saw him take off and I'm like, I know for a fact nobody's going to catch him," Brad said. "I know my son."
Follow Ben Bolch on Twitter @latbbolch
---
Get the latest on L.A.'s teams in the daily Sports Report newsletter.
You may occasionally receive promotional content from the Los Angeles Times.