UCLA, which has no history of lavish coaching hires, probably faces a different future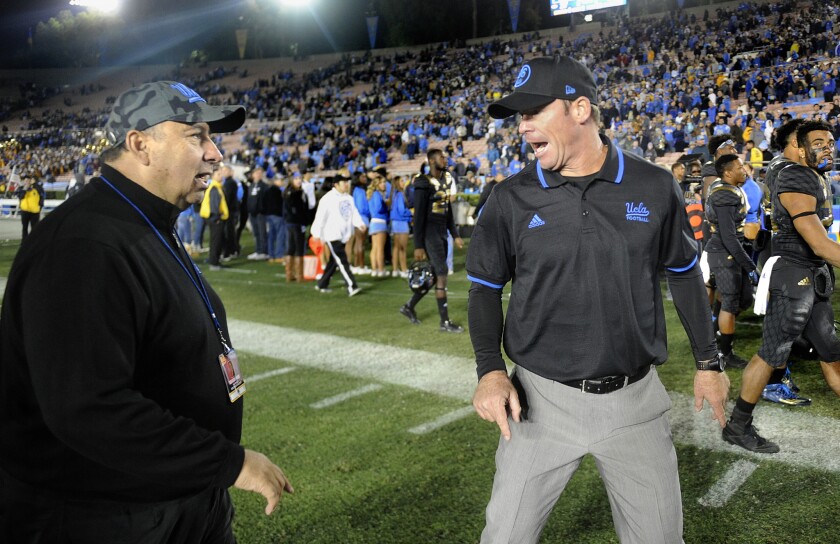 It wasn't surprising to hear UCLA administrators talk about the "especially difficult" decision to fire their football coach.
Cutting ties with Jim Mora meant cutting a check for about $12 million to buy out the last four years on his contract.
It also left the Bruins scrambling to make a hire with the early signing day for recruits only a month away.
But none of this compares with the real challenge ahead — finding the right guy.
Coaching searches are more art than science and anyone who believes that with Mora gone, the football program is automatically headed for brighter days, had better think again.
"We have set no timeline to make a hire," Athletic Director Dan Guerrero said Sunday, "but will move as expediently and comprehensively as possible."
For better or worse, athletic directors are judged on their choice of coaches, so the stakes are high for Guerrero, who previously hired and fired Karl Dorrell and Rick Neuheisel.
This time, he has asked a pair of heavyweight alumni in Troy Aikman and Casey Wasserman to help.
That doesn't guarantee success.
A quick disclaimer: Some hires can feel like a "sure thing," but that's only when a school is willing to shell out tens of millions to lure an Urban Meyer or a Nick Saban.
Not all athletic departments can do that. Even if they are willing and able, you can count the number of truly elite coaches on one hand. They just don't come around often.
UCLA, which has no history of lavish hires, probably faces a different sort of future.
In coming days, Guerrero and his search team can weigh a number of relevant factors.
Which candidate brings an offense and defense that suit the program? And can succeed against Pac-12 Conference opponents?
Which candidate can assemble an impressive staff of assistants and has the West Coast recruiting ties to compete with USC for local talent?
Other considerations are less tangible. History suggests that a certain "it factor" determines which coaches ultimately transform a struggling program into a powerhouse.
Remember, just a few years ago, Mora seemed like a solid choice. He had the pedigree and his team put together consecutive 10-win seasons, defeating USC three times in a row.
Then his boast of "We own this town!" faded into a string of disappointing seasons.
Also remember that in late 2000, a vocal contingent of USC alumni and boosters expressed outrage that their school had hired a former NFL coach named Pete Carroll.
Amid reports that the Trojans had failed to woo the likes of Mike Bellotti and Dennis Erickson, Carroll seemed like a consolation prize. At best.
His success over the ensuing years underscores the unpredictability of the whole undertaking.
Guerrero stated that UCLA "will not comment on the search or candidates until we announce a hire, and I would remind our passionate supporters that speculation, rumors and innuendo are just that."
His warning did not stop the whispers from building to a quiet roar within hours, as usually happens when a coach is fired. The names of Chip Kelly and Scott Frost quickly rose above the din.
Frost, who has turned Central Florida into this season's Cinderella from the Group of Five, seems far more likely to jump to his alma mater, Nebraska, if that job becomes available as expected.
As for Kelly, he made his name at Oregon under very different circumstances than currently exist in Westwood.
The Ducks were coming off a 10-win season under Bellotti when he took over in 2009. Kelly had a real part in building that momentum as the offensive coordinator, so his promotion brought continuity.
Another thing — UCLA's lucrative deal with Under Armour doesn't seem to have quite the recruiting cachet that Oregon enjoyed with Nike founder Phil Knight's generous backing.
Even Kelly's reputation as an offensive guru in Eugene is no guarantee, if only because his uptempo attack did not work so well in the NFL, where he went 28-35 over four seasons with the Philadelphia Eagles and San Francisco 49ers.
Nor is there any indication that UCLA has the type of players to run that scheme. At least not right now.
None of this means Kelly couldn't be successful in Westwood. Or that UCLA can't hire someone else who will remake the Bruins into perennial winners.
It just means that finding the right coach can be, to borrow a phrase, "especially difficult."
Should be interesting.
Twitter: @LATimesWharton
---
Get the latest on L.A.'s teams in the daily Sports Report newsletter.
You may occasionally receive promotional content from the Los Angeles Times.