UCLA football: Pac-12 games could end up on DirecTV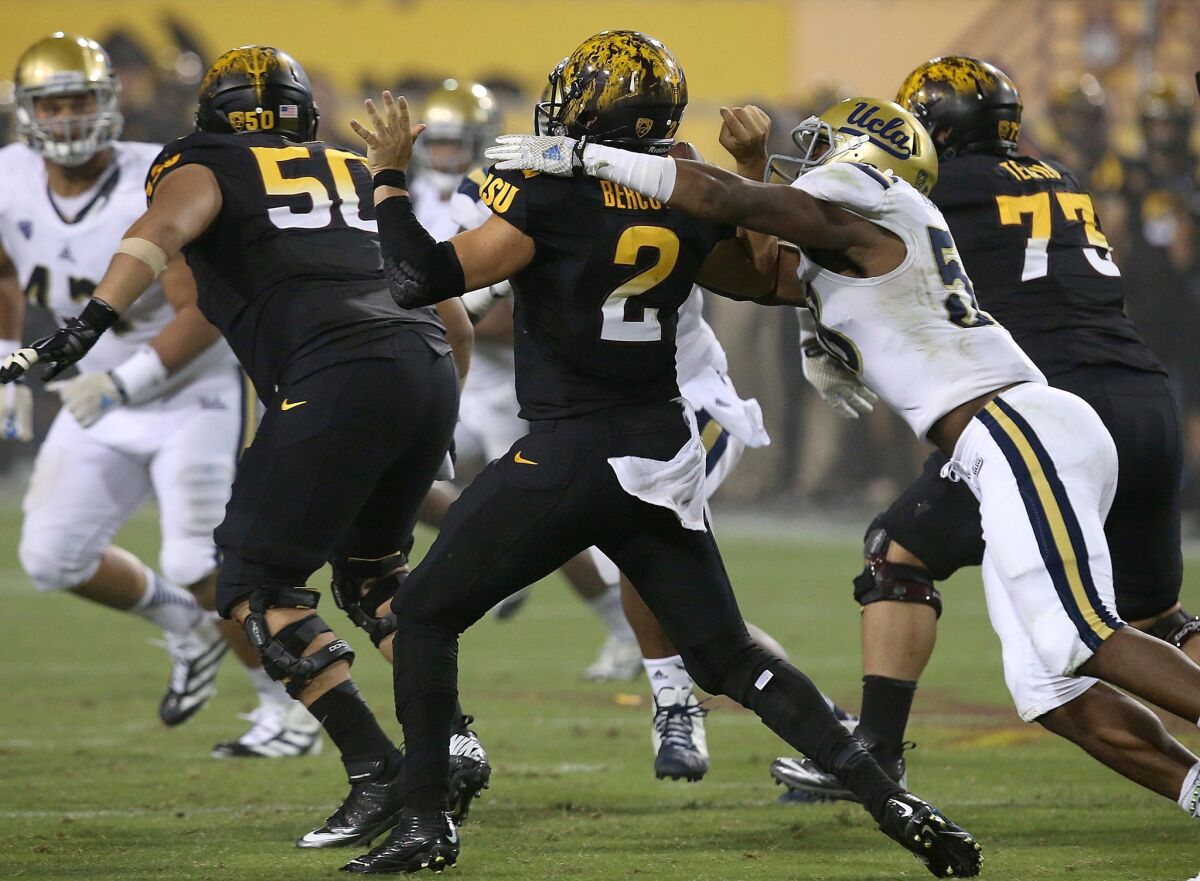 TEMPE, Ariz. — Pac-12 fans might actually have a glimmer of hope.
The Pac-12 Networks could yet end up on DirecTV, as Commissioner Larry Scott again expressed optimism. This time, though, it wasn't entirely based on winning a tug-of-war with the satellite television network.
DirecTV shareholders approved the company's $48.5-billion sale to AT&T this week.
"If the sale goes through, we already have a deal in place with AT&T," Scott said. "That gives me optimism for the future."
Until then, the stalemate remains. Scott said DirecTV officials have refused to meet with conference officials.
"I just think over time, there will be enough people switching, enough pressure brought to bear that they will take it," Scott said. "There is no reason for optimism in the short term. Long term, I really believe in what we are doing."
Injury plan
Scott said he had not monitored the injury situation with UCLA quarterback Brett Hundley, who injured his left elbow against Texas on Sept. 23.
UCLA Coach Jim Mora was noncommittal about Hundley's availability against Arizona State on Thursday. The junior quarterback played and made a number of big plays against the Sun Devils.
Mora said during the week that if this was the NFL, the Bruins would have had to make some announcement: "But it's not, so we don't have to."
Scott has talked about a conference policy on injuries in the past.
"Long term, I would like to get a standard policy," Scott said.
Call on Ishmael
UCLA defensive back Ishmael Adams again had impact moments with the football in his hands.
His 95-yard return of an intercepted pass at the end of the first half was the fourth touchdown scored by the defense this season, and his 100-yard kickoff return in the third quarter was his third touchdown of the season.
Spotlight moments
UCLA freshman receiver Eldridge Massington scored his first college touchdown against Arizona State on Thursday, and he did it in style.
Massington caught a short pass from Hundley in the second quarter, then slipped three would-be tacklers. Two Arizona State defenders collided with each other trying to corral Massington.
When it was over, Massington had an 80-yard touchdown reception.
It was the longest touchdown play by the offense this season. Receiver Jordan Payton matched it on the first play of the second half, hauling in an 80-yard touchdown reception.
Touchdown Nate
UCLA receiver Nate Iese certainly makes the most of his opportunities.
Iese caught a three-yard touchdown pass in the second quarter Thursday. It gave him three touchdowns in seven receptions during his career.
Fork shenanigans
Someone, presumably someone with the UCLA football program, carved the letters "U-C-L-A" in the painted fork at midfield in Sun Devil Stadium. The fork was repainted prior to the game and two Arizona State officials stood guard over it during warmups.
Twitter: @cfosterlatimes
---
Get the latest on L.A.'s teams in the daily Sports Report newsletter.
You may occasionally receive promotional content from the Los Angeles Times.