Column: UCLA breaks character and fires Jim Mora before the season ends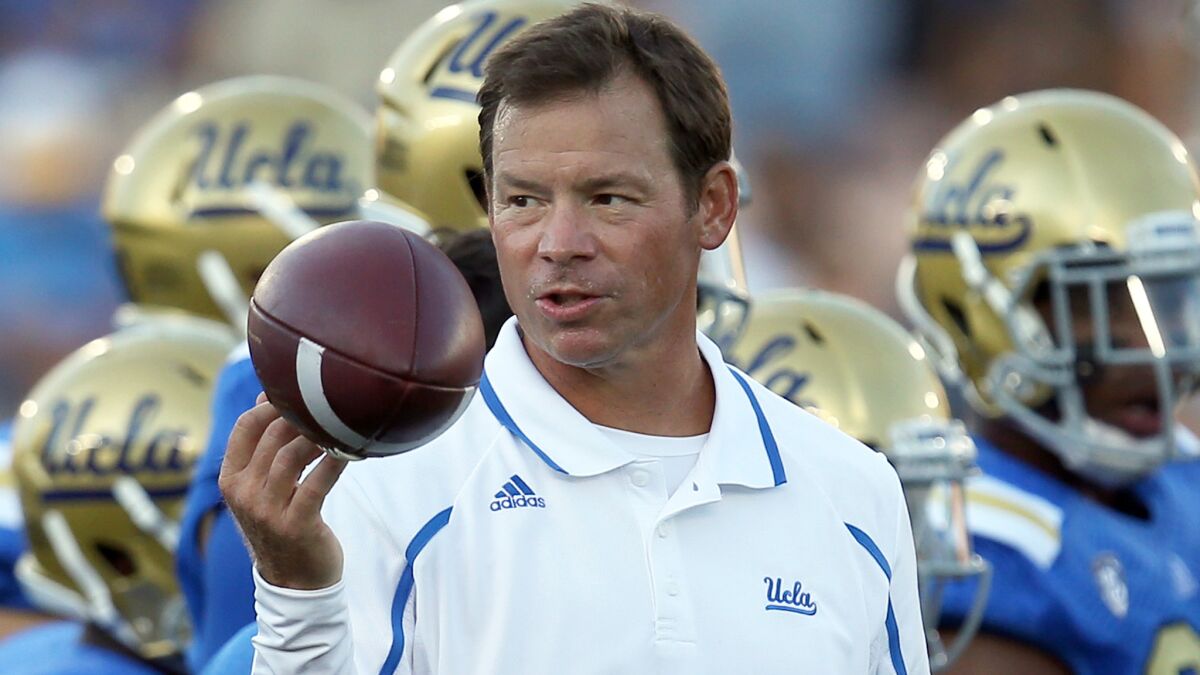 UCLA didn't surprise anyone, but surprised everyone.
The firing of Bruins football coach Jim Mora Sunday was totally understandable but completely unexpected, and fully out of character for a conservative athletic department often reluctant to take a stand.
Who knew that the measured athletic director, Dan Guerrero, could be so aggressive in making Mora the first Bruins football coach in recent memory to be fired before the end of the regular season?
Who knew that the UCLA athletic coffers would suddenly be so accessible, as the school will pay Mora nearly $12 million without help from boosters to buy out a contract that was guaranteed through 2021?
And who could have guessed that those old softies in powder blue would actually fire someone on his birthday? Yes, Mora, whose team was 5-6, turned 56 on Sunday, which makes this firing almost as awkward as when USC canned its football coach, Lane Kiffin, in an airport.
"Making a coaching change is never easy, but it's an especially difficult decision when you know that a coach has given his all to our university,'' said Guerrero in a statement, which later continued: "While his first four seasons at UCLA were very successful, the past two seasons have not met expectations.''
In replacing Mora with offensive coordinator Jedd Fisch for the remainder of the season — which could end with a loss to Cal in the regular season finale Friday at the Rose Bowl — the Bruins seem to be shedding their indecisive reputation to embrace the daring culture of today's successful college football teams.
They want buzz. By going 17-19 in the last three years of his six-year tenure while airplanes flew banners over the Rose Bowl calling for his ouster, Mora had lost that buzz.
They want to keep the seats filled. With a 25% drop in home attendance at the Rose Bowl in the last three seasons and future fan boycotts organized, Mora was no longer drawing a crowd.
More than anything, they want to keep the big-donor cash flowing, and their recent indecisiveness with the "indefinite suspensions'' of the three Bruins basketball players who shoplifted in China had caused many to reconsider their donations.
Would Mora have been fired so abruptly in Westwood if LiAngelo Ball, Cody Riley and Jalen Hill had not stolen items from three stores 6,500 miles away? Maybe not. Most folks thought he would at least last until the end of the season, and maybe for one more season if UCLA could beat Cal and qualify for a bowl game.
Guerrero had clearly been feeling the heat for his gentle handling of the three basketball players, and needed to instill faith in his moneyed constituents, and the Mora firing was his strong response.
But now pressure only grows on an athletic director who has now whiffed in three swings at his most important duty: hiring a football coach. Over the last 15 years, neither Karl Dorrell nor Rick Neuheisel nor Jim Mora were able to lead the Bruins to a Pac-12 championship or a spot in a major bowl game.
To end that drought, Guerrero needs to keep surprising people.
He needs to forgo the usual coaching candidates such as former Oregon coach Chip Kelly, or current Pac-12 coaches Mike Leach from Washington State or Kyle Whittingham from Utah.
He needs to address the issue of buzz and attendance and donations by thinking outside the tired parameters and hiring someone fresh and innovative who can lead by excitement.
He needs to look at the recent hirings by two of this season's most surprisingly impressive football teams, the Rams and the Oklahoma Sooners.
Last winter, the Rams hired 30-year-old offensive whiz Sean McVay, making him the youngest head coach in modern NFL history. The Rams have won seven of their first 10 games while ranking among the league leaders in scoring and offense.
This summer, Oklahoma promoted 34-year-old offensive coordinator Lincoln Riley to replace the retiring Bob Stoops. Riley has since led the Sooners to a 10-1 record and a No. 4 spot in the latest College Football Playoff Rankings, with his team leading the nation in total offense.
Before this fall, few fans had heard of McVay or Riley. Now, the decision makers across the sports landscape are trying to find more coaches like them.
Who knows, Guerrero might already have one on his staff. By naming the 41-year-old Fisch as the interim head coach, Guerrero is showing his appreciation for an innovative offense that ranks sixth in the nation in passing offense and 21st in total offense.
If Guerrero doesn't think Fisch is the answer, he should pursue someone like him. He doesn't need to focus on Bruin alumni, as both Dorrell and Neuheisel were both former Bruins. He doesn't need to look for NFL experience, as Mora was the head coach of two NFL teams.
Look for a smart guy who can teach. Look for young guy who can relate. Look for outlier who can infuse new ideas into a program that has once again grown stale.
With the Sunday firing of Jim Mora, the predictable Dan Guerrero showed he has the capacity to surprise.
Now he needs to do it again.
Twitter: @billplaschke
---
Get the latest on L.A.'s teams in the daily Sports Report newsletter.
You may occasionally receive promotional content from the Los Angeles Times.